Hi everyone!
Once again this week, we've got some great React articles, especially on Server Components!
Last week, I asked whether you preferred direct links or links to Twitter. Your answer was unanimous: direct links. On top of that, the Twitter/X experience has been degraded for anonymous users who can no longer see the discussions. So I'll try to avoid Twitter links, with a few exceptions for which I'll use the 🐦 emoji.
---
💡 Subscribe to the official newsletter to receive an email every week!
---
💸 Sponsor
Enterprise UI Development (With React): Testing & Code Quality
Managing or migrating large apps and codebases? This video course covers what you need to know to scale efficiently whilst maintaining code quality. Covers unit testing, CI pipelines, mocking, code coverage, and more.
---
⚛️ React
Understanding React Server Components
New Vercel article that gives a good overview of React Server Components, their implementation in Next.js, why they exist, when to use them and their limitations. Also covers various related topics: Server Actions, code-splitting, caching, suspense, selective hydration...
---
Everything I wish I knew before moving 50,000 lines of code to React Server Components
Awesome article on RSCs! Feedback that details the 3 main challenges encountered during the adoption at Mux: no CSS-in-JS, no React Context, and additional complexity. Also provides answers to many questions and a strategy for adopting RSCs incrementally.
---
---
💸 Sponsor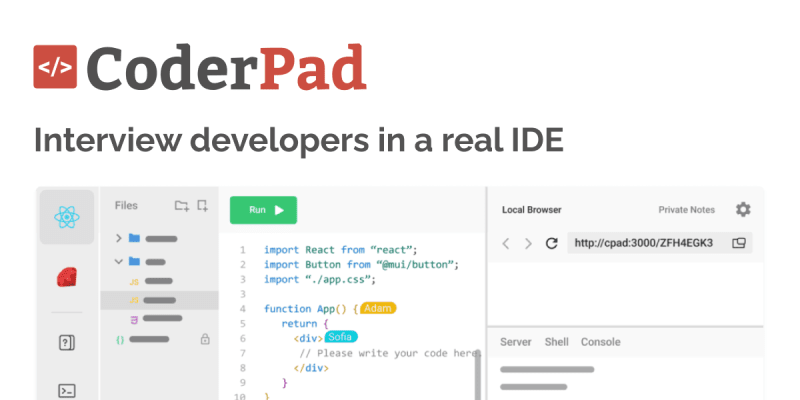 CoderPad: Code together before you work together
Hiring front-end developers is hard. 😩 But 4,000+ engineering teams — including at Netflix, Spotify and LinkedIn — have found a better way! 🤠 Skip the algorithm interviews and run front-end interviews in a fully customizable and collaborative IDE - where you can:
drag and drop a React (and Angular or Vue) repo
add packages with npm install
let candidates use ChatGPT live in the interview
watch & share code playback after the interview
Use CoderPad to run fast, fair and real coding interviews that candidates and interviewers trust. Sign up for free today & hire with confidence.
---
📱 React-Native
Measure Hermes engine performance in React Native with Flashlight
The developers at BAM benchmarked the impact of the Hermes runtime on the app start-up time and memory consumption of a React-Native Android app using their Flashlight performance tool. For those who were still in doubt, Hermes clearly outperforms JSC.
---
---
🧑‍💻 Jobs
🧑‍💼 Passionfroot - Senior Full-stack Engineer (Remix) - €160k+, Berlin/remote
Passionfroot's mission is to empower the independent businesses of tomorrow via YouTube, Podcasts, Social Media, and Newsletters. Join us in building a tool that will empower creators globally to build scalable, sustainable businesses.
🧑‍💼 Callstack - Senior React Native Developer - Fully Remote, PLN 21-32k net on B2B, monthly
Do you want to work on the world's most used apps? Would you like to co-create the React Native technology? Join the Callstack team of React & React Native leaders. Check our website for more details. We are looking forward to seeing your application - show us what you've got!
🧑‍💼 G2i - 100% Remote React Native Jobs
We have several roles open for developers focused on React Native! Pay is ~160k plus 10% bonus. You must have production experience with RN and be based in the US. DM @gabe_g2i to learn more and don't forget to mention This Week in React.
---
🔀 Other
---
🤭 Fun
See ya! 👋