It's FRIDAY! You know what that means...
🎉 Welcome to the MongoDB $weeklyUpdate! 🎉
Each week, we bring you the latest and greatest from our Developer Relations team — from blog posts and YouTube videos to meet-ups and conferences — so you don't miss a thing.
💻 What's Up on Developer Center?
Everything you see on Developer Center is by developers, for developers. This is where we publish articles, tutorials, quickstarts, and beyond. 🚀
Featured Post
In this article, we will demonstrate how to leverage Atlas Data Federation to query and visualize the MongoDB Atlas price book as a real-time data source that can be incorporated into your DevOps processes and application infrastructure.
Other Shoutouts
Blockchain Implementation Guide by @anaiyaraisin
Product Showcase 24 is a series of click-to-advance demos of 10 of our key platform features to be used at all 30 .Local events as a way to demonstrate and talk about our products. This is used in place of any live demos as it's easier and safer for a wide range of employees to deliver. A job well done by John Page, @anaiyaraisin, and Maxime Beugnet.
🗓️ Mark Your Calendars
Every month, all across the globe, we organize, attend, speak at, and sponsor events, meetups, and shindigs to bring the DevRel community together. Here's what we've got cooking:
Unleashing the Potential of AWS + MongoDB technologies: June 16th 2023, 9:00pm – June 17th 2023, 1:30am, (GMT-07:00) Pacific Time
Kansas City Developer Conference: June 21 - June 23
MUG Leeds: June 22nd 2023, 10:00am – 1:00pm, (GMT-07:00) Pacific Time
.local NYC: June 22, 2023, 8am - 6 pm ET
Aba MUG Meet & Greet: June 23rd 2023, 6:30pm, (GMT-07:00) Pacific Time
Jakarta Inaugural Meetup with Codepolitan: June 23rd 2023, 7:00pm – 9:30pm, (GMT-07:00) Pacific Time
Punjab MUG: June 26th 2023, 8:00am, (GMT-07:00) Pacific Time
Sydney MUG: June 29th 2023, 12:30am – 3:00am, (GMT-07:00) Pacific Time
MUG London: June 29th 2023, 11:00am – 2:00pm, (GMT-07:00) Pacific Time
MongoDB is heading out on a world tour to bring the best, most relevant content directly to you! Join us to connect with MongoDB experts, meet fellow users building the next big thing, and be among the first to hear the latest announcements! Register now.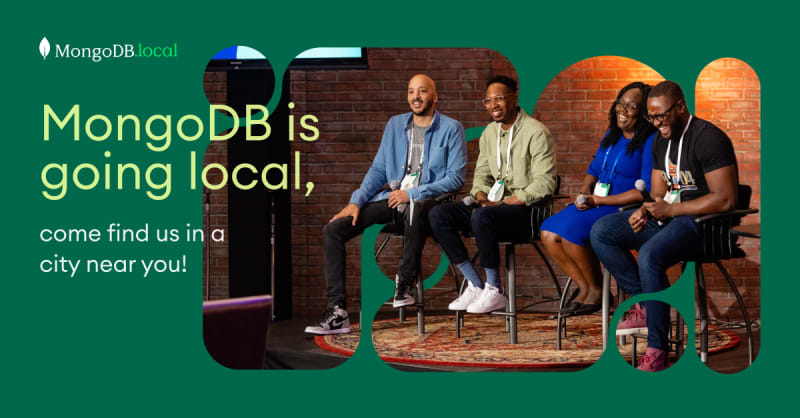 Use code DEVELOPERFAM50 to secure 50% off your ticket!
@stanimiravlaeva spoke at JSConf India, the first in-person JSConf conference in India. Her talk was "Serverless application development with MongoDB Atlas and Google Cloud." She also did a workshop about MongoDB Atlas on Google Cloud in Google's office in Bangalore, along with Megha Arora.
Thank you to everyone who joined us at the Seville MUG. Our MC, Diego Freniche, crushed it, alongside Antonio Llamas from The Bridge, who gave an intro to the MERN stack.
Community Champion and MUG Leader Shrey Batra has launched a MongoDB Series where he is teaching everything from aggregation framework to indexes and data modeling to scaling. Learn more about it!
Community Enthusiast Khushi Agarwal shares information about how to install MongoDB on Windows.
Community Enthusiast Otavio Santana is speaking at JCON Europe on June 20th. Check out his live coding session on Java Persistence using MongoDB and Microstream.
🎙️ Stop, Collaborate, and Listen
If reading's not your jam, you might love catching up on our podcast episodes with @mlynn and Shane McAllister.
Not listening on Spotify? We got you! We're also on Apple Podcasts, PlayerFM, Podtail, and Listen Notes. (We'd be forever grateful if you left us a review.)
Have you visited our YouTube channel lately? We have new videos from Jesse Hall.
Be sure you subscribe so you never miss an update.
That'll do it for now, folks! Like what you see? Help us spread the love by tweeting this update or sharing it on LinkedIn.