By now, you'll have checked off all of the items in the [pre-scaling preparation stage](By now, you'll have checked off all of the items in the pre-scaling preparation stage. Next, we're on to the exciting topic of actually growing your Micro SaaS app user base and subscription income.
It's important that even during this growth phase, you don't lose focus on customer satisfaction. Make sure you keep up to date with support, add the features you promised on the roadmap, and then get on to attracting more users to your app through SaaS marketing.
That said, let's take a look at the key strategic elements of growing your Micro SaaS app:). Next, we're on to the exciting topic of actually growing your Micro SaaS app user base and subscription income.
It's important that even during this growth phase, you don't lose focus on customer satisfaction. Make sure you keep up to date with support, add the features you promised on the roadmap, and then get on to attracting more users to your app through SaaS marketing.
That said, let's take a look at the key strategic elements of growing your Micro SaaS app:

- Ramp Up Organic Traffic
- Recruit Affiliates
- Harvesting Blog Traffic
- Referral Program
- Baking In Virality
- Discoverable By Nature
- Ramp Up Paid Traffic

---
Ramp Up Organic Traffic
Now that there's a healthy foundation of happy users for the app, it's time to start growing your Micro SaaS organically, spreading the world far and wide and finding new subscribers.
If you have built up an email list and not yet emailed all of them through your launch cycle, now is the time to email them.
If you have built up a Facebook group for your niche or if you've become an active (and contributing member) of any other groups, then now is the time to raise awareness around your app within these groups.
All my Micro SaaS apps have been marketed purely via organic traffic. Sure, it's more effort than running ads, but in the long term it'll give you a great ROI.
You might think you need to wait until you have the app ready to launch before announcing it to the world but as long as you're ready with your marketing efforts, you can start showing people what you're going to offer well before you launch your app.
---
---
Recruiting Affiliates For Your Micro SaaS app
Outside of your initial launch audience, if you don't have a Facebook group or email list to market to, then the quickest way to increase your customer base will be through tapping into affiliate audiences.
In exchange for promoting your app to their audience, the affiliate will receive a percentage of the income generated through the promotion. Initially, this may not sound appealing, and you're probably thinking it's not a fair deal. You've done so much hard work and now you're likely to have to give this person around 25%+ of the recurring income received from the promotion, just for sharing it to their audience!?!
What you might not appreciate - and initially I didn't either! - is that these affiliates have likely spent several years building up an audience that trusts them. They will have given valuable content to their audience, engaged with them, moderated the content in the group, vetted new members etc. There's also the daily grind of moderating the group for spammers and scammers which can be a real time suck.
Having grown several Facebook groups from 0 to over 5,000 members, I can tell you first-hand that it's no small job to build an engaged community.
Bearing all that in mind, the affiliates are not going to want to push a product that they've never heard of to their precious audience without good reason. One bad promotion could seriously damage their hard-earned reputation.
Treat your affiliates well and you'll be rewarded with a long term symbiotic relationship.
You will also need to demonstrate to the affiliate that your app will genuinely help their audience.
What Should I Offer to Affiliates?
There are several things you can, and should, offer to your affiliates to ensure you have a good working relationship. You should offer them:
A demo of the app and access to its features so they can try it out
High percentage commissions that make your app worth promoting
Harvesting Blog Traffic
Regularly updated marketing collateral
Open lines of communication they can message you quickly
Commissions that are paid on time
Over the years, I was able to forge many great relationships with affiliates in the Merch By Amazon & Kindle communities. I went on several live shows on Facebook & YouTube reaching global audiences that I would never have reached on my own.
Each time I went live, I would always do a live demo of the app (what could go wrong 😂) and take questions live.
Yes, it's not the most comfortable way to spend an hour, but it was always well worth it as they produced an influx of new subscribers paying a recurring subscription fee.
---
Harvesting Blog Traffic
Remember the blog posts you committed to in the launching your Micro SaaS chapter? By now, you'll have crafted a range of blog posts on a variety of targeted topics that will resonate with your target niche. It's now time to reap the rewards and harvest the fruits of the digital seeds you've sown.
You should have a steady stream of visitors to your site and you should now begin to steer these visitors towards becoming users of your app, either subtly or directly by creating a call to action for each article.
As a reminder, each blog article will have an associated target search intent as below: Depending on each article's topic and target search intent, you'll set up an appropriate call to action on each article. Here are some examples for you:
Depending on each article's topic and target search intent, you'll set up an appropriate call to action on each article. Here are some examples for you:
Informational Posts - download our white paper on case management software (sent to their email).
Commercial Posts - download this independent review of the top 5 case management software apps (sent to their email).
Transactional Posts - get started with a free trial of our case management software (requires user account creation via email).
You'll start to build up a healthy email list of leads for your app. Depending on their entry point, you can send them an automated unobtrusive, value-driven email sequence.
Naturally, these emails will give your leads a gentle nudge that will eventually drive them towards becoming paid customers.
---
Introduce A Referral Program
You can think of a referral program similar to the affiliate program discussed earlier. Except, in this case, it's your customers that are doing the lead generation for you rather than relying on affiliates and their audiences.
You can choose to create an ongoing referral program for a steady stream of consistent leads or create short-term referral contests with prizes to try to generate a large number of leads quickly.
Make it super easy and rewarding for each customer to earn a bonus or (worst case) cash when they refer a new paying user. Increase the chances of your referral program going viral by offering a double-sided reward so there's a bonus for both the referrer and new customer.
Here are some great examples of powerful SaaS referral marketing examples you can take inspiration from:
---
Dropbox
Quadrupling their growth within a year after introducing their referral program, Dropbox soon grew into a billion-dollar company. Their referral program was simple. For every new customer you referred, you got bonus storage space for the lifetime of your account.
It started off as 500MB of storage space but if you had Dropbox Plus it was 1GB of storage space per referral which soon added up!
---
Paypal
With an app that revolves around money, it's only natural to offer a cash incentive in this case. Initially, PayPal gave $20 to anyone opening a PayPal account and $20 to the referrer. Later they lowered these rewards to $10 and finally to $5 per signup.
At the time of writing, Paypal is still employing referral marketing to great effect:
---
Airtable
Offering a simple but effective credit-based referral scheme, Airtable gives the referrer $10 credit for anyone that signs up using their link. The new customer doesn't even need to sign up to a paid plan or make any purchases for the referrer to be credited $10.
Creating an account takes less than 30 seconds and with no credit card required. You can literally get a year's worth of Airtable Plus just by asking your family & friends to take 30 seconds out of their day to register a free account.
As my chrome extensions rely heavily on Airtable, I have personally benefited from the Airtable referral scheme. I baked my referral link into my apps and their setup guides and before I knew it I had over $3,000 in Airtable credit! I've used some of this credit on a Pro workspace but most of the time I've not needed to dip into my credit as my Airtable bases are generally small enough to live on the free tier.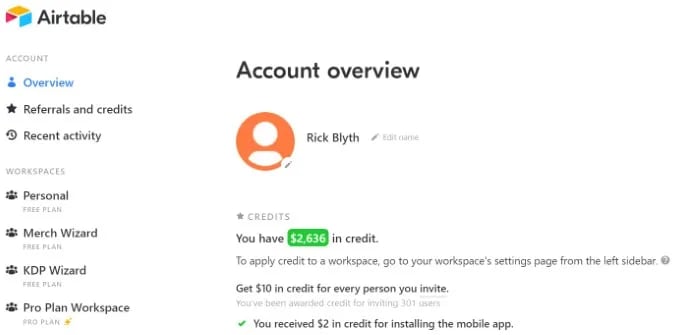 ---
Think about what kind of referral program would make sense in your app. Would one of the below referral reward models work in your Micro SaaS app:
Discounted subscription fee.
Additional usage allowance.
In-app bonuses/unlocks.
Tier-based swag.
Money that they can cash out (this should be the final resort).
Remember, if you can make it double-sided so both referrer/referee win, it'll vastly increase the chances that your referral marketing program will go viral.
---
Baking In Virality
In addition to offering incentives to share links to your app as above, consider creating shareable moments within your Micro SaaS app. This would usually take the form of something that the user has achieved and would be proud to share with other users within their niche.
This is best explained using an example of a chrome extension called PrettyMerch which is in the same Merch By Amazon niche as my apps. PrettyMerch shows creators their sales and royalties in a pretty graph with advanced analytics that are way beyond what's available from Amazon's native reporting pages.
As Merch is based on tiers, the app celebrates when a user "tiers up" with a popup that users love to screenshot and share to the community to celebrate their levelling up.
In addition to that, people are always sharing their sales numbers (they can mask out the product details in one click).
When a Merch creator sees the screenshot containing the beautiful charts and advanced analytics, they'll also notice that they can trial the app for free. Before you know it, they've installed it and are well on the way to becoming a paid subscriber!
Let's think about the cost of acquisition for each of these customers... that's right, $0! The existing customer base is just spreading the word throughout the community for free. No affiliate to pay, no referral credit to absorb.
The virality from creating these memorable and easily shareable moments are well worth the time invested in gamifying your application. Heck, there's plenty of libraries that will help with this that you can just plug into!
---
Discoverable By Nature
One way that you can make your app highly discoverable is through the nature of the app itself. This occurs when users share links to your app to non-users who may not even be aware of your app.
Here are some examples of large-scale and Micro SaaS apps that are intrinsically shareable and discoverable by their nature.
Calendly - book a timeslot in my calendar without any need for back and forth on emails.
Zoom - let's connect virtually and share screens.
Slack - let's collaborate in multi-channel real-time chat.
Google Docs - let's work on this online document together.
Dropbox - let's back up and share large files between us.
Loom - here's a screen recording showing you how to work.
Balsamiq - here are some mockups of the new UI.
Upvoty - here's our product roadmap and central place to manage feature requests.
Can you create an app that solves a specific problem and is by its nature shareable? If so, you'll benefit from huge organic growth as the number of users spreading the word about your app increases exponentially.
If you manage to make your app discoverable by nature, then growing your Micro SaaS app becomes a breeze.
---
Ramp Up Paid Traffic
Finally, whilst paid traffic seems appealing, it's best employed only after careful consideration.
There's no point in paying for a load of ads to just find out that your core offer isn't resonating with your target audience. This could be due to a number of issues such as:
Poor product/market fit.
Solution in need of a problem.
Over or under pricing.
Seasonal problem.
Poor ad targeting.
The point being, you need to first prove that your offer converts via the above organic methods before growing your Micro SaaS app via paid advertising and accelerating the process.
---
The Traffic Campfire
I like to think of organic traffic vs paid traffic akin to building a campfire.
You want to set up a foundation of large slow-burning blocks of wood (your organic content marketing/referral marketing/affiliates etc). This will ensure that the fire will burn steadily for a long period of time. You will consistently add to these foundations over time (more blog articles/referral schemes/affiliate partnerships).
Once the fire is burning well, you can pour on some gasoline (paid advertising) to increase the height of the fire for a short period of time.
However, gasoline can be expensive and is also out of your control. The price of gasoline (cost of ads) can skyrocket and ad accounts are notorious for being shut down (leaving you with zero traffic) so you can't rely on this alone.
Instead, over time, you'll use a blend of both organic and paid traffic sources. This will mean you'll enjoy a steady stream of new leads coming into your world, along with more short-lived focused advertising campaigns.
Whilst this could be a whole article on its own, I'd recommend starting your paid advertising with YouTube Ads and Facebook Ads. They're both great platforms to place ads and once you have a winning ad, you can scale that out to a wider audience and increase your customer base accordingly.
---
In case you landed on this page directly from a search engine, then you're reading chapter 10 of my 12 part guide to Micro SaaS.
Download the entire 12 chapter guide as a PDF eBook for free so you can read it where you want, when you want.
---
Final Thoughts
Growing your customer base is a great and rewarding phase of the Micro SaaS journey. Let's just remind ourselves that each month, we don't start at zero. We have a steady income stream and now we want to carefully split our time between growing the user base and delivering a kickass product.
Let's recap some of the key points from this chapter before we move on:
Organic Traffic - continue raising awareness of the app through your own channels - Emails, Facebook Groups, Twitter, etc.
Affiliates - they have the audience, you have the product. Keep your affiliates happy and they will be very rewarding for you.
Harvest Blog Traffic - continue to pump out the blog content and harvest the fruits of the digital seeds you've sown.
Referral Program - spend some time figuring out what makes sense for referral rewards in your app. If you can motivate your existing users to refer others you'll be well on the road to success for sure!
Bake In Virality - what shareable moments can you create in your app? Does gamification make sense in your app?
Discoverable By Nature - this isn't always possible but if it is, then you want to make it easy for non-users to see the value in your app and to check out an account for themselves.
Paid Traffic - this should only be considered when you know you have a proven offer that's working well with organic traffic. Once you have an offer that converts, you can utilise paid advertising to accelerate the user acquisition process.
Ok, so fast forward a few years and you've been scaling and growing your Micro SaaS, maintaining the code base, new feature requests are drying up, it's a bit of a grind and other potential projects are catching your eye ....
Micro SaaS Shiny Object Syndrome ... it's a thing ✋
You might think you'd never sell your lovingly created, successful cashflowing Micro SaaS startup.
After all, this is your little baby that you've nurtured all the way from its painful birth, through the growing years that's now blossomed into a strong and independent software app.
In the next chapter, I'll be discussing reasons why you might be interested in selling your Micro SaaS app and exiting for a life changing lump sum payment.
---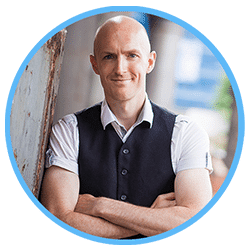 Hi, my name is Rick and I help unfulfilled software developers quit their 9-5 jobs, with minimal risk by creating their own cash-flowing Micro SaaS businesses.

I have been on the journey myself, starting as a nobody; finding a niche; establishing credibility; building up multiple Micro SaaS apps to the point that I could quit my (well paid) Technical Director job and work on my apps full time.

I then scaled the apps up and eventually sold and exited them for a life changing amount of money. You can read my full story on my about page.

I am passionate about sharing the knowledge I've gained from this journey … welcome to my site 👋