From time and location freedom to a fresh sense of independence, there is a lot to gain by developing Micro SaaS applications. For me personally, I've been able to:
Earn multiple 6 figures in subscription income.
Quit my life-sapping 9-5 job.
Banish pointless meetings, office politics, chaos & firefighting.
Work when I want.
Work wherever and in whatever technologies I want.
Spend more time with family.
Have a better connection with the users of the apps I develop.
Have way more financial stability
Earn multiple 6 figures when I finally exited and sold my Micro SaaS apps.
Let's wrap things up and dive into the following topics:

- My Journey From Idea To Exit
- What's Next For Me In Micro SaaS
- The Future Of Micro SaaS
- How To Kickstart Your Micro SaaS Journey

---
My Journey From Idea To Exit
My Micro SaaS journey has been quite a ride! Whilst you can read the full story on my About page, let me summarise it for you here so you can see how I went from an unfulfilled software developer working a full time crappy 9-5 job, to quitting my job and eventually selling my apps for a life-changing amount of money.
It all started off with me simply looking to start a side hustle to bring in some more income and give me a side project that I fully owned. After I read a few self-development books, I had a lightbulb moment when I finally understood the difference between passive income vs active income.
I set out to build a side hustle that would generate passive income whilst I was at work or even better, asleep! It was also important to me that I wouldn't need to invest any money into inventory or seek funding, or anything like that to get started. I just wanted to use my spare time and my skills effectively. That's when I discovered Micro SaaS.
After a weekend spent hacking together my first chrome extension, I'd soon released my first Micro SaaS app. I was amazed to see that, despite being very basic and butt ugly, it was well received by the user base and even made me $3k!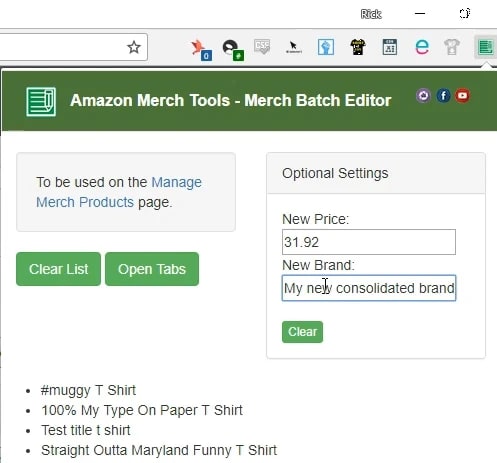 My first Micro SaaS app, the butt ugly but functional and surprisingly profitable Merch Batch Editor
From that point on, I was addicted.
I decided to build more apps for the same niche community. One day whilst I was out walking my dog, I had an idea for a chrome extension that stopped me in my tracks (with my dog just staring at me bemused).
I felt I was on to something big and I was right. It grew into my flagship app - Merch Wizard and it changed everything for me.
I was fueled by my earlier mini app success and driven by the desire to create something bigger that could potentially lead me to quitting the day job. I could see a glimmer of light at the end of the dark tunnel and I went full steam ahead, driving for that light. I worked tirelessly on the app during my commute, lunchtimes, evenings and weekends but it was truly a labour of love.
Concurrently with myself working hard on developing and promoting the app, as a family we made cutbacks in order to build up a runway of savings.
After a particularly prolific Black Friday sale, I'd finally hit my runway target and the monthly subscription income was stable enough for me to finally do it .... I QUIT MY JOB!
No more crappy meetings/office drama/chaos/commute 💩
More focus/family time/freedom/calm 😃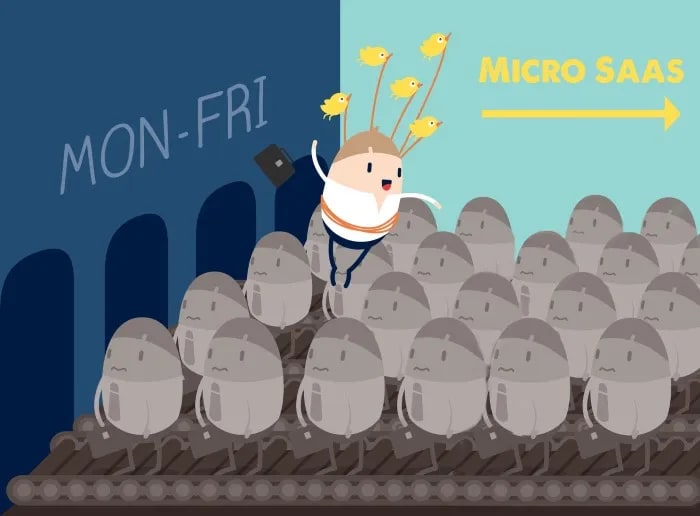 I was able to work full time on my Merch Wizard app and scale it up. We were comfortable and enjoying the new freedoms that Micro SaaS brings. Then I launched my second app, KDP Wizard, which I managed to achieve a multi-5 figure launch with, only using organic traffic.
Fast forward a few years and my Micro SaaS apps made me multiple 6 figures in subscription income and gave me an incredible freedom that I'd never had before.
Eventually though, after the users' requests for new features quietened down and everything was running smoothly, I began to get itchy feet and noticed other opportunities for new apps in new niches. I'd spent several years working in the same niches, and whilst they were great niches, they just weren't as exciting to me as they were in the early days.
I also didn't have a huge motivation to reach the next milestones in my app growth trajectory. I figured that if the money was right, I'd sell my apps and focus on something new rather than trying to juggle too many things.
As I detailed in the how to exit your Micro SaaS app chapter, I ended up selling my apps for a multi-six figure lump sum payment in just 5 hours!
So, in a whirlwind ride over a few short years I had freed myself from the corporate grind and gone full circle from idea to exit. I did this using purely organic traffic, starting off with zero audience and zero ideas. I hope that this inspires you to take action because if I can do it, then so can you!
---
What's Next For Me In Micro SaaS
Well, in case there's any doubt, I'd like to formally announce that I have resigned from my corporate career. It's officially over.
I'm done with the stress, crappy meetings, office politics, chaos, firefighting, trying to impress people I don't care about etc etc. I spent 20+ years in the trenches, working my way up from Junior Software Engineer all the way up to the "pinnacle" of Technical Director, only to find it wasn't any better at "the top". Each promotion meant more responsibility which translated into more headaches and more hours.
Yes, for each promotion I was given a small salary increase, although inflation and minor lifestyle creep eroded any meaningful changes to the bank balance. It was largely a hamster wheel of pain.
Conversely, Micro SaaS feels like a deep blue ocean of opportunity with disproportionately large rewards if you get it right.
I have learnt so much on my journey, made a tonne of mistakes but I was never afraid to fail fast and fail forward.
So, firstly I want to help spread the good word of Micro SaaS and help developers to start a profitable side hustle or even to quit their full time job. I'm building up several resources to share all the knowledge I've gained up to this point.
After that, I'm going to be jumping back in the ring for Micro SaaS part two. I'm looking forward to building something bigger and better next time, utilising all the knowledge and experience I've gained.
My next Micro SaaS will be built to sell from day one, bootstrapped and I'll be targeting a much bigger exit.
---
The Future Of Micro SaaS
I believe more and more software developers are going to discover Micro SaaS over the coming years. Many programmers will be searching for an alternative to their unrewarding corporate job.
Especially, as they'll have tasted the greater freedom and flexibility of working from home during the Coronavirus pandemic. Many software engineers have already started quitting their jobs in what's being referred to as the great resignation.
I hope that my role in all of this is to help spread the word of this different approach to earning a living. I want to show developers that they don't have to rely on being paid per hour/day/month.
Instead, for programmers to realise that there are genuine opportunities for them to utilise their existing skills in the Micro SaaS business model. This model is not constrained by the number of hours in the day and can bring in an incommensurate return on time invested.
---
How To Kickstart Your Micro SaaS Journey
Well done, you've finished this Micro SaaS eBook, which has hopefully given you the high-level information you need to go from Zero to Micro SaaS Hero. We've gone from starting with zero audience and literally no ideas, through to building a profitable bootstrapped Micro SaaS which you can sell for a lump sum if you want to.
It's been great sharing this with you, and I hope you've benefited from it. If you have any questions, then feel free to join my free Micro SaaS Mastermind Facebook group of likeminded founders where I answer all the questions I'm tagged in.

---
In case you landed on this page directly from a search engine, then you're reading the final chapter of my 12 part guide to Micro SaaS.
Download the entire 12 chapter guide as a PDF eBook for free so you can read it where you want, when you want.
---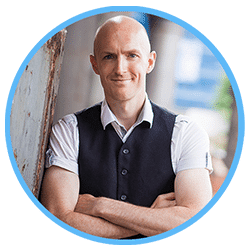 Hi, my name is Rick and I help unfulfilled software developers quit their 9-5 jobs, with minimal risk by creating their own cash-flowing Micro SaaS businesses.

I have been on the journey myself, starting as a nobody; finding a niche; establishing credibility; building up multiple Micro SaaS apps to the point that I could quit my (well paid) Technical Director job and work on my apps full time.

I then scaled the apps up and eventually sold and exited them for a life changing amount of money. You can read my full story on my about page.

I am passionate about sharing the knowledge I've gained from this journey … welcome to my site 👋