Wow, it's August already! And yip, since December, my streaming setup has gotten a bit more shinier (might be a little bit complex but meant to make life easier for me, I was promising myself 😆)
So here's a timeline of the ever changing setups, even some seem very small, but it's all experimentation from running PyLadies Dublin (monthly), Dublin Maker virtual Festival, collaborating and participating in various other events. So here we go, lots of piccies coming up with some gifs thrown in. 😉
January
Playing with the ATEM Mini, connected up my Nintendo Switch and Animal Crossing. I had ideas of running a meetup or conference (inspired by Deserted Island DevOps)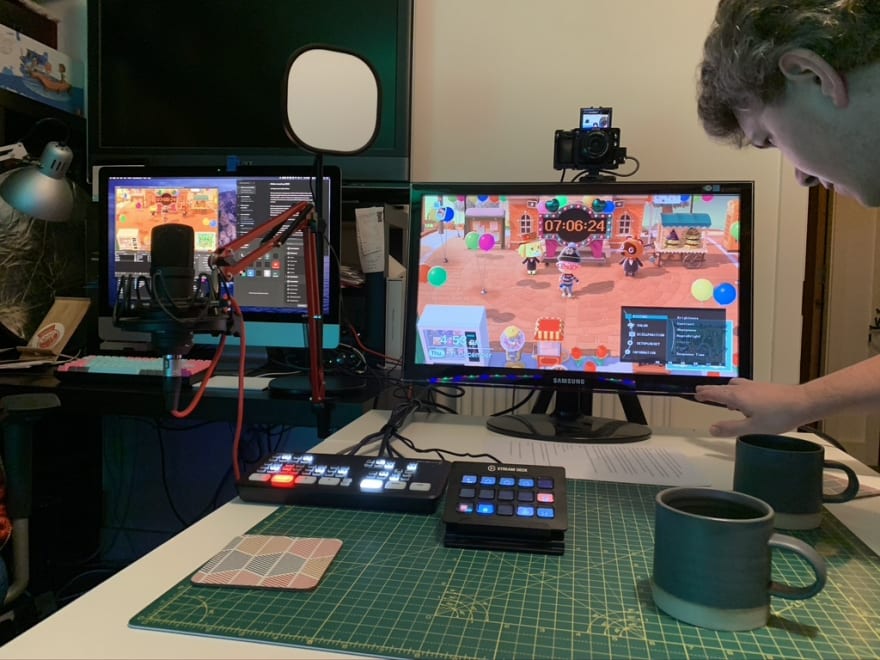 My new setup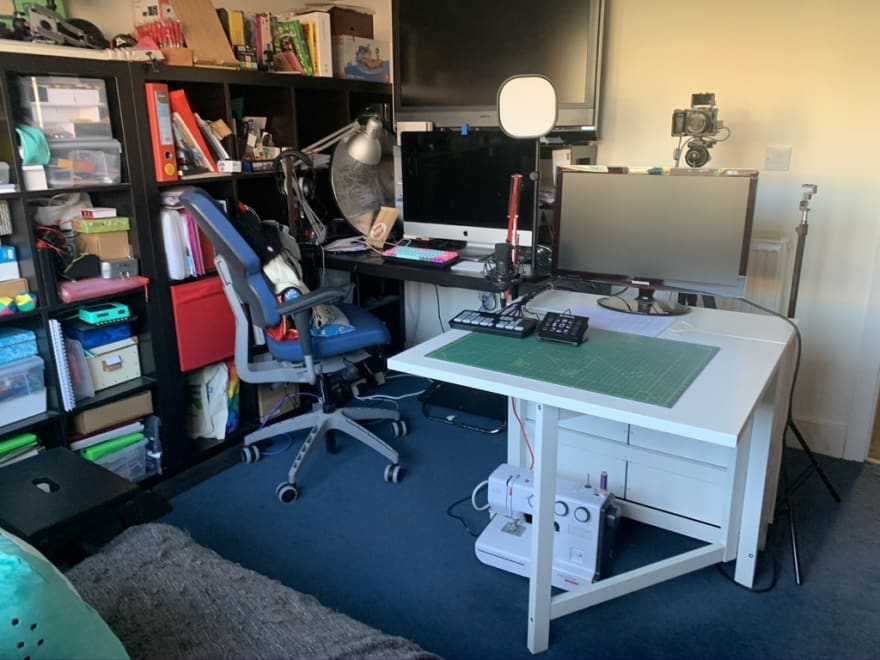 Playing with my Elgato Streamdeck
My setup for the first PyLadies Dublin of the year with special guest from Imagi Labs.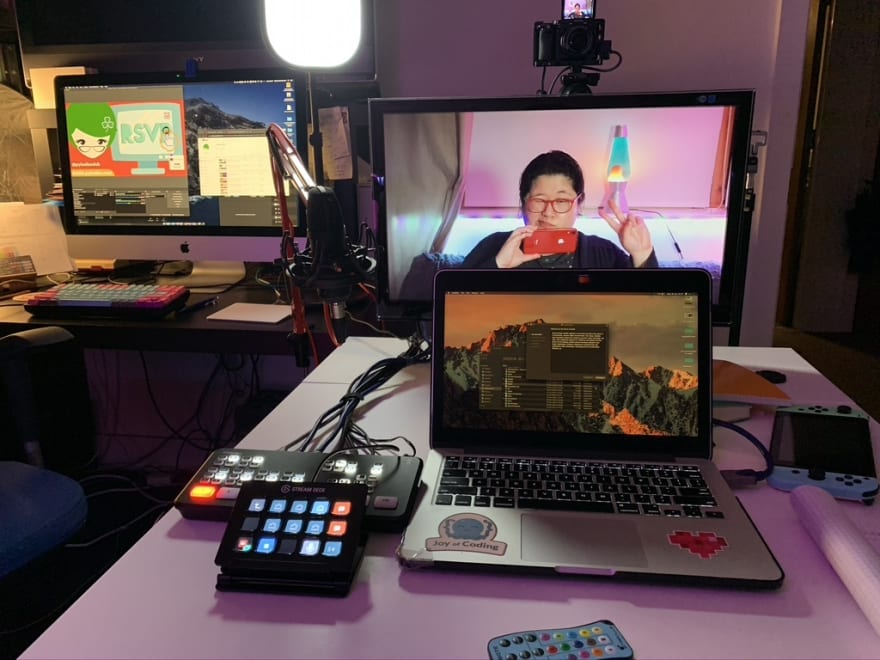 My OBS scenes all set up just a click away on my Streamdeck.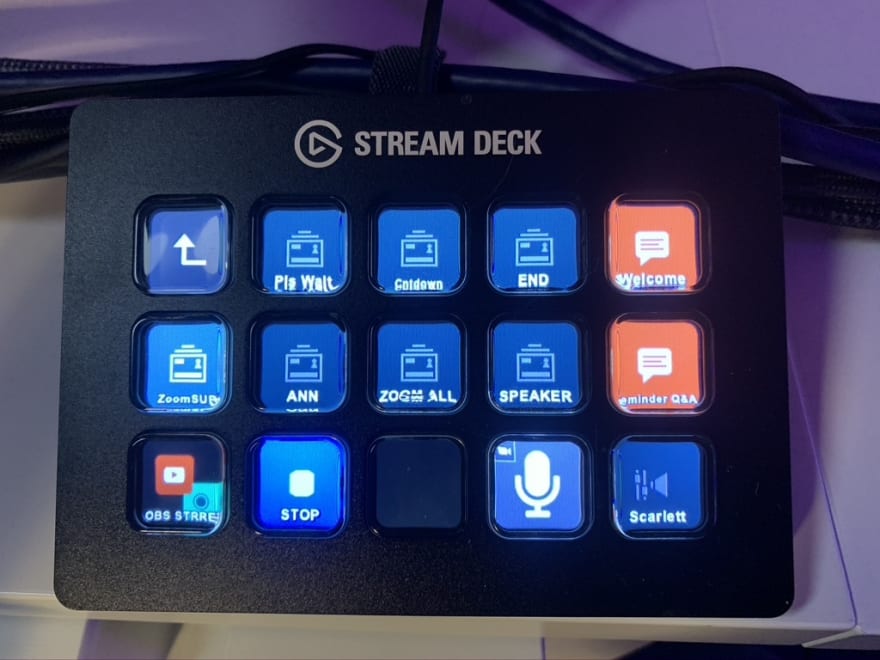 A pano pic of my new setup.

Problems with this new setup
This looked like a great idea at the time, if you had someone sitting at the iMac looking after OBS. I thought having all the buttons will help when I'm seated at the white table. When we had audio issues, I had to jump out of my seat and tried to fix problems on the main desk where OBS is streaming from zoom to Youtube. I also can't remember if it's this meetup that I had the wrong stream going on Youtube, and before I could tell everyone which stream to jump onto, they were booted out. But they all just went to the main Youtube channel and jumped on the correct live-stream. So lesson learnt that when you remove a live-stream, there's no warning for viewers. I was so proud of the fact before this happened that I had a couple of live-streams scheduled, all smugly prepped. But I clicked on the wrong one. Whoops.
I also learnt people are very forgiving and are very nice. So learning so many things at once and definitely if all hands on deck when things are live-streamed. So I do a more respect for those streamers who run these by themselves and they play games, moderate, answer questions, deal with problems live on air, create content all the time, and more.
March
Testing lighting (only had 1 x Elgato Key Light Air LED panel and 1 x Raleno LED Panel). Before Mick got me the first Elgato LED Panel, I used the Raleno one and a desklamp. I reflected the desklamp light towards a reflector on its silver side. The gold side made my complexion yellower. So it was a lot of trial an error to get colour of my skin tone as close as possible when I'm capturing myself on camera.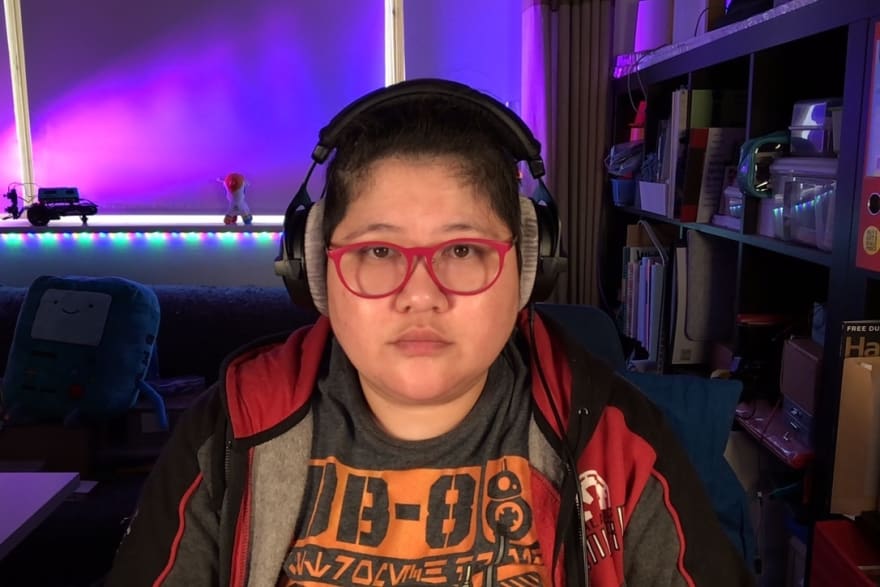 April
Cleared the table beside me and we got Elgato Multi-clap system
Also we got ourselves a Lumecube Panel Mini which has a diffuser. It's very portable, and you can control its brightness. And did I say it's portable.
Of course Shadow had to check out another new setup.

May
After getting new standing desk

Lol, those cables. 😅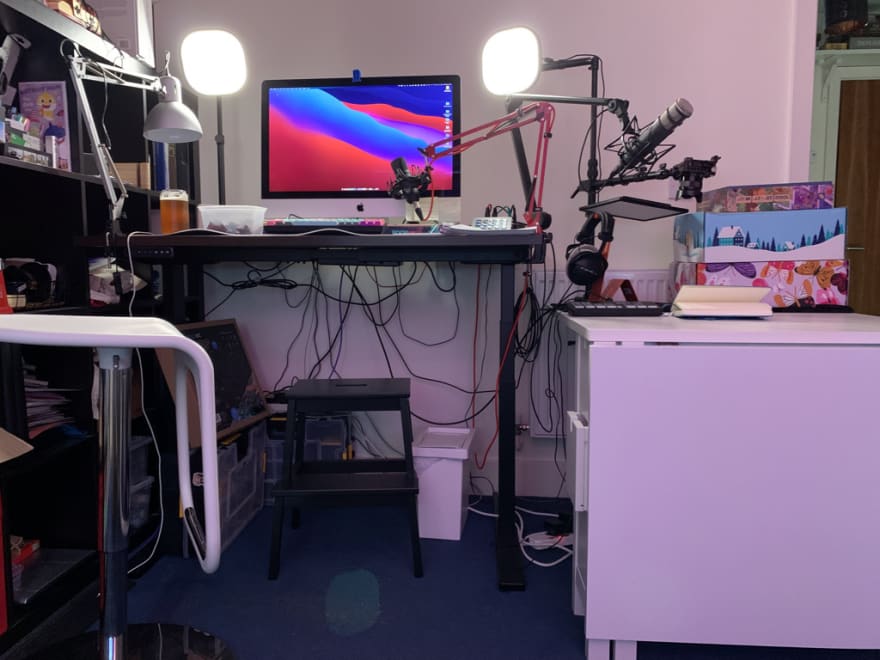 June - Getting ready for Dublin Maker!
It's a month away, but so many bits and pieces and Mick had a great time bringing our Picade upstairs from our living room.
Spot the black cat!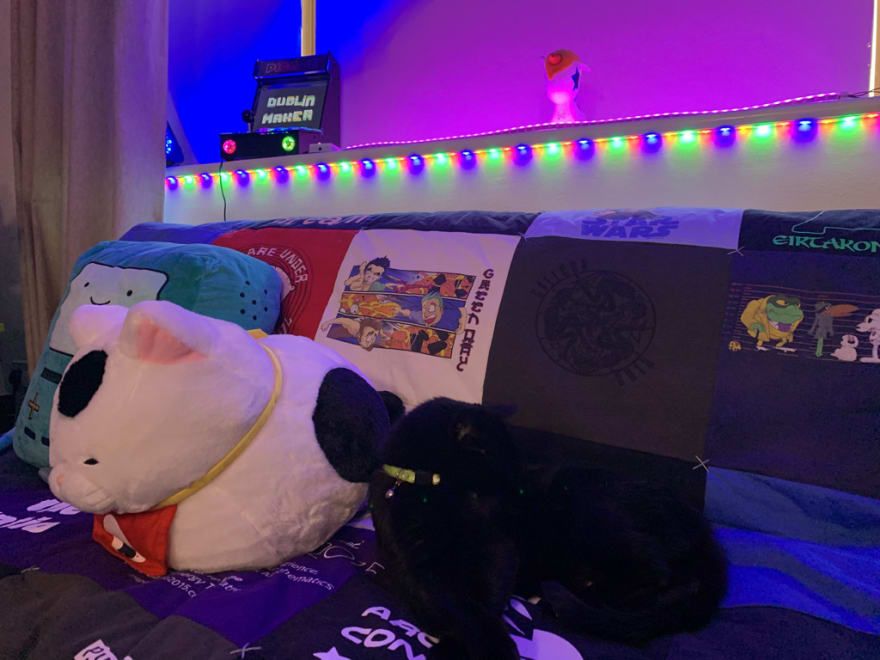 Ok, easier during day time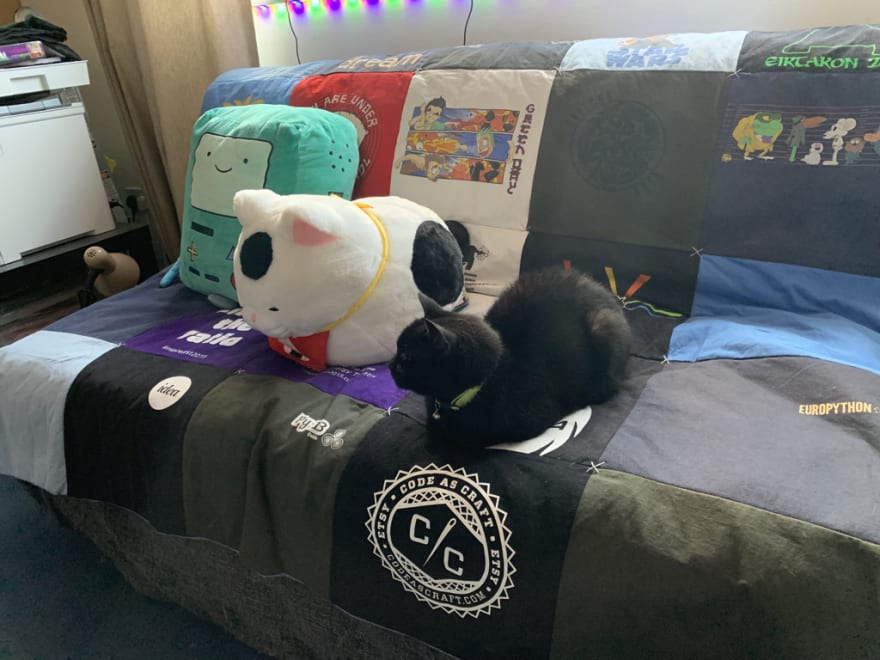 July - Moar Dublin Maker prepping
Still working out setup, it's a bit more complex for Dublin Maker, but I was running PyLadies Dublin virtual meetup and also hosted a session during EuroPython.
Hence the signage I put up, it's upcycled piece of cardboard (already stand-like) and I added a white poster board in front, and then I would add logos of whichever event I'm in to the front. You saw it in the previous pic above.. only started to change it for these events.
And I found rasterbator.net to create the large poster (2 x A4), was so cool to see this still around, it's been around for decades afaik.
Mick found that if you tilt the LED strip (purple pink) instead of pointing up, it gives a nice reflective glow. And we tilted the LED flood light which I now leave changing colours gives a nice blend when all the (blackout) blinds are down. The effect is better when it's much darker.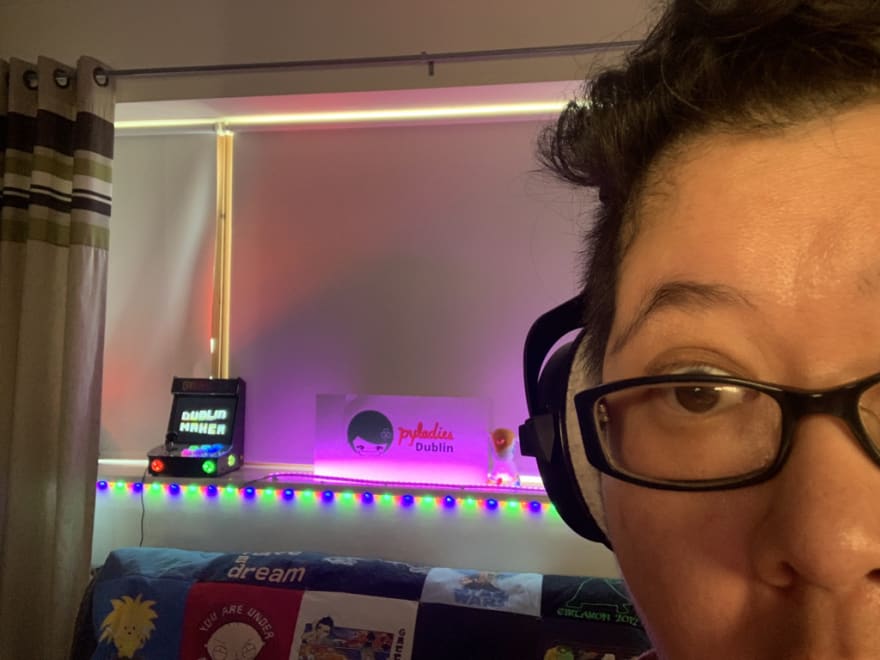 Lighting
LED panels off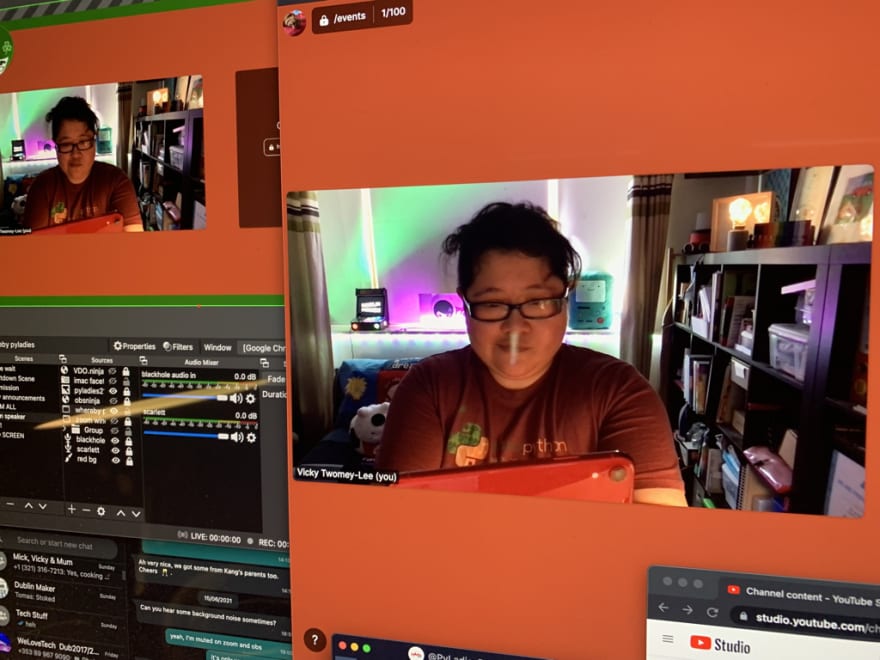 Ah better, LED panels on (using 2 x Elgato Key Light Air LED panels). Yup, got ourselves a second one as we were super happy with the first one. Very much worth it. And I can control it with a button push on my Streamdeck.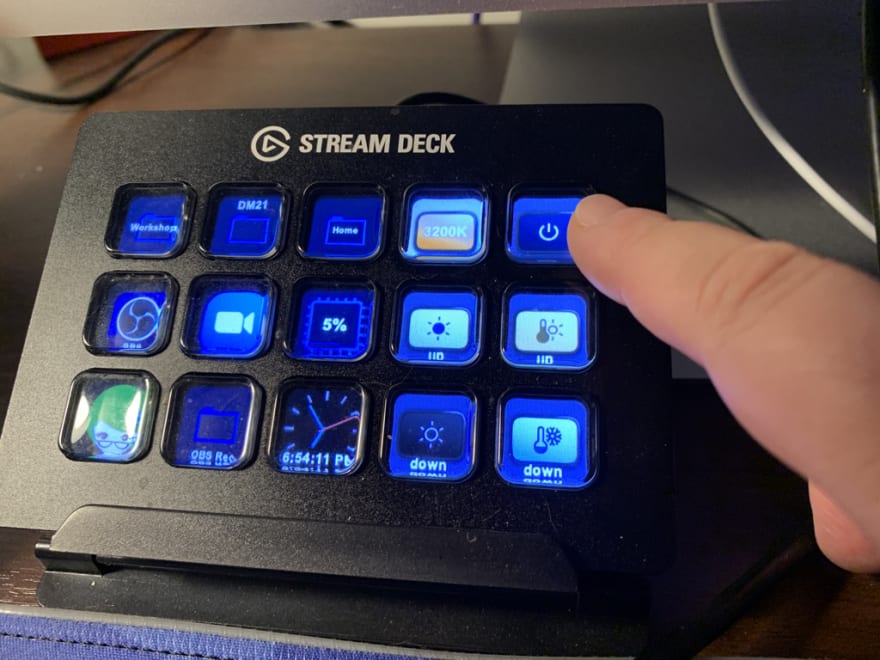 Oh, and an elusive black and white kitteh called Queenie makes a special appearance! 😆

Current setup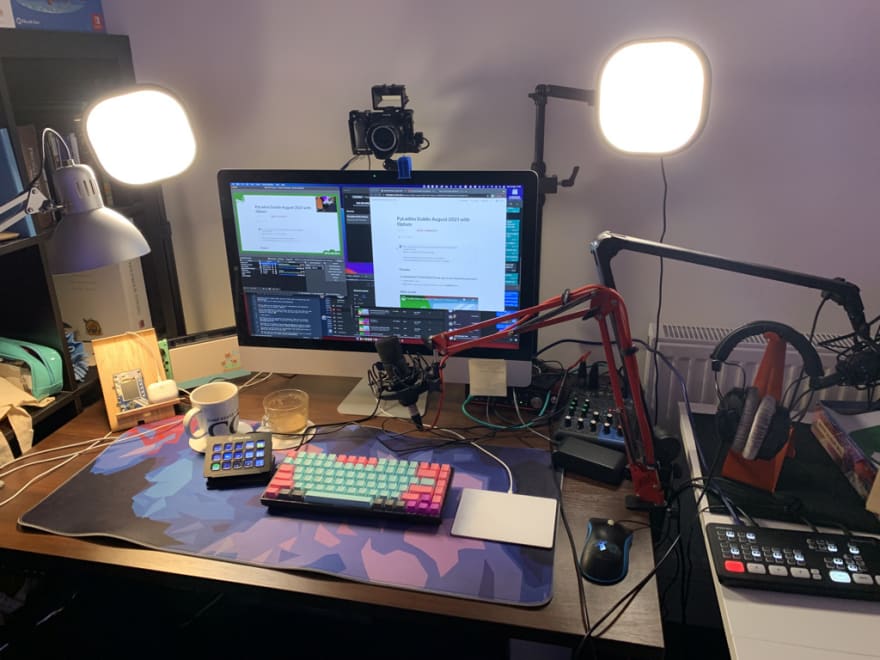 Still found problems
Still not working as expect like for PyLadies Dublin August meetup.
I normally run a live-raffle via my announcements scene (on OBS) - just myself and browser. I decided to change last minute to include a guest to announce the prizes over zoom. So when I shared my browser over zoom, only people on zoom saw it but not my live viewers on Youtube Live!

My normal running order (before that last minute change):
Zoom -> OBS -> Youtube Live
Guest speakers are on Zoom
Usual running order when live button is clicked:

Starting looping video
Countdown scene
Announcements and myself (directly in OBS)
Intermission while getting speaker set up
Speaker with slides on Zoom
Intermission for 2nd speaker set up
Speaker with slides on Zoom
Everyone on Zoom (gallery view)
If live-raffle, switch back to Announcements scene
End with outro video
What would I do differently?
Use the ATEM mini and connect up my laptop as another input to share the announcements and live raffle. I've done this before, and it works really well.
Future upcoming plans
More Coding Grace videos - we use the Atem Mini to switch between cameras, feed from the Pi-Top for coding, and our feed from my Nintendo Switch with Animal Crossing (Mick is a visitor to my island). I've uploaded the videos so far here in this series here on Dev: https://dev.to/whykay/series/12422
I'll say it again, make more use of the ATEM Mini.
---
References
I made a video along with other Makers on how to make your own video, maybe this might be of use to you as well, playlist is at https://www.youtube.com/playlist?list=PLAagJ_L-cqBEWAn-eUmlqN4wz9368fCBG