📩 We're sharing our most recent developer digest here on DEV! If you're interested in subscribing to monthly developer updates, sign up here.
July Developer Digest
Introducing the Stripe extension for VS Code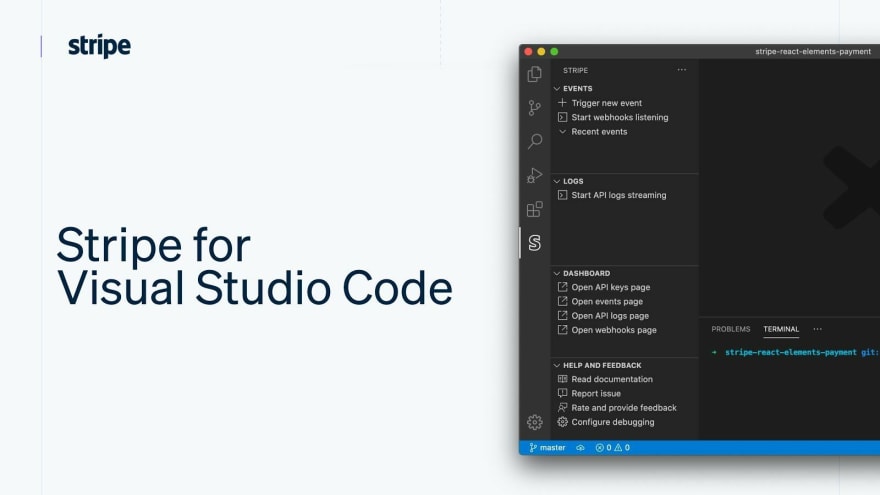 With our VS Code extension, you can stream logs and webhook events from the Stripe API to your local development machine, quickly access the API reference by hovering over resource methods, easily get started with one of Stripe's sample apps, and much more.
Learn more in our video:
or get started now.
Stay updated
New payment methods on Checkout: With Stripe Checkout you can now take advantage of three new payment method types. Checkout supports two new voucher-based payment methods: OXXO for your customers in Mexico and Boleto for your customers in Brazil. You can now also use WeChat Pay to accept payments from your customers in China.

Checkout server-side redirect: Checkout now allows you to redirect your customers to the Stripe-hosted Checkout page from your server. This can significantly simplify your integration as it removes the requirement for Javascript redirection code to send your users to Checkout.
Mobile SDK updates:
Stripe iOS SDK version 21.7.0: This new iOS SDK release adds support for WeChat Pay to PaymentMethods, 3DS2 support for Cartes Bancaires, and more. Read more in the release notes.

Stripe Android SDK version 16.10.2: This new Android SDK version adds PaymentSheet support for Jetpack Compose. Read more in the release notes.
Learn
Global payment video series: Watch our series of videos that walk through how to get started accepting payments on Stripe using local payment methods. We'll add more payment method guides in the coming weeks—subscribe for new videos.
The first step for accepting a one-time payment is to create a PaymentIntent on the server. Watch one of our seven server language guides to learn how:
Create a PaymentIntent with Ruby

Create a PaymentIntent with Python

Create a PaymentIntent with PHP

Create a PaymentIntent with Node

Create a PaymentIntent with Java

Create a PaymentIntent with Go

Create a PaymentIntent in .NET

We've added videos on how to confirm a payment for payments made with giropay, Boleto, WeChat Pay, Apple Pay, AU Becs debit, and FPX:
Confirm a PaymentIntent with Giropay

Confirm a PaymentIntent with Boleto

Confirm a PaymentIntent with WeChat Pay

Confirm a PaymentIntent with Apple Pay

Confirm a PaymentIntent with AU Becs debit

Confirm a PaymentIntent with FPX

Community
How to collect payments with Stripe and Next.js. [video from AlterClass]
Stay connected
What would you like to see more (or less) of? Let us know by replying to this email. If you have questions, comments, or need help with code, we're here to help via email, or on Discord, Twitter, or Stack Overflow. View our code samples on GitHub.
– Your friends at Stripe