For the love of customization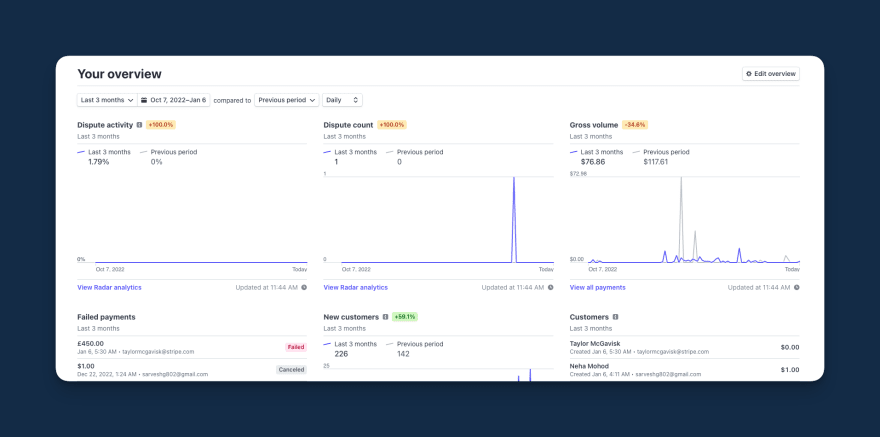 📩 We're sharing our most recent developer digest here on DEV! If you're interested in subscribing to monthly developer updates, sign up here.
From discovering the perfect VS Code theme to finding just the right keycaps for your keyboard, you can customize your set up to your heart's content.
We've added our love of customization to your Stripe Dashboard , with the ability to choose from over 35 widgets to better understand your business. With widgets you can quickly see your customer growth, disputes, checkout success rates, and other business metrics.
Need to pass your appreciation for customization to your customers, too? Our new custom field support in Checkout and Payment Links allows you to do just that. Read on for the latest with Stripe.
Stay updated
Stripe Shell and the new API Explorer: The Stripe Shell lets you quickly run CLI commands in docs and now in your dashboard. Quickly iterate and understand an API with the new API Explorer.
35+ widgets on the Stripe Dashboard: You can now customize your Dashboard with widgets to see your monthly recurring revenue, disputes, and other business metrics.
Link payment method for Payment Element expands coverage: Link can now be added to your Payment Element to fulfill payments in new countries , including Australia, New Zealand, Hong Kong, Malaysia, and the United Arab Emirates.
Apple Pay is now available for all Stripe Tax users in Checkout: For those using Checkout and Tax, Apple Pay is now visible on Checkout sessions.
Tap to Pay for Android: Accept contactless in-person payments on a compatible phone or tablet using tap to pay with the Stripe Terminal SDK.
No-code
Custom fields for Checkout and Payment Links: You can add custom fields to collect information like delivery instructions or custom order information from your customers.
Embeddable buy button for Payment Links: Turn your Payment Link into an embeddable buy button for your website. Customize the button in the Stripe Dashboard to match your brand and copy a ready-to-use code snippet.
Pricing table adds support for tiered pricing: Offer your customers discounts as they increase their usage, with pricing tiers in your embedded pricing table.
Learn
Stripe Connect series
Last month, we began publishing a series of articles about Stripe Connect. In Part 1, we helped you understand how to select an account type for your platform or marketplace.
Community
Stay connected
💬 Follow us at @StripeDev on Twitter for updates and answers to your developer questions. Let us know what you're working on with the Stripe API.
👾 Join the Stripe Discord server to chat live with other developers.
📺 Subscribe to Stripe Developers on YouTube for office hours, live streams, and online technical workshops.
📚 Add us on DEV for how-to articles and past editions of this developer digest.
📥 Submit dev content for the developer digest.
What would you like to see more (or less) of? Let us know by replying to this email. If you have questions or comments, or need help with code, we're here to help via email , or on Discord , Twitter , and Stack Overflow . View our code samples on GitHub.
— The Stripe team