Thank you, Opemipo Disu (@coderoflagos) for an amazing session we have had today.
Opemipo is a 16 y.o. Developer • IBM Champion • Keynote speaker • JAMstack Lagos Lead • Developer Advocate 🥑. He does so many things :)
Well, even the best of us can benefit from a friend's advice.
I started the mentorship session trying to understand what Opemipo really likes.
Initially he said he likes Jamstack. However, the longer we talked, the more clear it became to me that Opemipo is really into IBM Watson.
Well, that is not a bad choice, not a bad choice at all! AI is a big thing, NOW.
So, how can we start? What can Opemipo do today to increase his chances of getting into AI part of IT, ideally in an IBM level company?
OpenSource to the rescue.
A quick google-ing showed us a repo called "IBM Watson APIs". The repo has some forks, some stars and it is fresh. Of course, I would prefer to have thousands of forks and stars, but we are talking of a niche product.

As an alternative, we could have chosen the node-sdk project of IBM Watson APIs, but it does not look to be updated too often, however it still might be a good choice.

What comes next? Of course, a contribution.
As always, we started with a README.md :)
My autism probably helped me again to find a missing "." symbol.
Well, whatever helps :)))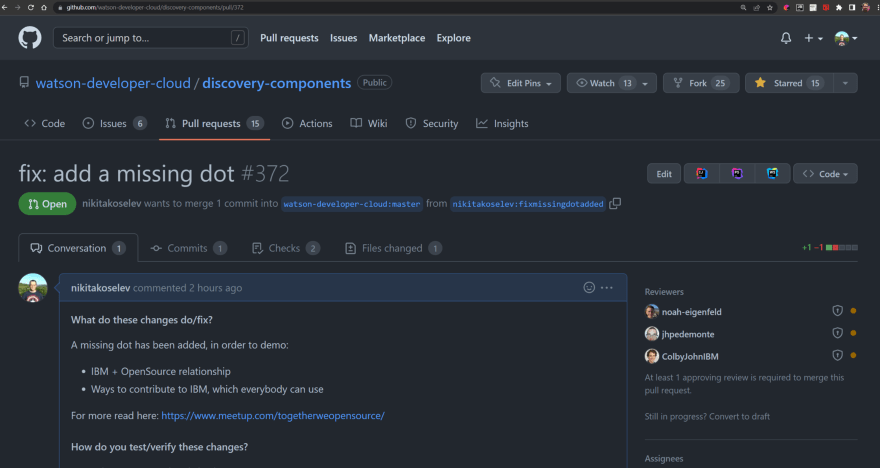 So now, I am a contributor to the "watson-developer-cloud", really.
What is more important, now I have a better of understanding of how I can help people to get into the world of AI and OpenSource.
What's next?
Well, next task for Opemipo would be to find 2-3 promising AI OpenSource projects from other companies.
Will it be enough?
Of course not.
But when Opemipo starts writing daily posts about the OpenSource projects he takes part in - the difference will be massive.
Remember, we are speaking about Opemipo, who has already achieved a lot in the world of IT.
Imagine, how much can a person from a non-IT background achieve.
Stars are no limit for OpenSource.