Introduction
I'm a Cloud enthusiast (AWS primarily) and student at the University of London (BSc Computer Science). I'm new to Deepgram and their Speech-to-Text API based on deep learning and AI, however, I'm not new to app and website development. I have knowledge and experience designing and building web & mobile applications and integrating native & non-native API's into them. From concept/sketches/wireframes to UI/UX design and further into production or development.
I decided to participate in the "Innovative Ideas" category of the Deepgram Hackathon on DEV simply out of curiosity and innovation. I wanted to create an application that would solve a problem that I have, in a very simple manner. The problem is, there are times I want to listen to an AudioBook or Podcasts or even both but I don't have 2-3 or even 4+ hours to be listening and even if I did have that amount of time, my brain would be fried by the end of it and I probably wouldn't have retained much. I wanted to create a solution for this, what if I could use "keywords or/and phrases" as an input into an application? That is able to give me the most essential information relating to my given "keywords or/and phrases" in a small concise manner, maybe 2 or 3 paragraphs if I'm in a hurry or possibly a page or 2 if I have time. That was the simple thought process I had when creating "VocalBridge". I'm not sure of the small details of the "how" I could make this happen with Deepgram, that is why, this application is in the "Innovative Ideas" category of the Deepgram + Dev.to Hackathon.
My Deepgram Use-Case
—
This project was created as an application that would integrate with Deepgram. VocalBridge offers a huge range of AudioBooks & Podcasts to offer children and parents. I was inspired by the idea of reading bite-sized chunks of information on-the-go in a matter of a minute or two from an AudioBook and/or Podcast that is usually 1 or 2+ hours of audio content. There are solutions out there that can fulfil this task in a similar manner, however, VocalBridge is able to search and transcribe intelligently the most "important" phrases or lines of these audio sources and transcribe them in an orderly way that is not only pleasing to the eyes of the user but also sensible and intuitive just as if it was written that way in that specific order even though it was not. That is the "secret sauce" of the application that is VocalBridge, even though this is only a concept, I am sure that this application would be a life saver for persons that are on-the-go and simply want a brief synopsis of the actual content within the AudioBook and/or Podcast, not only the descriptive summary provided by the author or distributor/provider of the AudioBook and/or Podcast.
Dive into Details
—
VocalBridge is pretty much a simple idea that was created to solve a simple problem for so many individuals that are on-the-go and need that bite-sized chunk of information and don't have hours on end to listen to a full blown AudioBook and/or Podcast. This project is suitable for people of all races, ages and religions. It would be beneficial for persons 16-28 years old, that are usually going to school with assignments, an AudioBook or Podcast may contain crucial information for them which they can make good use of and individuals that are 20-45 years old that are usually working, have children or other responsibilities and would like to gain the information within an AudioBook or Podcast but don't have the hours required to listen to these audio sources.
Children would also benefit greatly from the services of VocalBridge. By reading kids AudioBooks and/or Podcasts, kids could gradually begin or continue learning and understanding words and phrases of songs or poems within these AudioBooks and/or Podcasts. VocalBridge's idea with the help of Deepgram, is made to be the transcription bridge from these various audio sources to text and provide an everyday solution for the issue of having to listen an entire AudioBook or Podcast to learn the true meaning within it. VocalBridge aims to reduce the time needed to accomplish this task into a matter of minutes for millions of persons regardless of their age, religion, and race.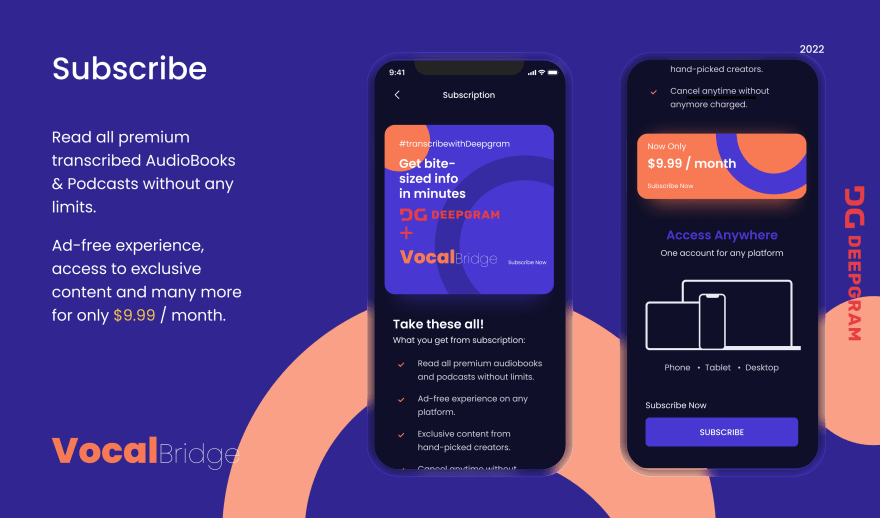 Conclusion
—
Finally, VocalBridge was an extremely fun "Innovative Ideas" challenge mobile application project. I'm an AWS guy so if I was to actually build this mobile application, There definitely would be some type of incorporation with AWS within this mobile application. There would also be a web application built for users that prefer a laptop/desktop experience rather than a mobile experience. Lastly, VocalBridge was a treat to create, this application is indeed a prototype, but it was interesting to create a simple problem solver. Thank you Deepgram + Dev.to for the Hackathon!
Here is a link to the prototype of VocalBridge, please keep in mind that this is a "prototype", not a real working application. Enjoy!
https://cloud.protopie.io/p/73a7b2d6bb