As I mentioned before, you don't need much software as a content creator. You can join an online meeting, share your screen, and start recording or even live streaming - voilà your first video! If you don't own a laptop or a mobile phone with a camera, try your local library or school.
Using built-in hardware in an online conference isn't the best choice for good audio and video quality, so we should invest in a dedicated microphone: I already blogged about my hardware setup, now I will proceed with software, focusing on free and open source software.
Multimedia Editing using Open Source Software
Free and open source software (FOSS) usually runs on many different operating systems, including MacOS, Windows, and Linux, and it often supports older machines as well. And you don't need to pay for it, although you can and you should, if you have some money to spare. As an example, GIMP's donation page is at www.gimp.org/donating/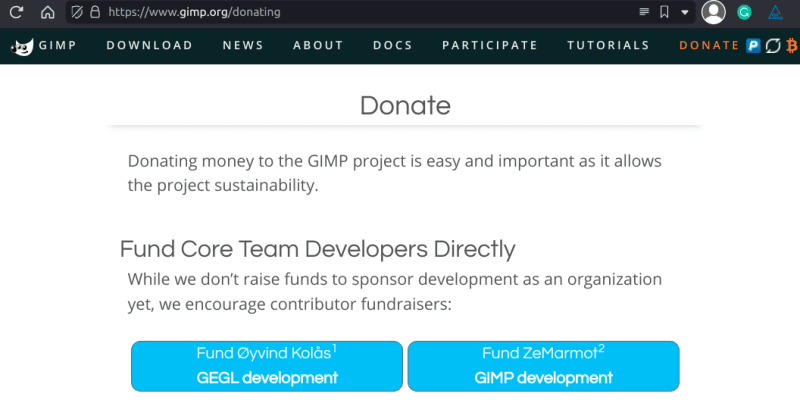 Some software developers don't seem to care much about money, but they might approve helpful bug reports or pull requests instead.
Overview of Multimedia Software mentioned in this Post
In this post I will feature image, audio, and video editing tools including GIMP, Pinta, Cheese, Cinelerra, Flowblade, OpenShot, Kdenlive, ffmpeg, ffmpeg-gui, Shotwell, Simple Screen Recorder, Webcamoid, Audacity, and ocenaudio, although the last isn't open-source software.
I use a Linux laptop for development, and that's enough for my multimedia editing needs as well. This is my current multimedia and graphics software menu:

As you can see, I have a choice of several different tools for watching, organizing, and editing graphics and videos.
No Problems except for Color Balance?
My greatest problem so far had been configuration: how to color-balance my built-in camera so that I don't appear shady, pale, or red-faced. Once, I even managed to turn my picture 90 degrees globally, affecting any software including Zoom, Jitsi, and Google meet. Maybe the built-in camera isn't that decent after all, but I will use my mobile phone for the upcoming recordings anyway. Here are some screenshots of myself trying not to look ridiculous in a video conference.
"Take a Photo" to test my Configuration
There are multiple tools for watching and organizing images and videos, including Shotwell, a photo collection manager, and Gthumb, an image viewer and browser. I won't go into further detail here.
Image Editing Software
To create stills, overlays, and poster images, you need image editing software.
The GIMP
GIMP was first released back in 1996 and it is still the best and most popular open source image editor, including any tools and filters that you will ever need as a semiprofessional. When it first came out, many people saw it as an ambitious project that would never be able to replace Adobe Photoshop. Again, for my personal needs as a frontend developer it does, and it has been for maybe 20 years now.
Pinta
GIMP is great, but you don't need to start a full-scale image editing application for a small resize or retouch operation, especially not on a machine with limited memory or CPU speed. Pinta is a practical alternative, and it also runs cross-platform.
Audio Editing Software
We only need a simple audio editor to trim audio tracks, delete noise or apply other basic effects. Audacity has been doing a good job for more than 20 years, but ocenaudio seems to be a hot new alternative.
Audacity
Audacity is an cross-platform multi-track audio editor and recorder. First released back in 1999, it is still the most popular free and open-source audio editor according to Wikipedia despite a recent controversy about telemetry features.
ocenaudio
ocenaudio looks even better after switching to the purplish spectrum display instead of the traditional waveform view seen in the first screenshot. Based on the non-free ocen framework and probably focusing more on audio analysis, it can be used as an alternative to Audacity.
Free and Open Source Video Editing Software
After not doing any multimedia creation for some years, I still have to (re)discover the current tools and their pros and cons. Actually, I am really impressed that there are different cross-platform alternatives and good options for Linux in 2023, ten years after the Kino video editor has been discontinued. I had been using Cinelerra when it was but an ambitious new project, and I have been doing some simple editing using Flowblade recently.
Flowblade
Cinelerra
I like the accidental vintage look, but I hope that you don't get a wrong impression: both Flowblade and Cinelerra are capable of handling color video of course, it's just that my demo video looks nearly gray-scale or black and white due to a misconfigured white balance on a sunny day.
All that video editing could rescue would be adding a colorization filter, no matter which software I use. The following screenshots look almost too colorful in comparison.
OpenShot, Kdenlive and others
There seem to be many more alternatives, including OpenShot and Kdenlive. As I haven't been thoroughly testing any of those, so I will link to a video editing software article at It's FOSS: itsfoss.com/best-video-editing-software-linux
ffmpeg
Having been around for a while, there is one more tool that I have been using for decades now. The original version has a nerdy command-line interface like this:
Without any visual preview, command-line tools use less resources than the graphical tools, so you can use them on an old machine which does not have a lot of resources. But there are several third-party extensions adding a GUI on GitHub: github.com/topics/ffmpeg-gui
We can also write our own shell / batch scripts for recurring tasks like cutting a video file based on time and duration, transcode to another format, or split and join audio and video tracks.
Other Tools
Cheese 🧀
Gnome Cheese is a a simple app to take photos and videos with your webcam, with graphical effects and configuration, both as preview, and (attention!) as a global default for every other camera client as well.
When taking a photo with Cheese, it will show a white screen as a flash.
Simple Screen Recorder
Recording a coding session, animation, or a click-through demo of a website, we can use Simple Screen Recorder that does exactly what its name suggests.
We can select resolution, codecs and container formats available on our platform to save our recordings as a video file.
Webcamoid
Webcamoid is a combined graphical tool to take pictures, record videos, and capture from desktop. Below is a screenshot of their website.
Conclusion
There are plenty of free and open source tools for image, audio, and video editing for every popular operating system, including Linux.
Have a look, get inspired, and start creating!