Hey 👋
Oh well, summer days went fast, didn't they? In the meantime, we were super busy here at CodeSandbox!
If you wanna get it directly to your inbox and never miss an edition, subscribe here
Let's start unrolling our August product updates!
---
Latest Product News
Deployment Preview for Every Branch 🔥 — The rise of cloud development environments like CodeSandbox opens the door to dedicated deployment previews for every branch, a great way of accelerating code reviews.
At CodeSandbox, we give every branch a dedicated microVM (with very generous base specs). Read more details about how we do this on our blog.
Dependency picker in cloud sandboxes — Now you can debug your project using Chrome DevTools integrated into CodeSandbox. DevTools links will open the respective file directly on the CodeSandbox editor.
Enable VIM mode — We have introduced VIM mode support in our cloud editor. This means you can now enable VIM on repositories and cloud sandboxes.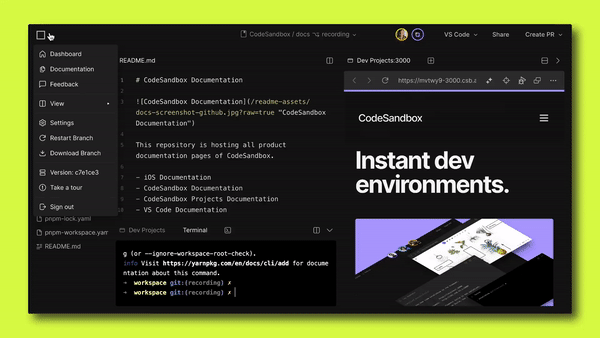 Full Changelog — August just flew right by. One moment you're sippin' and shippin' at the beach, the next you remember it's almost time for pumpkin spice lattes. There was a lot of work put into stability and performance improvements–but first, dive into the cool new features we shipped. 🚀
---
Meet Us @ Events
ElixirConf US — At the beginning of September, our colleague, AJ Foster, spoke at the ElixirConf about a new OpenAPI client code generator that combines the ergonomics of hand-crafted libraries with the maintainability of generated code.
React Live — We are closing the month with a splash! One of our founders, Ives van Hoorne, will take the stage to talk about the future of CodeSandbox!

Join our Sandpack Discussion Panel — We're continuing our tradition of having our community meet our engineers and learn more about things we're building. Join next's week discussion on building live coding experiences with Sandpack to see how this project is evolving and empowering our community.

---
Web Bytes
The Internet of PHP — While the diversity of languages and frameworks on the front-end side never ceases to surprise and impress us, the server-side programming languages world is mainly... PHP. This article explains who uses it at scale, how they do it, and whether PHP is innovating or trapped in time.
Bun 1.0 is out! — The fantastic team behind Bun has released its stable version. Bun is all about speed and less complexity, so we really vibe with their mission of empowering web developers. Fork our Bun starter to give it a try!
---
Community Spotlight
Each Friday, we use Twitter (or X, or whatever it's called these days) to shine a light on some of the best projects amazing people create using our platform.
Embeddable CAD in one click — We got mesmerized by how Buerli uses CodeSandbox and Docker to integrate powerful non-manifold solid CAD kernels into your web apps. Check the project here.

We really love seeing what you build using CodeSandbox. So do share with us what you're working on or which insights you would like to hear from us.
---
Thank You ❤️
We hope you enjoyed issue #3!
We thank you for your patience as this got out a bit later than usual. We will be back on track next month.
What should we bring next? Tell us on Discord!