Introduction
The world around us is changing, and the way we do things has to change with it. In this case, writing code—and doing so more efficiently than ever before—has become much simpler, thanks to the plethora of no-code and low-code tools available on the market. No-code development platforms and low-code development platforms are similar in that they both drastically reduce the amount of time it takes to create an application. Unlike low-code, no-code development platforms don't require any coding—they offer predesigned templates from which businesses can build apps. As companies deal with the parallel trends of an increasingly mobile workforce and a limited supply of competent software developers, these platforms have both increased in popularity.
Popularity and the rise of no-code tools
No-code tools have become increasingly popular, and thanks to this there are many options for you to choose from. No-code tools are easy to use, affordable and user-friendly. They also provide the opportunity for developers who are new to coding or those who have limited experience in building websites or apps on their own.
No-code doesn't mean that you won't need any knowledge of coding as some might think! It simply means that you don't have to learn how everything works behind the scenes before being able to build something yourself with no prior experience required whatsoever!
1. Google AppSheet
Google AppSheet is a web app that allows you to build a spreadsheet-based app without writing any single line of code. It's an easy-to-use tool that allows you to create and customize templates for different types of applications, including business apps, websites, and email marketing campaigns.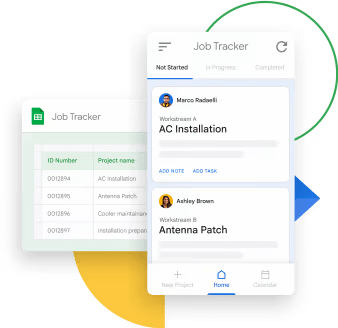 AppSheet also has built-in drag & drop editor so users can quickly add content from the web into their spreadsheets without having to learn how to use coding languages like HTML or JavaScript. This makes it a good choice for small businesses and startups who want something simple but powerful at their disposal when they need it most! If you're looking for a way to make an app without code, check out AppSheet. It's absolutely free(limited up to 10 users)!
2. Zapier
Zapier is a workflow automation tool that connects the apps you use. It allows you to automate repetitive tasks, and it's free for up to 5 zaps. Zapier provides some of the easiest ways to automate your business. You can use Zapier's simple and user-friendly interface by building automated workflows between apps like Gmail or Slack that allow you to perform complex actions across multiple platforms without writing any code by yourself. For example, with one click of a button on our website, you can automatically send an email reminder when someone signs up for our newsletter using Mailchimp as well as create custom emails with the customer's name in them!
Zapier is great because it's easy to use and has a lot of integrations with other apps, so if you're looking for something that can do more than just one thing at once, Zapier might be the right choice for you. You can connect hundreds of different apps, such as Google Sheets or Asana project management software, etc with Zapier. And because they offer both free and paid plans - starting at just $19.99 per month - there's no risk involved in trying.
3. Webflow
Webflow is a website builder that lets you create your own website without writing any code. Using drag and drop tools, it's easy to build a beautiful site in just minutes.
It also has a powerful suite of marketing tools that will make it easy for you to get the word out about your business online. With Webflow, you can create a website in just a matter of minutes that looks professional and is mobile-friendly. It's built for small businesses or individuals who want to build their own websites but don't have the skills to do so. This platform has an easy-to-use interface that allows users of all skill levels to design websites without having any coding experience.
Webflow is a really awesome tool that enables anyone to design and host their own website without writing any code. It's a really very easy-to-use interface that makes it simple for newbies/beginners to easily get started with it. The best part about this tool is the fact that you don't need any coding experience, but it can be used by professionals as well. You can create your own website with Webflow in just minutes and get started right away absolutely free of charge!
4. Thunkable
Thunkable makes it easy for you to build your application in no time, whether you're looking for a hands-on experience with no code creation or are launching your very own business. Its simple drag-and-drop design canvas and powerful logic blocks allow you to unlock all the benefits of a native mobile and tablet device and also, you can add third-party power to your app with their open integrations—connecting your own database is as easy as it gets!
Thunkable makes the process of creating apps simple and straightforward. With 50+ design components (including animations!), logic blocks, and open integrations—thousands of users rely on Thunkable to build custom applications. It makes it easy to turn your idea into an app without writing any code so you can try it out—and even customize it!—without having to pay a single dime because the personal plan is free!
5. Bravo Studio
Bravo Studio is an app builder for designers and developers. It makes it possible to turn Figma prototypes into native iOS and Android applications instantly without writing any code—and allows users to test their designs on real devices with no hassle. Bravo Studio makes use of native components and mobile actions to make your application look like it was developed specifically for that mobile platform.
With Bravo Studio, your prototype can be connected to real-time data. You can pull and display information from any APIs or third-party services. The changes to your data will automatically be synchronized, and the new information should appear in your app within seconds. Bravo Studio offers users a free version of the app, as well as a paid subscription to unlock additional features.
6. ToolJet
ToolJet is a no-code platform that allows you to create custom apps without coding skills. This tool is suitable for any business, from start-ups to enterprises. It has been designed to help you build, launch and manage your internal tools quickly and easily. This way, there are no longer any restrictions when it comes to using our products because they are completely customizable by the user himself or herself!
ToolJet is a fully open source no-code framework for quickly building and deploying internal tools without having to put in a lot of effort. Users can connect to databases, such as PostgreSQL and MongoDB; API endpoints, like Stripe's; and external services—like Google Sheets. In addition to these data sources, Tooljet provides UI widget templates that let you build internal tools without writing code.
7. Knack
Knack is a no-code platform that allows you to build apps without writing any code. Knack is a really awesome tool for non-technical users. It makes it easy for non-technical users to create apps and publish them on various platforms.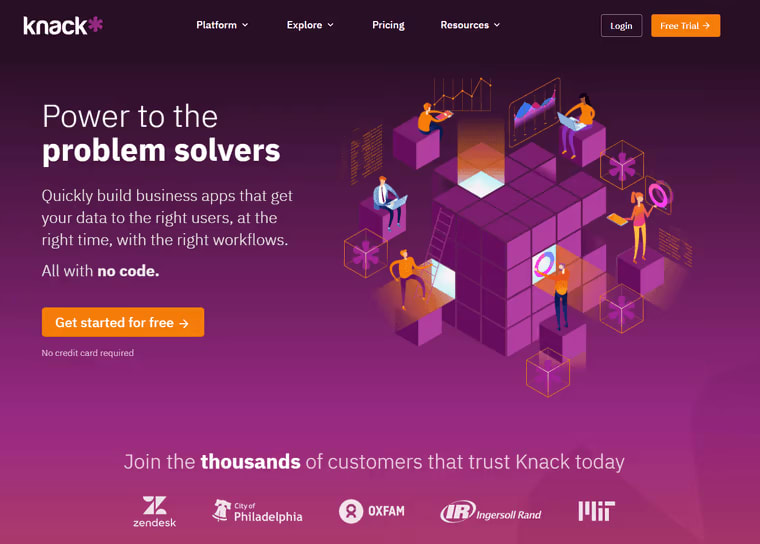 The best part of this tool, however, is its ability to customize your app according to your needs and preferences! You can choose from multiple templates based on different categories – which will help you save time when creating an app because all you have to do is select one or two options. Getting started with Knack is easy, and you can even try it free for 14 days—no credit card required. After that, though, a subscription will cost at least $39/month.
8. Bubble
Bubble is a simple and easy-to-use drag-and-drop website builder. It's great for beginners, small businesses and non-techies who want an alternative to coding their own web pages. With Bubble, you can create a website that looks and feels professional without doing any coding. This is especially helpful for those who are looking to start their own business or make some extra money online. It's also great for non-techy people who have no idea how coding works but want their own website anyway.
Bubble allows you to create beautiful websites in a few minutes by dragging elements from the library onto your page (think of it as an easy way to build your first website). You can also choose from hundreds of prebuilt templates or start from scratch with custom HTML/CSS code if necessary.
Bubble is free to use, but you'll need a subscription plan if you want more advanced features. A starter plan costs $25/month while an enterprise one goes for $115 - $475 per month.
9. Miro
Miro is a no-code collaborative project management tool that lets you create mindmaps, diagram ideas, create project roadmaps, and much more, using an online interactive whiteboard. With Miro, you have complete creative freedom and you can create sprint epics from clusters of sticky notes, then export your sketches to preferred design tools for high-fidelity prototyping. In addition, with Miro you can also: plan across teams, and integrate context from all of your other tools into a visual way to see projects or sprints - and roadmaps. Finally, bring together data from multiple sources throughout your business so that the whole story is on one screen — making better decisions for smarter growth.
In brief, Miro is a collaborative platform that enables distributed teams to collaborate effectively—from brainstorming with digital sticky notes, to planning and managing multiple workflows. The product comes with a user-friendly drag-and-drop interface that allows beginners to get started without any hassle.
All of these no-code tools will help you build or optimize a business or website quickly and easily, without the need to code.
The era of no-code tools is here, and it's going to be a big deal for anyone who wants to build or optimize a business or website quickly and easily. There are many options for you to choose from, so whether you're looking for a tool that will help you build an online store from scratch or one that can help with some of the technical aspects of running your own blog website (like hosting), there's something out there for everyone!
This is a growing trend in technology as more people realize how easy it is to create websites without having any programming knowledge at all—and this trend isn't going away anytime soon either because as long as humans use computers we'll always need them (even if they don't know how they work).
No matter what kind of business or website you're looking to build, there's a no-code tool for it. Whether you want something powerful like ToolJet or simpler but still effective options like Bravo Studio, you'll find that there are plenty of ways to get started without coding.
Conclusion
The world is changing, and your business needs to change with it. If you want to stay competitive in the years ahead, you need to be ready for a marathon of development that's never-ending. The good news is that there are plenty of tools out there designed specifically for this purpose. The above-mentioned compiled list of nine no-code and low-code tools is intended to help you get started on your journey to becoming an expert in building and crafting applications without writing a single line of code.