Introduction
Discord is a popular communication platform used by online communities. Originally developed in 2015, it was designed to facilitate communication and coordination among users and community members. However, it has since evolved into a broader platform used by businesses, educational organizations, open source communities, and various social groups.
If you find yourself overwhelmed and unproductive when managing your Discord communities, you're not alone. Many people struggle with staying on top of their tasks and maintaining a high level of productivity. Fortunately, tools like Aviyel's Discord Bot can help. This bot provides a range of useful features and functions to help users boost their productivity. In this guide, we'll take a closer look at what Aviyel's Discord Bot has to offer and how it can help you become more organized and productive while managing your communities.
The benefits of using bots on Discord
There are numerous advantages to utilizing bots on Discord. Among the most notable advantages are:
Enhanced functionality: Discord bots can provide a variety of features and functions that are not available by default on the Discord platform. A bot may, for instance, provide a lot of external functions, monitoring, or a task management system. This can improve the server's overall functionality and user experience.
Improved organization: Discord bots can help users stay organized and on top of their tasks. For example, a bot might provide a to-do list or reminder function, which can help users manage their workload and stay on top of deadlines.
Increased participation: Discord bots can increase participation and activity on a server. A bot may, for instance, offer an interactive feature that encourages user participation. This can help the server's community become more dynamic and engaging.
Full Customization: Discord bots can be tailored to a server's particular needs and preferences. A bot may allow users to change its prefix or command structure, as well as enable or disable specific features. This allows users to tailor the bot to their specific preferences and needs.
What is Aviyel's Discord Bot?
Aviyel's Discord Bot is a powerful tool that can easily be integrated with Discord, a popular communication platform for communities. This bot provides a range of useful features and functions to help users boost their productivity and stay organized. Some of the key features include:
Welcoming new members: The bot can automatically send personalized messages to new members who join the Discord server, providing them with links to events, articles, and other resources to help them get started. This can help new members feel welcome and supported as they start to get involved in the community.
Creating threads: The bot can create new threads on Discord channels to help keep discussions organized and ensure that no important comments are missed.
Reward tracking: The bot can keep track of rewards earned by community members and automatically send them direct messages on Discord to inform them of their achievements. This can help members feel recognized and valued for their contributions.
Event reminders: The bot can monitor events and send timely invites to relevant community members, as well as last-minute reminders directly on Discord to ensure they don't miss out. This can help organizers keep track of attendance and focus on making events a success.
Note: 🚨 Before you even set up your Discord bot, you must first setup and configure your project on the Aviyel platform! Follow this step-by-step guide
Improve your productivity with Aviyel Bot by seamlessly integrating it with Discord!
Aviyel's Discord Bot/App is designed to streamline and improve team communication and collaboration in Discord. With the Aviyel bot/app installed, all data from Discord can be easily accessed and organized in a single location, and this bot offers a range of powerful features that can help with tasks such as welcoming new discord members, creating threads (within a message), keeping community members informed about their rewards, and monitoring and sending invites directly via Discord DM or channels, which can help teams to stay coordinated and on track and to avoid wasting time and effort on manual, time-consuming tasks.
How to Integrate Aviyel Bot into Discord
Integrating Aviyel into Discord is straightforward. Here are the steps to follow:
Configuring Discord with Aviyel
Installing and connecting your Discord channel to your profile is a really quick and straightforward process. All you need to do is go to the projects settings page and click on the "Install Discord Bot" button, as shown in the screenshot, you will then be redirected to your Discord authorization page, where you can approve or deny the application's installation permission.
Once you have clicked on the button, you will be redirected to your Discord authorization page where you can approve or deny the application's installation permission. To complete the authorization process, simply click on the Authorize button to grant the Aviyel bot access to your Discord server.
Next, select the server where you want the Aviyel bot to be installed and move on to the next step. Once the bot has been successfully installed on your chosen server, you can return to Aviyel's Discord settings and see that your server has been configured properly. It's that simple!
Maximizing productivity and efficiency with Discord bot-powered workflow configuration
Now that we have completed the setup process and determined our desired direction for our community, it's time to focus on automating the many time-consuming tasks that come with managing it. This is where Aviyel workflows can help. By using Aviyel's workflow automation tools, you can streamline your community management and make it more efficient. Workflows can automate a wide range of tasks, from recurring administrative tasks to engaging with members and fostering community growth. With Aviyel's workflow, you'll have a powerful tool at your disposal to help improve your community journey and take it to the next level.
Thread opener workflow for Discord
Do you want to keep up with the latest conversations on your Discord server or channel without missing a beat? The Thread Opener workflow is here to help! With this handy workflow, you can open a new thread every time a conversation is started on your Discord server or channel. This way, you can easily see what other members are saying and reply to them in a personal, direct thread.
To enable this workflow, simply click on the Thread Opener workflow and create a new one. Once you have set up all of your workflows and saved them, you will be able to preview the workflow and toggle it on or off as needed.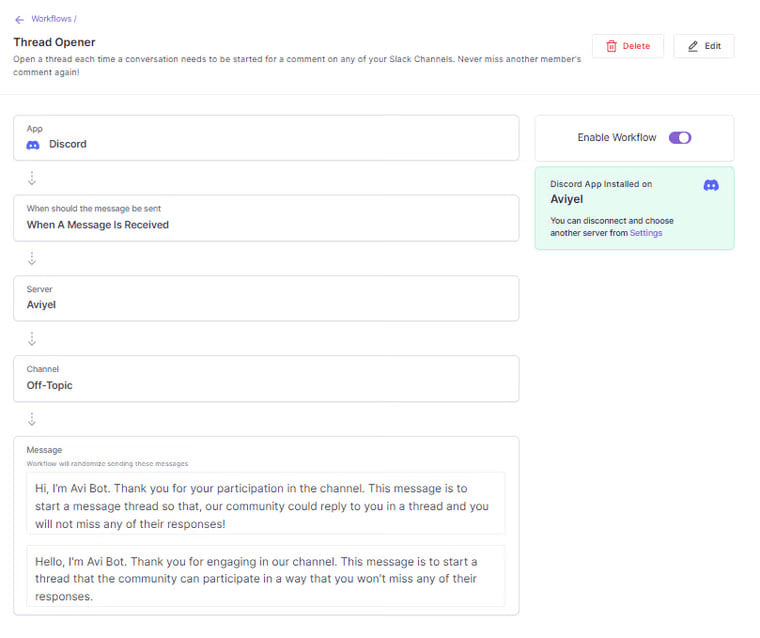 And that's all there is to it! With the Thread Opener workflow, you'll never miss another conversation on your Discord server or channel again. Every time someone pings the channel, the workflow will automatically greet them and open a thread so you can reply directly. Give it a try and see how easy it is to stay connected with your fellow Discord community members.
Welcome message
In this workflow, new community members on Discord are greeted with a warm welcome message or provided with links to events, articles, or the knowledge base.
To set up this workflow for Discord, simply click on the Welcome message workflow option and select the Discord platform. From there, you can choose when to send the message—either when a new member joins the workspace or when they join a specific channel. Then, select the medium of messaging or channel and choose a messaging template or create a custom message. Give the workflow a meaningful name and save it.
Once you have saved your workflow, it will appear similar to the screenshot shown below.
Rewards Digest
In order to keep your community members informed about their recent hard-earned badges and rewards, this workflow can be used. To use the workflow, you must first set up the rewards. If you haven't done this already, please head back to your projects page and setup there before continuing with this tutorial.
Now, let's move on to configuring the workflow. It's easy to do – simply select the platform (for this demo, we will use Discord) where you want to send the message, choose the time and frequency for sending the updates, and give the workflow a name. The workflow will automatically generate a template for you to use, so all you have to do is save it! By doing this, you'll be able to keep your community members up to date on their rewards, which will help to keep them engaged and motivated.
Event Invite
Are you tired of struggling to get people to attend your events? Look no further! Our simple and straightforward workflow is here to help. With just a few easy steps, you can set up a system that sends timely invitations directly to your Discord community members and even sends last-minute reminders to make sure they don't forget.
To get started, all you have to do is choose when you want to send your message, select Discord as the medium/platform you want to use, and then choose a message template or create a custom one. Once you've done that, just name and save your workflow, and you're all set!
And if you ever want to make changes or customize your workflow, just head to the Configured workflows tab to see which workflow is currently active and make any necessary adjustments. It's that easy! With our simple and effective workflow, you'll never have to worry about emptiness at your events again.
Conclusion
If you're struggling to keep up with the demands of managing your Discord communities, Aviyel's Discord Bot is here to help. This powerful tool offers a range of features that can improve your organization and productivity, from automatic welcoming of new members to tracking rewards and sending event reminders. With Aviyel's Discord Bot, you can enhance the functionality of your server and make your community more dynamic and engaging. Plus, the bot and the workflow are fully customizable, so you can tailor it to fit your specific needs and preferences. Take control of your Discord communities and boost your productivity with Aviyel's Discord Bot.