Welcome to a Year 2022 wrap-up by Timothy Spann.
Best of 2022
I am responsible for spreading the good word of Apache Pulsar. I accomplish this by doing talks, meetups, articles, podcasts, videos, demos, repositories, newsletters, and other content.
NYC Area Apache Pulsar meetup has grown to over 648.

https://www.meetup.com/new-york-city-apache-pulsar-meetup/
I spoke at over 35 conferences both virtual and in-person
Built 64 issues of my newsletter. https://github.com/tspannhw/FLiPStackWeekly to over 5,800 readers.
Build lots of demo repos https://github.com/tspannhw?tab=repositories&q=&type=source&language=&sort=
Build over 45 slides from events. https://www.slideshare.net/bunkertor/presentations
Built up blogs at https://medium.com/@tspann, StreamNative, DZone (top expert in IoT and ML), https://timwithpulsar.hashnode.dev/, https://dev.to/tspannhw, https://www.pulsardeveloper.com/,
Added mastodon https://hachyderm.io/@timspann
Took over StreamNative Youtube Community. over 90 members of personal youtube https://www.youtube.com/channel/UCDIDMDfje6jAvNE8DGkJ3_w
Took over Podcast https://www.crossingthestreams.dev/
2022
🎯 2 DZone Top Expert Zones
📣 35 conference talks (including both virtual and in-person)
🎙 3 podcasts
📅 7 meetups
📼 4 webinars
✍️ 39 articles and blog posts
🗞 64 #newsletter weeklies written
📚 85 code repositories built
📄 45 slides created for events
🖥️ 20 demos built, run and shown
📺 50 videos from various streaming resources
🏢 700 Meetup Members
** What about your 2022? **
Let me know in the comments.
December 2022 Apache Pulsar News
Apache Pulsar Client for Python 3.0.0 released.
https://archive.apache.org/dist/pulsar/pulsar-client-python-3.0.0/
https://pulsar.apache.org/release-notes/versioned/client-python-3.0.0/
Top 3 Data and AI Open Source Projects to Watch - Apache Pulsar
https://www.datanami.com/this-just-in/bigdatawire-formerly-datanami-reveals-winners-of-2022-readers-and-editors-choice-awards/

JDK 11 and 17 versions of Apache Pulsar now running in production.

TableView
Top 10 Pulsar Super Chargers
https://streamnative.io/blog/release/2022-12-14-announcing-the-iceberg-sink-connector-for-apache-pulsar/
https://cloud.google.com/blog/products/data-analytics/streamnative-and-google-cloud-on-the-use-of-apache-pulsar
Pulsar Summit In-Person San Francisco
Pulsar certified on OpenShift
Apache Pulsar 2.10 Release
Pulsar Friends: ScyllaDB, Apache Pinot, Apache Flink, Apache NiFi, Apache Spark, DeltaLake, Apache Iceberg, Apache Hudi, Spring, Hazelcast, Aerospike, InfluxDB, Rising Wave, Timeplus, Decodeable, Trino, Elastic, Redis, TiDB, Quarkus, Google Cloud, AWS, Azure, RedHat OpenShift and many more.
Top 10 Pulsar Videos
Recommended Articles
Reports
Interesting Code, Demos, Libraries, Systems and Projects
Articles
Code
Events
Jan 15, 2022 Virtual Pulsar Summit Asia https://pulsar-summit.org/
Jan 21, 2022 Virtual Data Minutes https://datagrillen.com/dataminutes/
Jan 29, 2022 Virtual DevFest UK https://www.devfest-uki.com/schedule
Feb 7, 2022 Virtual Developer Week https://emamo.com/event/developerweek-2022/s/pro-workshop-flip-stack-for-cloud-data-lakes-aYnjeW
Feb 10, 2022 Virtual Scylla Summit https://www.scylladb.com/scylla-summit-2022/
Feb 11, 2022 Virtual Elastic Community Conference https://community.elastic.co/events/
Mar 11, 2022 Virtual SQLBits https://sqlbits.com/Speakers/Timothy_Spann
Mar 25, 2022 Virtual Python Web Conference https://2022.pythonwebconf.com/
Mar 31, 2022 NYC ML NYC Conference https://mlconf.com/event/mlconf-nyc/
Apr 14, 2022 Atlanta DevNexus. https://devnexus.com/
Apr 20, 2022 Virtual Philly ETE https://2022.phillyemergingtech.com/talks/deep-dive-into-building-streaming-applications-with-apache-pulsar/
Apr 28, 2022 Virtual Conf 42 Cloud Native https://www.conf42.com/Cloud_Native_2022_Tim_Spann_apache_pulsar_development_101_python
May 16, 2022 Valencia/Virtual DoKDays / KubeCon https://dok.community/dok-day-europe-2022-kubecon/
May 17, 2022 Valencia HPC Batch Day / KubeCon https://kubernetesbatchdayeu22.sched.com/event/10F0q
May 26, 2022 Barcelona Spring I/O https://2022.springio.net/
June 15, 2022 Virtual Budapest Data Forum https://budapestdata.hu/2022/en/
June 21, 2022 Virtual Data Science Summit: Machine Learning Edition https://ml.dssconf.pl/en/
July 25, 2022 Virtual Code on the Beach https://www.codeonthebeach.com/
July 29, 2022 Virtual ApacheCon Asia https://apachecon.com/acasia2022/sessions/messaging-1011.html
Aug 4, 2022 Virtual DSF Summer School https://datasciencefestival.com/
Aug 18, 2022 SF. Pulsar Summit US https://pulsar-summit.org/
Sept 8, 2022 Philly Philadelphia PHLAI
Sep 13, 2022 Virtual Open Source Summit UK https://events.linuxfoundation.org/open-source-summit-europe/
Sept 27, 2022 Chicago JConfDev https://2022.jconf.dev/
Oct 4, 2022 Austin Current Event / Kafka Summit https://2022.currentevent.io/website/38332/
Oct 6, 2022. New Orleans ApacheCon US https://www.apachecon.com/acna2022/
Oct 20, 2022 Virtual Conf42 Kube Native https://www.conf42.com/kubenative2022
Oct 24, 2022 Virtual DokDays / KubeCon NA https://dok.community/dok-day-north-america-2022/
Oct 26, 2022 Detroit KubeCon NA https://events.linuxfoundation.org/kubecon-cloudnativecon-north-america/
Nov 2, 2022 Virtual AI Dev World https://aidevworld.com/
Nov 3, 2022 NYC Aerospike Roadshow https://www.eventbrite.com/e/real-time-data-evolution-forum-tickets-421382866497
Nov 10, 2022 Virtual All Day Devops https://www.alldaydevops.com/addo-speakers/timothy-spann
Nov 15, 2022 Virtual OSA Conf https://altinity.com/osa-con/
Nov 18, 2022 Virtual PASS Data Community https://passdatacommunitysummit.com/
Nov 19, 2022 Virtual Pulsar Summit Asia https://pulsar.apache.org/blog/2022/12/01/pulsar-summit-asia-2022-recap/
Dec SF Spring One Moved to 2023 Virtual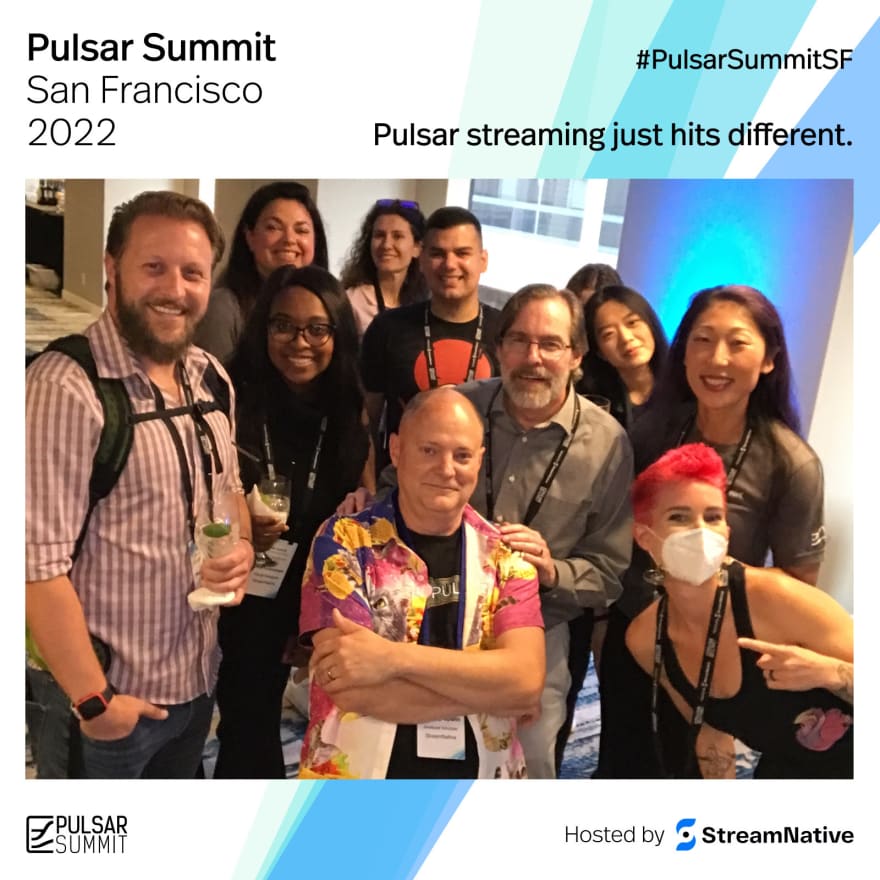 Meetups
Videos
Slides
Webinars
FLiP Stack Weekly for 2022
Schedule
https://www.linkedin.com/pulse/2022-schedule-tim-spann/