If you have a company offering professional services such as building websites, applications or just about anything else, you know how important it is to have a nice website that properly describes your business. A good website for your agency can land you so many more clients to work with. That is why I decided to select the 5 best looking Bootstrap templates that you can find.
Why Bootstrap? Because it the most popular and all around best looking CSS framework that you can find. So let's begin.
5. Wizixo – Multipurpose Corporate Theme
Wizixo is a template that makes good use of the shapes and images that complement the content. There is a large variety of sections and pages that you can choose from. It is a well rounded template that can be used for just about any online business.
4. Replacer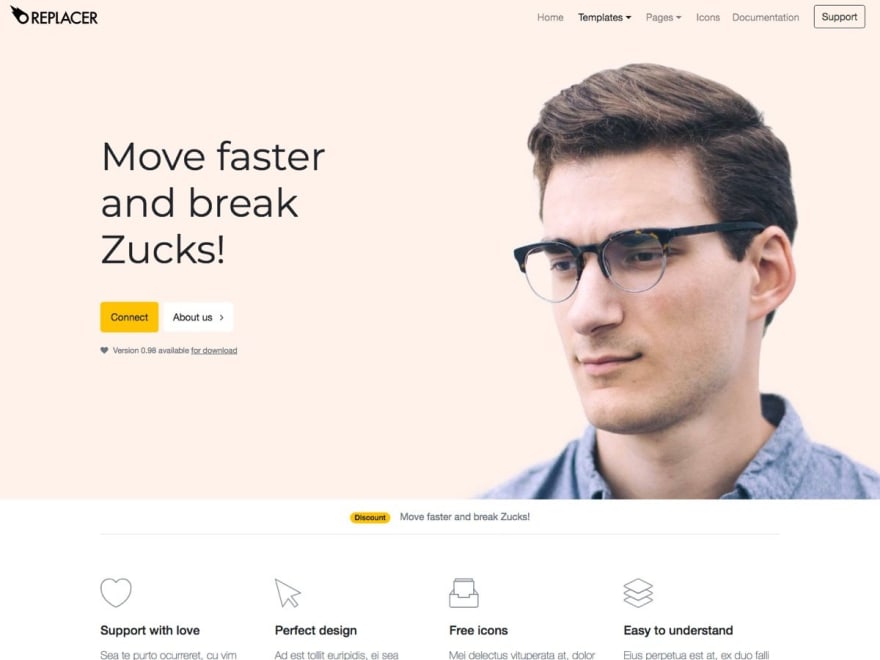 Replacer caught my attention because of its minimalistic oriented design. There's a lot more space between text and sections which can validate the following idea: less is more.
The colors are inviting and the typography is spot on. The unique icons are also a great advantage that can make your agency stand out.
3. Agency from StartBootstrap
StartBootstrap is one of the most popular websites for free Bootstrap templates and resources. While Agency is not the most premium template out there, it is a good way to cheaply get your agency up and running in no time. It has all the necessary sections to showcase your work, services and enable your potential clients to contact you.
2. Leo - Agency Bootstrap Theme + UI Kit
Leo is a template that really stands out with its bold and stylish colors and illustrations. It is most suitable for creative agencies. There are some features that really stand out with Leo, such as the loading animation, the integrated UI Kit that comes with it and the project timeline that is available on the case study page.
It is definitely worth a look.
1. Landkit – Multipurpose Template
Landkit is the best selling template on Bootstrap Themes. And there is a reason for that. The classic blue and green corporate color combinations are spot on. The buttons, inputs, images, illustrations and shapes are just perfect. It is a well rounded template and it can be used for various businesses.
Do you have an agency? Let us know what you think about this selection of themes and share us your website if you already have one!