Hello Coders!
This article presents a curated list with open-source and Free Django Website Templates available for download under permissive licenses without a registration lock or other limitations like footer credit links. All products are actively supported and might be used in many ways from eLearning to code professional websites and open-source projects. For newcomers, Django is a leading open-source web framework coded by experts using a batteries-included concept.
Thanks for reading! - Content provided by App Generator.
---
---
All templates use Django as the backend framework along with other useful features: Authentication, SQLite for persistence, Forms validation, SASS compilation scripts, and also Docker integration for a blazing fast deployment.
---
🔥 Django Website Template Pixel
Open-Source Django Template Starter coded with basic modules, database, ORM, and deployment scripts on top of Pixel Lite UI Kit, a fully responsive and modern Bootstrap 5 UI Kit that will help you build creative and professional websites. The Django codebase is provided with database, ORM, authentication, and deployment scripts.
---
---
---
🔥 Django Website Template Black
Open-source Django Dashboard built with authentication, database, basic modules, and deployment scripts on top of Black Dashboard UI (free version). For newcomers, Black Dashboard is a beautiful Bootstrap 4 Admin Dashboard with a huge number of components built to fit together and look amazing. It combines colors that are easy on the eye, spacious cards, beautiful typography, and graphics. This modern, dark-themed UI is crafted by Creative-Tim.
---
---
---
🔥 Django Website Template Volt
Volt Dashboard is a free and open-source Bootstrap 5 Admin Dashboard featuring over 100 components, 11 example pages, and 3 plugins with Vanilla JS. There is more than 100 free Bootstrap 5 components included some of them being buttons, alerts, modals, date pickers, and so on.
---
---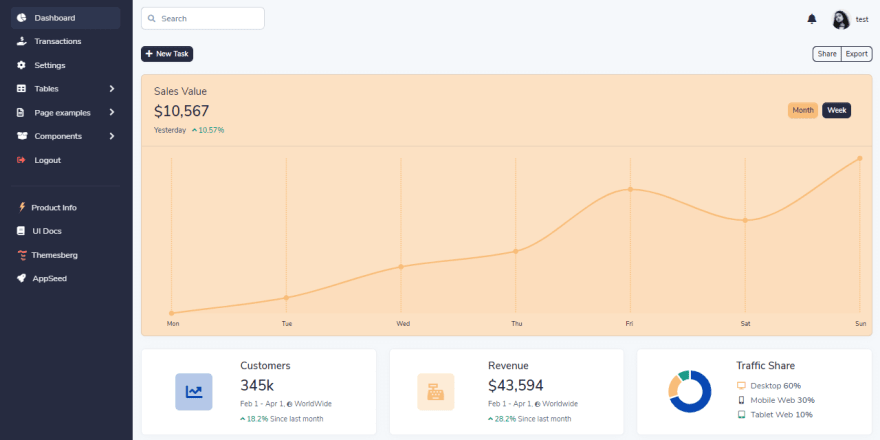 ---
🔥 Django Website Template Datta
Datta Able Bootstrap Lite is the most stylized Bootstrap 4 Lite Admin Template, around all other Lite/Free admin templates in the market. It comes with high feature-rich pages and components with fully developer-centric code. Before developing Datta Able our key points were performance and design.
---
---
---
🔥 Django Website Template Soft
Designed for those who like bold elements and beautiful websites, Soft UI Dashboard is ready to help you create stunning websites and web apps. Soft UI Dashboard is built with over 70 frontend individual elements, like buttons, inputs, navbars, nav tabs, cards, or alerts, giving you the freedom of choosing and combining.
---
---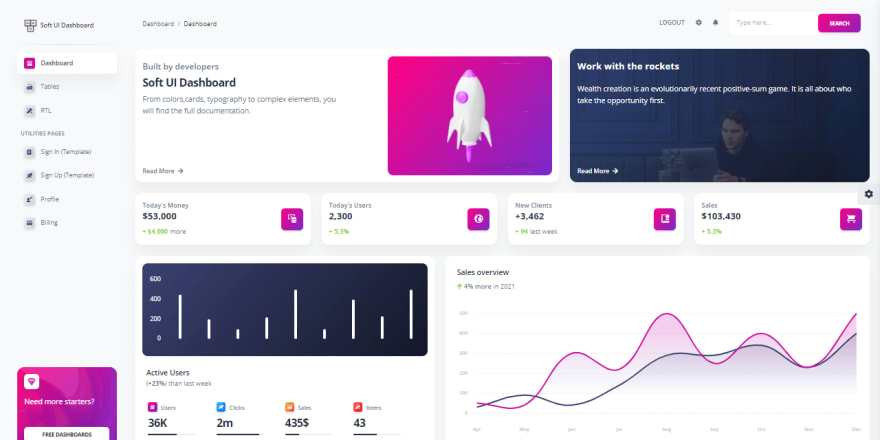 ---
🔥 Django Website Template Gradient
Gradient Able Bootstrap 4 Free/Lite Admin Template is a complete solution for your dashboard creation. Gradient Able stands out from the crowd with an elegant look that combines soft gradient colors with well-suited typography and great cards and graphics.
---
---
---
🔥 Django Template Atlantis Dark
Atlantis Lite (Dark Design) is a free bootstrap 4 admin dashboard that is beautifully and elegantly designed to display various metrics, numbers or data visualization. Atlantis Lite admin dashboard has 2 layouts, many plugins and UI components to help developers create dashboards quickly and effectively so they can save development time and also help users to make the right and fast decisions based on existing data.
---
---
---
Thanks for reading! For more resources please access:
---