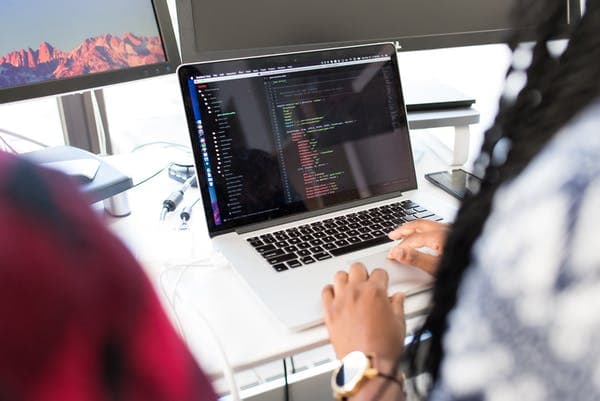 Well, you might be bubbling with excitement to dive right into the production phase of your dream application. But, it is always wise to hold your horses and cover the journey bit by bit. Focusing on these steps will ensure to a substantial extent that your application becomes successful.
Here's a stepwise guide to help you make a successful app. Read on!
Brainstorm and Pick an App Idea
Like everything else, an app-making process begins with an idea which must solve some real-world problem. Once you have an idea ready you can start researching and coupling it with the best tech stack to forge the solution.
Although everyone has got their own strategy for coming up with ideas, if you don't have any, these questions can help you while building a mobile app:
What real-world problem does the app resolve?
How will technology prove useful in the project?
What features will make the application highly useful?
Make sure you keep the features and design of the app such that its benefits can be experienced by the users. The benefits can be in the form of problem-solving ability, customer experience, productivity enhancement, etc.
Identify the Audience
Of course, you won't be keeping the app for yourself. It is a set stratum of a population you would want to serve it to, right? Thus, it is crucial to identify and define your target audience. Once it's done, you must look forward to discovering habits, behaviour, interests, economic level, and other demographic details about the audience.
The closer you get to recognize their needs and interests, the more likely your app would strike a chord with target users.
Not just that. You'll have to assess the mobile platforms and devices over which the app may function. Furthermore, to prevent any issues from emerging later, considering factors like performance constraints, battery life, needed peripherals, device support, and battery life would prove life-saving during mobile app development.
Clarify the Tech Stack, Budget, & Revenue Model
Tech stack, frameworks, and tools are important factors that exercise immense influence over app functionality, features, and tech limitations. Thus, analyse well before deciding on the tech stack you would deploy for the mobile app.
Finance & budget can't be ignored when it comes to app development. Knowing the budget for development & design, marketing, and app release is important before starting the journey. In addition to resolving an actual problem, a developer expects the app to generate some revenue as well. Thus, attention must be given while choosing a revenue approach that aligns with your application goals. You can choose from various models like the subscription model, advertisements, pay-per-download, paid-app model, and so on.
Sign the NDA
Once you've finalized the budget, it's time for signing the NDA (non-disclosure agreement). This contract legally binds both the app development studio and the client to preserve the confidentiality of the matters. NDA involves aspects like project objectives, legal clauses, project milestones, annexures, etc., It helps in keeping issues like misunderstanding and miscommunication between both parties at bay.
Application Wireframing
Wireframing lies at the heart of any application or website development. A wireframe gives an idea of how the system will perform in real time and how the module or feature will function. The wireframe activity enables developers to get an estimate of the project timeline and designers to build craft flawless designs.
UI/ UX Design for App
App's success also rests to a significant extent on its UX/UI design as it determines how seamlessly the app will work and how its interface will look. When done well and strategically, a great app can impact the target audience's mind instantly.
It is crucial for designers to focus on trends, platform-specific standards of design, fonts, colour scheme, etc. Building an awesome, user-centric app that offers a marvellous user experience preference of the audience and the client must also be considered.
Building an awesome, user-centric app that offers a marvellous user experience preference of the audience and
Identify the Development Approach
The methodology for building a mobile app must be chosen in advance. Majority of the app developers nowadays go with the Agile approach to build apps rapidly while others choose a conventional approach like Waterfall.
Develop App Prototype
Once the designing phase is all set, allocate the responsibilities to your team and start developing the application prototype. Basically, it is a basic version of your app made to grasp the look and feel the final product will offer. Not only it helps draw in investors and funds, but also attracts potential buyers.
An important point to keep in mind at this step is to consider enough security measures. That is to preclude any unauthorized access or threat to data security.
Testing & Quality Assurance
Now is the time to purge the application of bugs and errors before sending it on to the public podium and showing it to the world. You can't be sure of the app's success until you consider robust testing and quality assurance process for your solution.
To get this done right, you can always take the help of a skilled and experienced app development studio like StudioKrew. The company has a great hub of professionals who run various tests to make sure the app functions smoothly and delivers a great user experience.
App Release, Deployment, and Publishing
Before you consider the release and deployment of the application, plan, schedule, and oversee the activity of release packages in both test & live environments. The main goal of managing the app deployment process is to ensure the components are released in the right order. There are diverse kinds of app deployments such as internal deployments, multi-user deployments, single-user deployments, commercial deployments, and so on.
Then, go on to publish your app n App Store and Google Play Store while adhering to the guidelines. After deployment, you can track usage metrics through different mobile analytics tools and see where your app is heading. Will it succeed or fail?
Also, consider the crash reports and user-reported glitches about the app, and try offering the best resolutions to them.
Post Production App Support
Try to incorporate relevant changes in the application that cater to the user's requirements. To become as trendy and loved as the earlier times, it is important to allow regular updates in the features and functionalities.
Not only applications but, games as well need to get LiveOps services where updates and changes are done to make the game further interesting & evergreen for its audience. If you've got a game that is about to die, LiveOps service from a leading game development company like KrewGames can breathe new life into it.
Use Insights to Upgrade App Features
Capture and analyse insights and feedback you get from the app metrics & users respectively to incorporate features that will enhance the visibility and popularity of the app among users. To stay relevant for a long time, it is advised to put out updates frequently. Make sure you keep tabs on the updates and guidelines of the platform over which your application is running.
Market the Application
With no or poor marketing strategy, your great application is doomed to fail and will ultimately get pushed back into the abyss of apps in the marketplace. Thus, it is always suggested to use effective marketing strategies that draw attention towards your product and boost its visibility, so the application attracts users to install it.
A Quick Wrap-Up
So, that was a handy guide to help you guide through the app development process. Whether it is Android or iOS app development, these general steps will always provide you with clarity about the process.
Know that the app development process is not a one-time process but an ongoing one where owners have to keep making efforts to keep the application engaging.
Have you got an amazing app or game idea? Come to StudioKrew, a leading app and game development company that believes in establishing long-term partnerships with its clients. From ideation to post-launch, the studio guides and assists fully.
To get your queries resolved get in touch with StudioKrew's business team now.