Video-on-demand market is still on the rise, and it is expected to be worth more than $85 billion. If you are in any business want to use video as a tool to grow your business or you are in the video streaming industry to stay ahead of your competitors, it's better to start your own Video On Demand (VOD) platform. To start your own Video platform, it's always wise to get the services of professional-grade VOD platforms providers. In this blog, we will get through a comparison of Top 5 Video On Demand Platforms
Webnexs is an all in one video streaming solution that supports both Video on demand (VOD) and live streaming. It comes up with advanced features that are suitable for all types of broadcasters and video creators. It builds customized websites and apps that are suitable for all business models. It supports different video monetization methods and white label video streaming with the video creators own logo and brand image. Webnexs is easily affordable to all types of video creators, from beginners to professionals and it is very easy to use even by Non IT people.
Features
Both video-on-demand and live streaming
Video encoding and transcoding
Adaptive Bitrate (ABR)
Advanced HTML5 video player
CDN for latency-free video delivery
High-end video security features like DRM, SSO
Video website and player customization tools and templates
Advanced CMS to organize files
Multiple social media channel integration
Video monetization models: SVOD, AVOD,TVOD
Different payment options
Video API integration
SDKs for iOS and Android APPs
Pros
Unlimited number of users
More secure platforms
More reliable platform
Cons
As of now, there are no Cons to exactly point out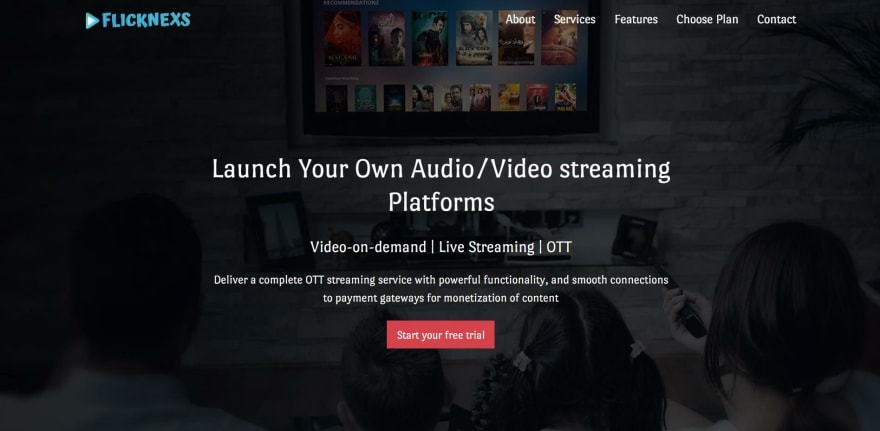 Flicknexs is also one of the best Video on Demand (VOD) platforms present in the market. It is a SaaS-based Video streaming platform that builds VOD platforms for all video creators from individuals to larger organizations. White label video platform where video creators company logo and brand are given more importance. It builds both websites and apps for most of the devices like mobile, desktop, tablets and TV. It comes up with a variety of features like video analytics, different monetization options. Flicknexs is well known for distributing, publishing and managing video content.
Features
White label Video Streaming
Video Monetization Methods - SVOD, AVOD, TVOD
Content Management System(CMS)
Multi Bitrate Streaming(MBR)
Content Delivery Networks(CDN)
Advanced-Data analytics dashboard
Security features such as DRM,SSO
HTML 5 Video Player
API Integration
SDKs for both android and ios
Pros
Suitable for all types of video creators
Easily Affordable
Monetization options
Cons
Comes with lot of features it take some time to learn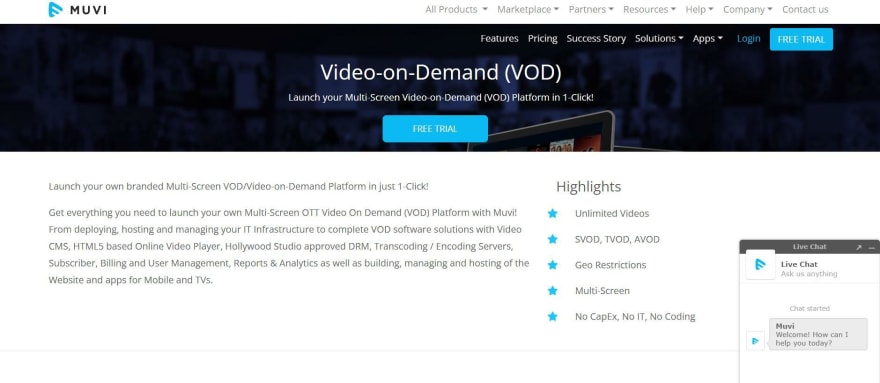 Muvi is a Video streaming platform that supports both VOD and Live Streaming. It's a cloud video platform that offers cloud encoding. It is very easy to launch multi-screen video streaming on websites and apps for both mobiles and desktops. If you are ready to spend more money, then Muvi is suitable for you to avail of high-end features. If offers different monetization options like AVOD, SVOD and TVOD
Features:
Cloud encoding
Multi Bitrate Streaming
HTML5 Video Player
Content Management System
Content Delivery Network
Video Monetization options
Pros
Powerful CMS
Advanced security features
Global level CDN
Cons
Next on this comparison list is IBM Cloud video. It is one of the platforms that can be used to build a professional VOD platform as it also comes with a lot of features. This platform is very much suitable for larger organizations and experienced broadcasters. It comes up with unique features like AI base automated speech to text captioning. It's slightly hard to navigate
Features:
AI based Captioning service
AES and DRM Security options
SDKs for android and IOS apps
Full API video Integration
Customer Support
Adaptive video player
Pros
Unique AI-based captioning feature
Video monetization support
Cons
API available at a higher price plan
White label streaming-only available at a higher price plan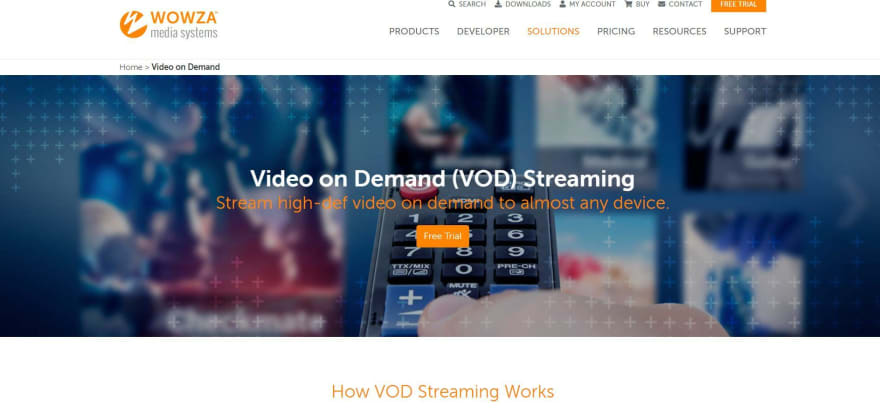 Wowza was started in 2005 and it is a streaming solution that supports both VOD and live streaming services . It's well known for customizable video players and it focuses on streaming on all devices. Wowza offers Wowza Streaming engine for self-hosting video and Womza Cloud for video streaming solutions.
Features
Cloud Transcoding
White-label video streaming
HTML 5 video player
Wide security options like DRM, SSL
Customer support
Adaptive Bitrate streaming
Pros
It is mainly suitable for larger organizations
More customization and content management tool
Cons
No video monetization option
No video analytics tool
Wrapping Up
There are many VOD platform providers present in the market today. Choosing a Video on Demand platform is always better based on what is suitable for your business needs to reach your goals. It is always wise to make a comparison and then pick video platforms that offer different features that almost meet your demands.