It's FRIDAY! You know what that means...
🎉 Welcome to the MongoDB $weeklyUpdate! 🎉
Each week, we bring you the latest and greatest from our Developer Relations team — from blog posts and YouTube videos to meet-ups and conferences — so you don't miss a thing.
💻 What's Up on Developer Center?
Everything you see on Developer Center is by developers, for developers. This is where we publish articles, tutorials, quickstarts, and beyond. 🚀
Featured Post
MongoDB aggregation pipelines allow developers to create rich document retrieval, manipulation, and update processes expressed as a sequence — or pipeline — of composable stages, where the output of one stage becomes the input to the next stage in the pipeline.
Other Shoutouts
Building a Flask and MongoDB App with Azure Container Apps by @anaiyaraisin
For those who want to focus on creating scalable containerized applications without having to worry about managing any environments, this is the tutorial for you!
You can also check out the article on Microsoft.
🗓️ Mark Your Calendars
Every month, all across the globe, we organize, attend, speak at, and sponsor events, meetups, and shindigs to bring the DevRel community together. Here's what we've got cooking:
Prairie Dev Con Winnipeg: June 12 - June 13
Seville MUG: June 14th 2023, 10:00am – 11:30am, (GMT-07:00) Pacific Time
RomeMUG: June 15th 2023, 9:30am – 11:30am, (GMT-07:00) Pacific Time
Unleashing the Potential of AWS + MongoDB technologies: June 16th 2023, 9:00pm – June 17th 2023, 1:30am, (GMT-07:00) Pacific Time
Kansas City Developer Conference: June 21 - June 23
.local NYC: June 22, 2023, 8am - 6 pm ET
Aba MUG Meet & Greet: June 23rd 2023, 6:30pm, (GMT-07:00) Pacific Time
MongoDB is heading out on a world tour to bring the best, most relevant content directly to you! Join us to connect with MongoDB experts, meet fellow users building the next big thing, and be among the first to hear the latest announcements! Register now.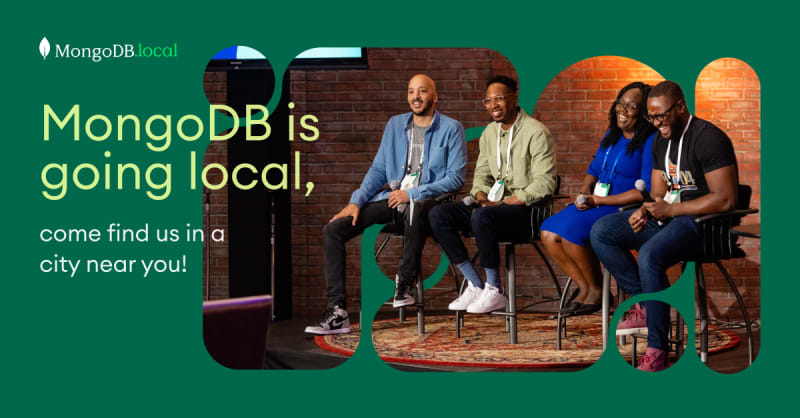 Use code DEVELOPERFAM50 to secure 50% off your ticket!
Thank you to everyone who joined us at the Auckland MUG. Great work by our leader Jake McInteer and speakers Lance Wolters and Philipp Waffler.
We had a great time seeing some of you at our Delhi-NCR MUG! Thank you to our leaders, Priyanka Taneja, Sanchit, and Shrey Batra. Many members of our Community team were there to support, as well: Aasawari, Kushagra, Satyam, Sonali, Tarun, and Harshit. Luv Gupta spoke about sharding, Utsav Talwar covered the Digital Twin Challenge, Kushagra Kesav talked about Generative AI to develop your apps faster, Anshdeep Singh presented Learn to Build an App with MongoDB with the Help of ChatGPT, and Paavni Ahuja (a MongoDB Enthusiast) traveled to Delhi to share her experiences of being a part of communities.
Community Enthusiast and London MUG Leader Sani Yusuf joined our podcast to discuss the impact of the MongoDB community and how his company Beltstripe is revolutionizing the way gyms and exercise studios manage memberships using MongoDB.
Community Enthusiast Darine Tleiss is documenting her learnings and sharing knowledge gained from the MongoDB University Developer Learning Path.
Community Champion Kevin Smith spoke about how MongoDB provides a more flexible way to store your data at the Dot Net Liverpool meetup.
Community Enthusiast Otavio Santana shares information about Jakarta NoSQL to integrate Java and MongoDB.
Community Enthusiast and author Justin Jenkins announced his new book, MongoDB for Jobseekers. Check out the announcement and follow Justin for tips for jobseekers and updates on the book release date.
Lastly, MongoDB's Daniel Coupal co-authored a book on data modeling for MongoDB, available on Amazon. The code MongoDB25 takes 25% off!
🎙️ Stop, Collaborate, and Listen
If reading's not your jam, you might love catching up on our podcast episodes with @mlynn and Shane McAllister.
Not listening on Spotify? We got you! We're also on Apple Podcasts, PlayerFM, Podtail, and Listen Notes. (We'd be forever grateful if you left us a review.)
Have you visited our YouTube channel lately? We have new videos from @joellord and Jesse Hall.
Be sure you subscribe so you never miss an update.
That'll do it for now, folks! Like what you see? Help us spread the love by tweeting this update or sharing it on LinkedIn.