Amazon Route 53
Route 53 features are : Domain registration, DNS, Health check and Routing policy.


AWS CloudFront

AWS CloudFront uses Edge location to cache content, and therefore bring more of your content closest to your viewers to improve performance. CloudFront integrates with AWS WAF web access control list (web ACLs) to help minimize the effects of a DDoS attack. AWS also provides AWS Shield Standard and AWS Shield Advanced.


S3 Transfer Acceleration
Amazon S3 Transfer Acceleration enables fast, easy and secure transfer of files over long distance between your client and S3 bucket. Transfer Acceleration takes advantage of Amazon CloudFront's globally distributed edge locations. As the data arrives at an edge location, data is routed to Amazon S3 over an optimized network path.

Link: https://s3-accelerate-speedtest.s3-accelerate.amazonaws.com/en/accelerate-speed-comparsion.html
AWS Global Accelerator


Link: https://aws.amazon.com/global-accelerator/


Speedtest: https://speedtest.globalaccelerator.aws/
AWS Outposts
Outposts bring native AWS service, infrastructure, and operating models to virtually any data center, co-located space, or on-premises facility.


AWS Wavelength

This service is optimized to deploy ultra low latency applications to 5G devices.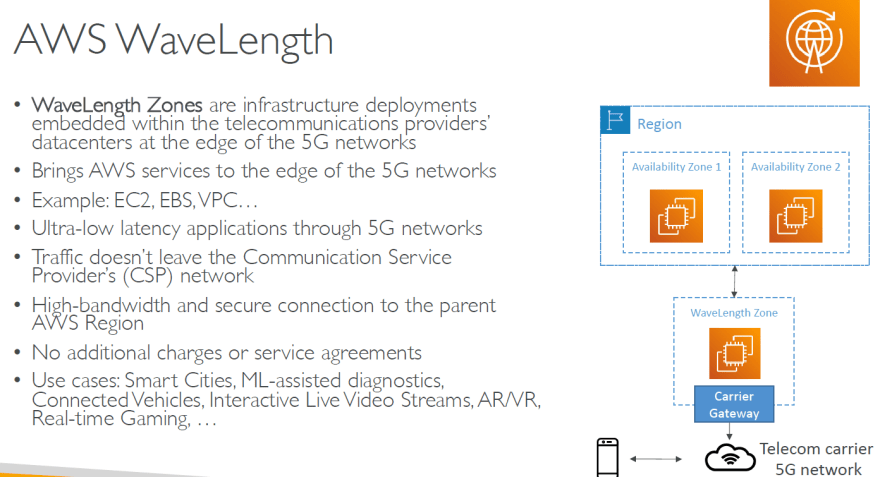 AWS Local Zones


Global Applications Architecture



Multi region Active Active is DynamoDB service's Global database


Summary