This page is somewhat inspired by Wes Bos' Uses page. Keep in mind that
I'm mostly doing Frontend development and I'm also a nomadic worker. In other words, I'm 100% remote and I travel. A lot.
Hardware
MacBook Pro M1 (13-inch)
No extra screen. I've found myself more focus with only one screen
Keychron K3 Mechanical keyboard and a Magic keyboard 2 (when I travel)
Magic Trackpad 2 and a G403 HERO Mouse
Notepad where I write my daily MIT
OnePlus Nord (and an old Huawei as a backup)
Sony MDR 1000X. A noise-cancelling headphone with 2 modes: wired or wireless (bluetooth). I also have some Airpods.
Travel&daily bag is a Minaal Carry-on 2.0 (with packing cubes). I love it!
I travel too much to have a proper desk! ;)
IDE
VS Code is my favorite text editor so far.
The theme I use is Material Theme which I customized.
All of my config files (VS Code settings, bash aliases, git config...) are accessible on [my dotfiles GitHub repository (https://github.com/maxpou/dotfiles).
Browser
My main browser is Brave. I also use the following extensions:
Terminal & Command Line Apps
I mostly use my terminal in VSCode. Otherwise, I use iTerm. My terminal theme is
powerlevel10k.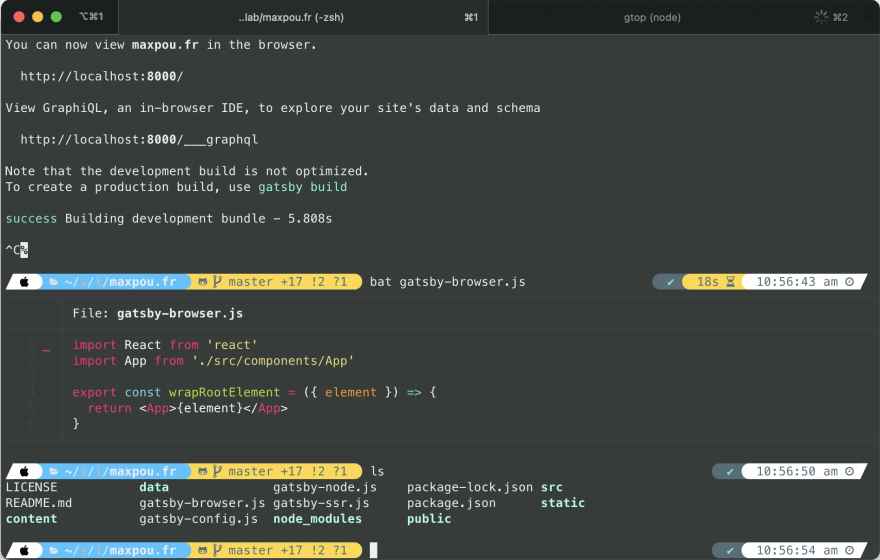 This is the list of plugins/apps I use:
I also use Vim from time to time.
Desktop Apps
I have a very minimalistic approach when it comes to my dock. If I don't use an app -at least- once
a day, I remove it from the dock.
I also use these applications:
Giphy Capture is my go-to screen recording app when I need to share something with my colleagues. I found it simple to use.
CrossOver - to run Windows App on Mac (it's a paid product).
Note: I now use Slack in my browser (so Grammarly can proofread my messages)
Blogging
My website (maxpou.fr) is made with Gatsby.js. I use these services:
Gaming
I play mostly Age Of Empire 2 DE on my MacBook (thanks CrossOver)
For other games, I rely on Cloud Gaming platforms such as GeForce Now, Stadia and XCloud
Xbox Elite Controller Series 2 is my controller. A bit pricey, but very comfortable.