I want to share some thoughts about the book I have read recently Mind for numbers and its Coursera Course, and helpful tips for learning code or anything you want.
First of all, this post is a quick look at complex matters and concepts.
TIP
Pre-read any lecture or article (1 to 2 minutes) looking for headings, questions, or before you read it more in deep will help you to create a structure than you later will be filled with the contents.
Introduction to the Focused and Diffuse Modes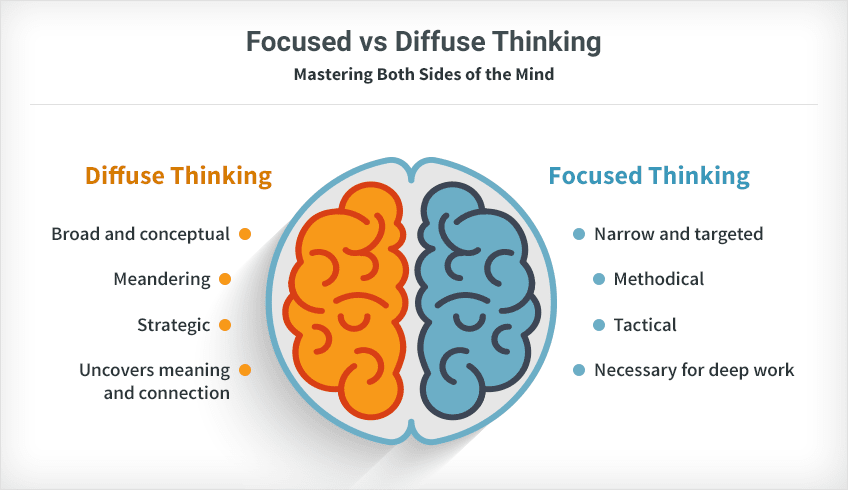 Let me make an analogy between the brain and a computer running an Internet browser.
So the Focused mode is the web browser history of your brain, if you make the right query, it will return a bunch of links to websites of "how-to"…. Whenever you already know those websites.
The diffuse mode instead is more like surfing the Web fast clicking links and banners to other websites and stay enough time to click and move to another…..maybe your brain already has visited the site with that magical answer…. But still isn't the first result when you do your search in the history.
Einstellung effect
The Einstellung effect is the negative effect of previous experience when solving new problems.
Keeping with the analogy when you search the first's results are always the ones you already know and are confident at, not the bests you maybe know, but you always use the first's results from your history. The first approach to new problems can be misleading due to this effect. You have to get rid of old ideas when you learn new ones.
Be creative
The diffuse mode is the innovative mode of your brain, the one who create/invent new neural structures that later your focused mode can follow to repeat or recreated those thoughts but not to create them.
For that reason, when more you think about being creative, the fewer originals your ideas will be as you are trying to follow patterns you already know and not create them.
Alternate between both modes is vital to your learning, one without the other is useless.
More in the next post about these concepts an how to alternate modes and how they help in your learning.
DISCUSS
Classic DEV Post from Aug 29 '19