I'm Liviu, a Solutions Architect at Endtest
Let's take a look at this whole "no code" / "low code" movement.
Is this the next big thing? 🤔
Even UIPath, the juggernaut of RPA, has released UIPath Apps, a low-code app builder.
Microsoft also launched Microsoft Power Apps.
And who hasn't heard of Zapier?
But you've probably met at least one "no code" skeptic:
1. The Democratization
Democratization empowers individuals.
This movement is helping non-technical founders launch internet companies.
It's no longer a privilege only for those who have vast financial resources or the opportunity to learn programming.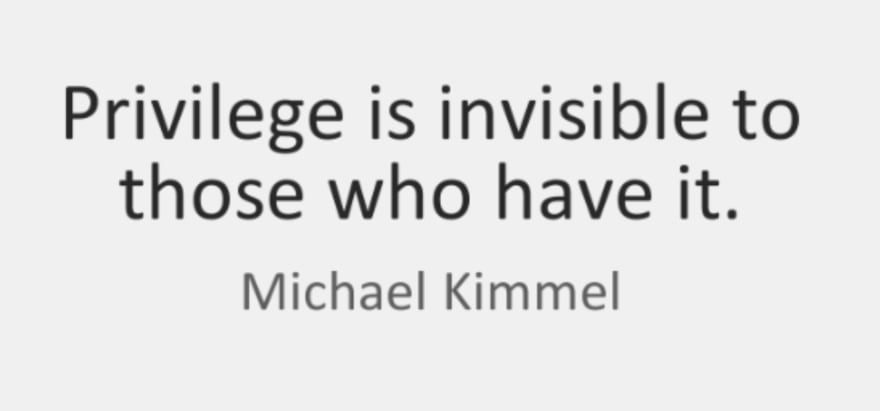 How are we even supposed to call someone who uses Google Sheets and Trello to build an app?
Can we call them Developers? I don't know, maybe.
But we seem to be reaching a point where we don't need to hire a Developer for every web project that we want to build.
By the way, there's a website called Makerpad that teaches you to make projects and automate at work, without having to write code.
2. The Disruption
Technically, you can slap together some of those microservices, and you're able to put together entire web products or web services.
And it would be a complete service, end-to-end, because there are even things such as Email Marketing and Automation.
When I look at this, I sense DISRUPTION.
Do you remember, some time ago, we had these roles called Server Admin and Database Admin?
These people would just maintain the databases and the servers, helping with the scaling.
These days, we can see that no one that does that stuff anymore.
Or not as many, because people are using these prebuilt platforms, by AWS and Google.
That means you can get scale out of the box, simply by using these services, provided by those cloud platforms.
We don't need those roles anymore, their jobs were just automated out of existence.
Is this really the future of software development?
3. The Skepticism
And just like with any disruption, you'll encounter some skepticism.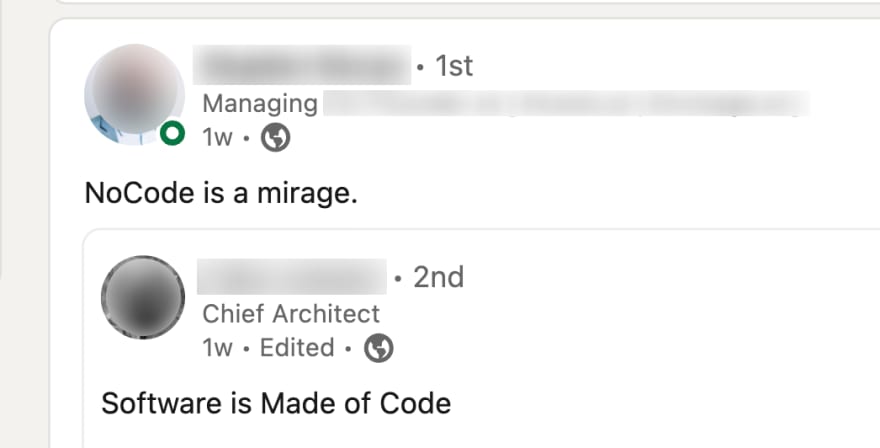 Historic examples include Amazon Web Services (AWS).
If you search for posts and comments related to AWS on Reddit from 2011, you'll find plenty of opinions on why it will never work.
And the same applies if you search for discussions related to Airtable from 2015. And look at them now.
4. What about the Developers?
Here's a funny thing, I haven't heard anything about any of this while reading HackerNews.
When I go to HackerNews, this is what I see:

It feels like that programmer community has their head in the sand.
They seem to be completely ignoring the market, which is supplanting what these programmers are doing.
At some point, it almost feels like all some programmers want to do is hit keys on a dark mode terminal, compare editors and see who can come up with the most concise and cryptic Linux command.
5. Who is winning?
When disruption happens, the affected activities become easier and more affordable.
Do you know how expensive it was to build a startup 20 years ago?
You needed at least $2M funding just to buy the servers.
Thanks to AWS and other cloud platforms, anyone can purchase cloud computing resources now.
And now, anyone should be able to build a web or mobile app, without having to hire expensive developers.
I'm not talking about just a basic website, you can ship complete products very quickly.
This includes email marketing, landing pages, CRMs, domain names, even checkout pages (see Gumroad).
These services have experienced explosive growth.
And even our very own Endtest is growing much faster than we expected.
Typical reaction when someone tries our platform:

Coming up with the code all by yourself becomes a meaningless struggle.
This doesn't mean that we can all stop coding and throw code out the window.
We just need to understand in what areas do we need to deploy code, and in what areas we can leverage these services in order to ship our products faster.
6. Who is losing?
The ones who will take a hit from this disruption are the ones who make a living out of keeping things complicated.
Some of these folks would do anything to discourage this movement:
Imagine being a web agency that does small projects for all sorts of businesses.
And suddenly, some of these businesses no longer require your services.
I've seen something similar because of Endtest and other no code test automation tools.
The only adversaries of these testing tools seem to be the ones who've made a career out of pasting together an incredibly overcomplicated Selenium framework, or out of teaching others how to do that.
7. What problem is it solving?
A solution is successful only if it's solving a problem.
Software Development is slow and expensive
Software Developers have been in a privileged position, due to the high demand.
But several factors in the last few years made Software Development even more expensive for companies.
And we're seeing companies moving away from relying on coders to build everything.
Context
It's not just the small businesses.
Most huge companies have an unhealthy obsession with saving money.
There are countless horror stories of highly profitable corporations, that scramble to save every penny.
Relevant example
If you look at the homepage from Airtable, you'll see that Netflix is one of their customers.

As you can imagine, Netflix has all the engineering resources to code everything by themselves, and yet, they're using Airtable for some processes.
We'll most likely see the big companies pushing the pedal on this movement, since it will result in massive savings, and higher profits.
What about you?
I'd love to hear your opinions on this.