I went to my first meetup yesterday - we met at a restaurant. I was anxious. I over-planned things. I checked the restaurant's menu, the parking situation. I'm a worrier. I always have been. I know that meetups are an important part of networking and programmer culture, but I kept putting off attending one. I am an introvert with generalized anxiety disorder. I am relatively new to programming and I feel like I'm older than many of my peers. But those are just excuses.
TLDR: I was really nervous, but I went to my first meetup and I'm so glad I did.
A Little Setup...
In 2018 I started attending Lambda School, an online but in real-time computer science and web development program. I worked my butt off for 13-months, to graduate with Lambda's first part-time cohort, while still working days at my paid job. Needless to say, I didn't get out a lot. And when I did socialize, my friends didn't get what I was studying. They supported me and were happy for me, but their understanding still only goes as far as to know that I am going to build better websites.
I think that Lambda School appreciates that most of its students are in situations similar to mine. I have never met any of my classmates away from my computer. While studying at Lambda was the best choice for my further education, online classes can be a bit isolating. I knew my classmates well, but they lived all over the country, not people that I could easily meet or build my local network. That may be why Lambda encourages local meetups and even pays a stipend of $25 per student for their shared meal or activity.
At the Meetup
The meetup was at a Thai restaurant in Tacoma, WA. Lambda School has had multiple meetups further north in Seattle, but I never attended one. Tacoma is closer to where I live with less-scary traffic. I couldn't make an excuse to not attend. Any Lambda student or graduate in the region is welcome to attend the meetups, but by the luck of the draw, all of the attendees at my meetup were women (and a few boyfriend +1s). While our lives are very different, we all had the wild experience of attending Lambda to bring us together. And as we ate and talked, we discovered even more things we have in common:
We all have trouble turning our brains off after school or studying
We all have awesome support systems
Mismatched brackets make us all crazy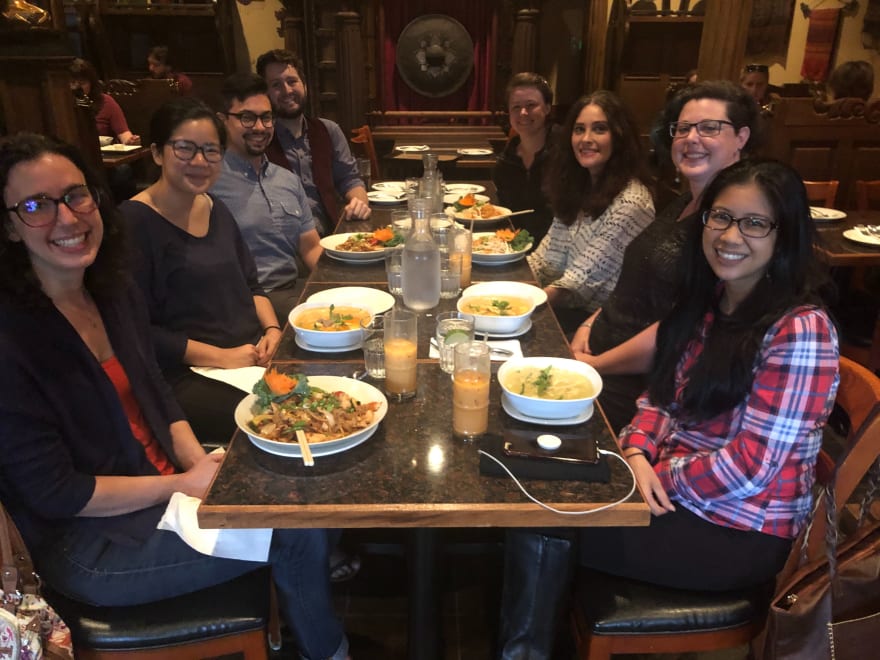 Meeting with these ladies made me feel less alone in my programming journey. Even though I have graduated and some of these ladies have just started, we all had insights to share with each other. Lambda's curriculum has evolved over time, so the newer students were able to tell me about the new technology and methods Lambda now teaches. As the only graduate of our group, I shared about my job seeking ordeals. I went in feeling embarrassed that I have not yet found my elusive first developer job, but nobody judged me. As developers, we are all lifelong learners and our shared stories are just tools to add to our toolbelts.
Last Thoughts
I am so glad I went to this meetup and that Lambda School encouraged it. I was really anxious about attending but by the end, I was tired but excited by my new connections. The Lambda School meetups are monthly and I am committed to attending as many as my schedule allows. In sharing just this one meal with these ladies, I was inspired to become more active in my Twitter game and to feel capable of writing this blog post.
This meetup also made me feel brave and more confident about attending another, much larger, JavaScript meetup next month in Seattle.
What are your experiences with meetups? Let me know in the comments and thanks for reading.