Applying to job positions is a pain, first because you repeat yourself, second because the amount of work required for the final result isn't often worth the effort.
Instead of spending your time applying, spend your time filling your LinkedIn profile and let ChatGPT (or any other language model AI) do most of the hard work after that.
The simple steps
It is pretty easy to do, you just need 4 steps to succeed at it:
1. Export your LinkedIn information
2. Compile a ChatGPT request
3. From then on, ask it what you need
Let's dig in a little more in details and look at an example
Of course to be able to do this you already need to have a working ChatGPT account set-up.
1. Export your LinkedIn information
Simply follow the steps here to get a pdf of your profile
Then select the content of the right column to get most of the data.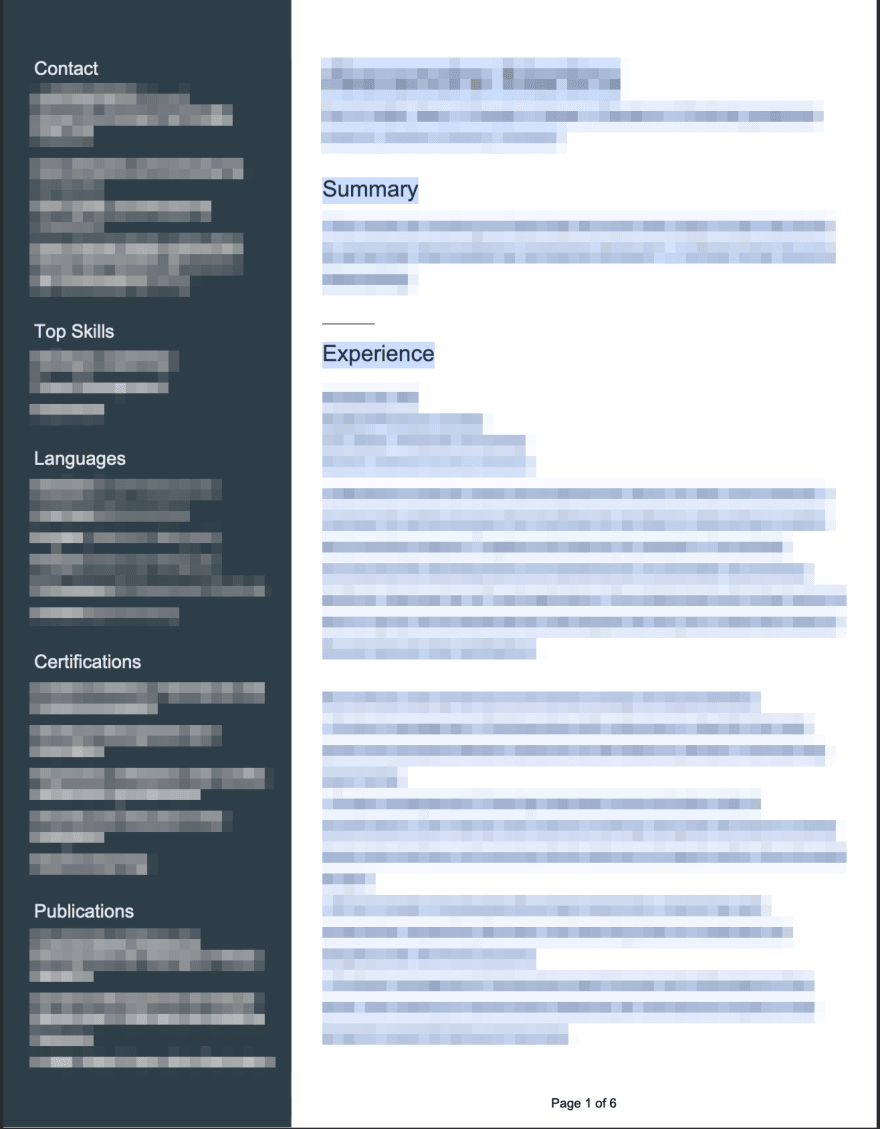 Do some cleaning and add anything you think would be interesting (remember you only need to do that from time to time, so you can spend some time on that).
Keep it in a text editor for later.
2. Compile a ChatGPT request
Now it gets interesting, do some formatting and compile the chat GPT command with the information you provided.
My generic pattern (different combo can be done of course!) is (replace the brackets to tweak as you please):

[Write a cover letter] for the job offer below using according to my experience.
The job offer:
[Paste the information about the job position you are interested in]

My experience:
[Paste my profile data (step 1)]

Here you go, now ChatGPT is doing the magic for you!
3. Explore
From then on, ask it what you need ! The pattern in 3 allows to do whatever you want now. You can replace "Write a cover letter" with "Write why I am the perfect candidate for the job" or "Answer why I would be a good leader", etc.
As soon as you keep the for the job offer below using according to experience and keep the data below, ChatGPT should do some proper magic!**
A concrete example
I thought I could give a concrete example as an illustration of a command I wrote (I shortened it with [...]). Click on the arrows below to see them.
the ChatGPT request


Write a cover letter for the job offer below using according to my experience.

The job offer:

We are actually not looking for a manager. We are looking for a leader that will help us guide one of our team to become the best version of themself. Join the journey! We are a people company. Our experienced, skilled and passionate people empower customers and partners to meet their challenges through best-in-class, user-friendly solutions. And we are a technology company. We help our customers and partners optimize processes through our software, hardware and services and through our support. Connecting people and technologies provide the means to accomplish goals and ambitions and gain a competitive edge in today's digitalized world. [...] Xxx is a multinational, cross-industry innovator that connects people and technologies to optimize processes for business-critical applications. Our offer includes operator communication, automation solutions, digitalization, display solutions and support. As experts in user-friendly software, hardware and services for the Industrial Internet of Things, we empower our customers to meet their challenges through leading-edge solutions. Below are some bullets that we believe you have previous experience in:
Leading software engineers in product development teams
Developing an organization to the next level
Agile methodologies
Great communication skills, English is a must-have

My experience:

Aaa
Digital Product Leader
[...]
I addressed customer needs and helped them focus on their core business. I
oversaw the entire process from defining the problem to delivering a solution
and providing support [...]
Bbb
Video lead engineer
[...]
As the lead developer for video-related projects, I worked [...]
Ccc
Experienced Video Software Engineer
[...]
I developed new video functionalities in the new generation of embedded [...]
Ddd
Flight Attendant
[...]
Being a flight attendant means [...]
Eee
Software Engineer
[...]
I wrote a VNC client software on PC (Windows) from scratch [...]
Fff
Cast Member
[...]
Ensuring that the guests have a pleasant day [...]

Education:
Zzz
Doctor of Philosophy - PhD, Automatic Control, Game theory, Applied
mathematics · (April 2016 - June 2022)
Yyy
Master of Business Administration - MBA, Business Administration and
Management, General · (September 2019 - July 2021)
Xxx
Master of Engineering - MEng, Electrical, Electronics and Communications
Engineering · (September 2010 - September 2013)
Www
Bachelor of Engineering - BE, Electrical and Electronics
Engineering · (September 2008 - September 2010)




And ChatGPT compiled this cover letter:
the ChatGPT answer


Dear Hiring Manager,

I am writing to express my interest in the leadership position that you recently posted. Your description of the role, which involves guiding and empowering team members to achieve their full potential, is precisely the kind of leadership that I believe in. Based on my experience as a Digital Product Leader at Aaa, a Video Lead Engineer at Bbb, and an Experienced Video Software Engineer at Ccc, I believe that I have the skills and expertise that you are looking for.

In my current role at Aaa, I have been working with teams across different countries to develop and maintain an eCommerce platform and IoT web application. I have been responsible for overseeing the entire process, from defining the problem to delivering the solution, and providing support to ensure customer satisfaction. In doing so, I have worked closely with teams of 4 or more people and have collaborated with other teams within the Xxx group to bring our customers' ideas to life.

I have experience in product management, project management, and Scrum master roles, ensuring that projects are delivered on time and within budget. I am also skilled in problem management, addressing issues and challenges as they arise and working to resolve them efficiently. Additionally, I have focused on team development, coaching and mentoring team members to help them reach their full potential and fostering an environment of collaboration and continuous improvement.

In my previous role as a Video Lead Engineer at Bbb, I collaborated with the backend team to enhance the performance of the video architecture. I also partnered with key stakeholders to ensure that our products aligned with their needs and requirements. I have extensive experience working with Amazon Web Services, video compression, and video quality and algorithms.

My experience at Ccc as an Experienced Video Software Engineer has provided me with a deep understanding of the tech industry. I have experience working with agile methodologies, developing organizations to the next level, and leading software engineers in product development teams. My communication skills in English are strong, which is a must-have for the role you are offering.

I believe that I can bring something new to the table and contribute to your company's success. I am excited about the opportunity to join your team and help drive innovation and change within the R&D organization. Thank you for considering my application.

Sincerely,
[Your name]

 
Pretty cool no? And it took (after step 1 is done) basically 30 seconds!
Then you can adjust the text with simple commands as you please, some examples could be Emphasize my skill at xxx or highlight my leadership competence or be more humble...
Don't underestimate the magic of chain prompting:
Example Chained prompting
Write an article about using ChatGPT for boosting my LinkedIn. First give me the outline, which consists of a headline, a teaser, and several subparts.
[Output.]
Now write one key messages for each subpart.
[Output.]
Add three keywords to the key messages for each subpart.
[Output.]
...
And you can close the circle by having ChatGPT filling your LinkedIn for you as well.
 
As Marvin Phillips would say:
The difference between try and triumph is just a little umph!
 
So, happy (lightfast) job hunting!
The cover image is under Creative Commons 4 license and is provided by PNGAll.