Table of Contents
Goal
A while back a mentor and I went hiking at a local state park. It was one of the best mentoring experiences I've ever had. We had a long conversation about my career goals, the technologies I was learning, and my passions.
Now I'm a teacher assistant in the Launch Code boot-camp and this article is to give aspiring developers a hint at building a landing page. This is a peek at my planning and development methods. Please remember, there are 100 ways to a solution. This is one of many paths to a good solution.

---
Technologies Used
First consider what technology you will use. I am using React for the presentation and functionality (HTML, JavaScript, CSS). GitHub, GitKraken, Chrome, Adobe XD, and Visual Studio Code is my tools.

---
End User and User Stories
Next, spend time thinking of user stories. For this project, my end user should be one of my boot-camp students who I am mentoring.
The user should read convincing text to understand why they should take this opportunity.
The user should be able to click on a button to see potential dates.
The user should be able to click on a button to proceed to sign up.
The user should be able to join the Slack channel.
The user should be able to contact me via email.

---
Initial Wireframe
I'm a firm believer in starting with the end goal in mind. So a paper drawing based on the goal and user stories is a must.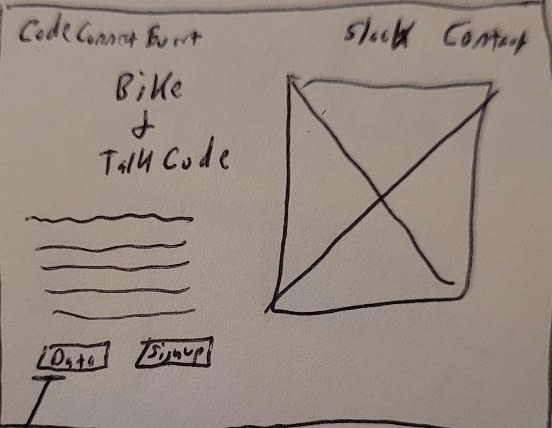 The next step is to create a digital copy of the paper drawing so I can:
Finalize the idea
Include UI/UX concepts
Add colors
Ability to export the wireframe into an image and share with others to get first impressions before I start coding.
My favorite resource for wireframing is Adobe XD. It's free and it rocks. I also always start with a black and white illustration so I can focus on the UI/UX. Afterward, I add the color.

My favorite resource for free images is undraw.com.
Break the app up into CSS Grid sections
Some of the best advice I have been given is to learn responsive design CSS technologies Flexbox and CSS Grid. Now, I start each project off by drawing a "Grid" overview of the web page.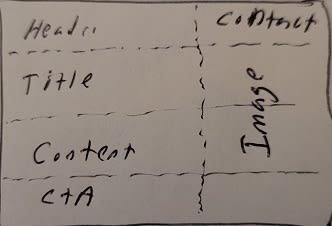 This is the first preview of the app. As you can see, its color-coded and broken up by CSS Grid sections.



Here is some quick CSS Grid resources:
Break sections into components and code one at a time
My opinion is to code one section or functionality/user story at a time. Since I am building in React, I started my project by creating a folder for each component I expected to build.

Done
While it's not perfect, I got in a day of coding practice..