"Cloud Computing" is the need-based provision of IT resources via the Internet at usage-based prices. Instead of purchasing, owning, and maintaining physical data centres and servers, you can access technology services such as compute, storage, and databases on-demand through a cloud provider like Amazon Web Services (AWS).
Key advantages:
 Agility
 Elasticity
 Cost savings
 Go-global in minutes (Worldwide deployments in mins)
 Metered billings (Pay-as-you-go)
Types of Cloud computing:
 Infrastructure as a Service (IaaS)
 Platform as a Service (PaaS)
 Software as a Service (SaaS)
It's very good feel that if you are going to learn leading cloud provider AWS. They are the leader in Cloud computing because of:
 Largest community of customers and partners
 Greatest functionality
 Highest level of security
 Shortest innovation cycles
 Proven operational expertise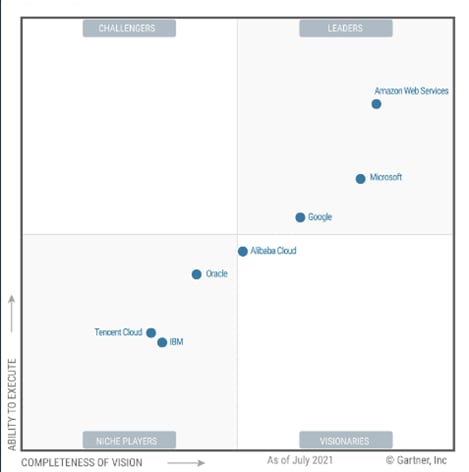 Gartner Research positions AWS in the Leaders quadrant in the new 2021 Magic Quadrant for Cloud Infrastructure & Platform Services (CIPS) report. CIPS are defined in the context of this "Magic Quadrant" as "standardised, highly automated offerings in which infrastructure resources (e.g. compute, network and storage resources) are supplemented with integrated platform services".
Global Infrastructure AWS
The AWS Global Cloud Infrastructure is the most secure, extensive, and reliable cloud platform, offering over 200 fully featured services from data centres globally. Whether you need to deploy your application workloads across the globe in a single click, or you want to build and deploy specific applications closer to your end-users with single-digit millisecond latency, AWS provides you the cloud infrastructure where and when you need it.
AWS has the most extensive global cloud infrastructure. No other cloud provider offers so many regions and Availability Zones, all characterized by low latency, high throughput and a highly redundant network. AWS is available in 84 Availability Zones within 26 geographic regions worldwide. In addition, 24 additional Availability Zones and 8 additional AWS regions in Australia, Canada, India, Israel, New Zealand, Spain, Switzerland and the United Arab Emirates (UAE) are planned. The AWS Regions and Availability Zones model is recommended by Gartner as a best practice for running enterprise applications that require high availability.
Key benefits of using AWS:
 Security
 Availability
 Performance
 Global footprint
 Scalability
 Flexibility
 Cost savings
 Improved Disaster recovery
 Flexibility in Subscription options