Recently this post caught my attention and made me want to apply for public speaking again.
Besides workshops and presentation at work ( and a Scratch coding workshop I gave at my kid's school) I never gave a speech at a Tech Conference, and in 2019 I decided that ( or at least starting with some Tech Meetups here in Hamburg) would have been my next year's resolution.
This is why I actually join Toastmasters International, to practice public speaking.
Then the pandemic stroke, I got more involved in leading a team (Toastmasters, helped me in that a lot too!) and somehow "Speaking at conferences" went a bit down in my TODO list.
When I read that CDKDay was next month, was online, and there was also the possibility of prerecord the speech, I decided to give it a go.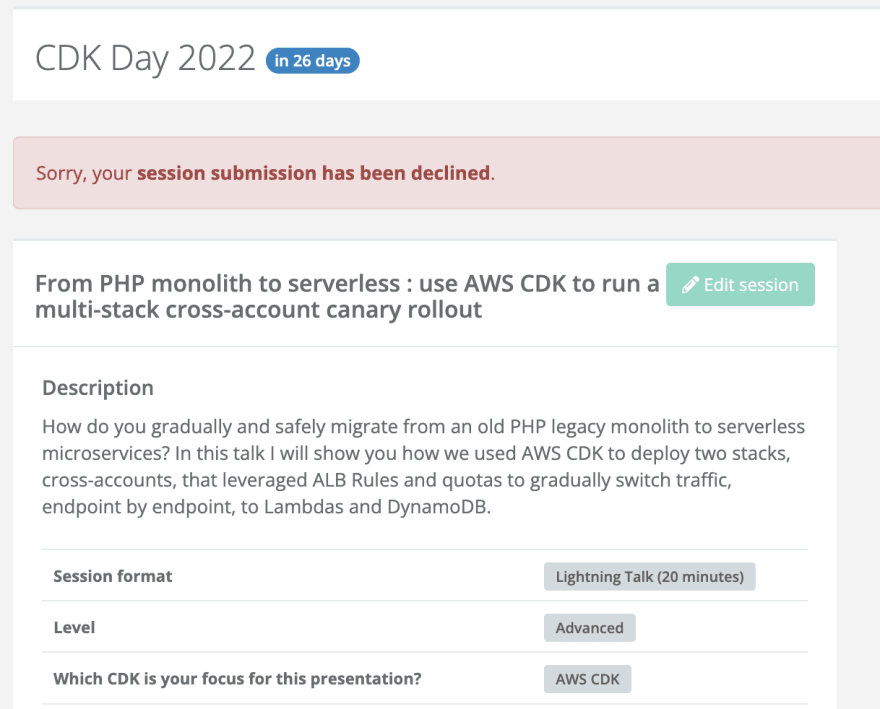 Being rejected burns a bit, but it's normal - especially with online confs, the amount of submissions must be very high - and I think unless you are already a popular, established speaker, rejections are part of the process.
My question now is, since this opportunity really lit the fire and my desire again:
where do you find Tech Conferences where to speak at?
Do you know any online resource where you can find CFP / Call For papers deadlines?
I know that I can search the web for conferences I like, and then submit for the next year, but especially now with hybrid conferences I'd really like to find a list where I can apply in a 6 months timeline.
Do you know any?
More specifically I am interested in AWS / Serverless / NodeJs / Tech Leadership confs.
Please help me achieve another important milestone in my career.
---
Photo by Marcos Luiz Photograph on Unsplash