Mac menu bar apps are these little apps that stay visible all the time at the top-right corner of your Mac's screen, thus making them easily accessible and they don't get in your way with like normal apps. But with only so much room available at the menu bar, around half of the screen's space, you can only run few menu bar apps at once.
So, we have compiled a list of 15 must have Mac menu bar apps for developers in 2019 that can do wonders—from boosting your productivity and your Mac, or providing you with quick access to information. In no particular order, here are the top 10 menu bar apps we think is a must-have for all developers out there.
1. iStat Menus
iStat Menus is an advanced Mac system monitor menu bar app. It can monitor just about every aspect of your Mac's performance without taking up too much of your menu bar's real estate, with CPU, GPU, memory, network, disk usage, disk activity, temperatures, fans, battery info, calendar and more.
2. Bartender
Bartender is the ultimate menu bar organizer app for your Mac. It lets you organize your menu bar icons, by hiding them, rearranging them, show hidden items with a click or keyboard shortcut and have icons show when they update. It does what it says, perfectly.
3. PixelSnap
PixelSnap is an app for macOS that allows you to measure anything on your screen with ease and to-the-pixel, by just clicking and dragging around the cursor.
4. ColorSnapper
ColorSnapper a color picker app on steroid. It also allows you to easily collect, adjust, organize and export colors of any pixel on the screen.
5. Noizio
Noizio is an ambient sound equalizer app that helps you cancel out outside noise and allow you to concentrate on the work at hand with ambient and chilling sound effects.
6. There
There lets you easily get in-sync with your teammates' timezone across the globe. If you work with a remote team, this is simply a must-have.
7. Superbar
Superbar is a free menu bar app that brings apps, bookmarks, snippets, workspaces or system commands at your fingertips, on your menu bar. It's basically a shortcut of shortcuts.
8. One Switch
One Switch is a little menu bar app that keeps all your powerful switches in one place. One-click to hide desktop icons, toggle dark mode, keep your Mac awake and more.
9. CleanShot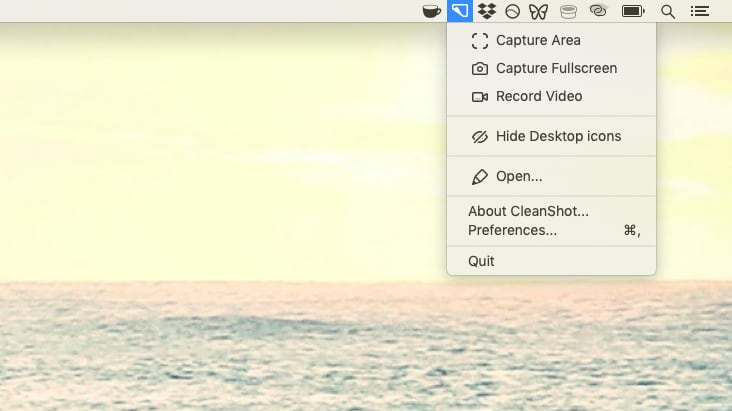 CleanShot is a small screen capture app that helps you swiftly capture Mac's screen without desktop icons in the background, annotate or blur specific parts, set custom wallpaper for your screenshots, and lots more.
10. Pomo Timer
Pomo Timer is a simple pomodoro timer app with pomodoros (tomatoes)! It's simple and effective.
11. Dropzone
Dropzone makes it super easy and fast to move and copy files, launch applications, upload to many different services like Google Drive, and more by just dragging and dropping.
12. Workspaces
Workspaces is a simple app that allows you to launch all the things you need (like apps, documents or websites) in one click.
13. CloudApp
CloudApp Ⓐ makes it easy to share and collaborate with coworkers using screen recordings, GIFs, high-def videos, and annotated screenshots. At its core, it's a screen capture tool but with social features backed in.
14. Magnet
Magnet is a simple yet powerful window organizer tool. It helps declutters your screen by snapping windows into organized tiles.
15. Runcat
Runcat is a fun menu bar app that tells you the CPU usage of your Mac by animating a running cat, or other types or "runner" frame-by-frame.
Wrapping up
There you have it, our list of 15 must have Mac menu bar apps for developers in 2019. Let us know in the comment section below if you have any apps that you think is worthy to be added to the list above.
iStat Menus, Bartender, Noizio, One Switch, CleanShot, Dropzone and Workspaces are also available on Setapp Ⓐ which is a Mac apps subscription service where you can get full access 150+ Mac apps for just US$9.99/month.
Disclaimer: Links marked with Ⓐ are affiliate links. We may receive a commission for purchases made through these links.
---
This post 15 Must Have Mac Menu Bar Apps for Developers was originally posted on DevToolbox.