The article was initially published on Codica Blog.
Today we are witnessing the high growth of the SaaS segment. It is reported that at least one SaaS app is used in 80% of companies across industries.
Will this forecast work? We shall see. Nevertheless, the idea of starting a SaaS company seems very appealing.
Below we have gathered 10 successful SaaS startups, which stand out from the crowd with fast-growing products that bring real value to customers. So let's not beat over the bush and take a look at the most promising SaaS startups marked by Growthlist and AngelList.
Orders.co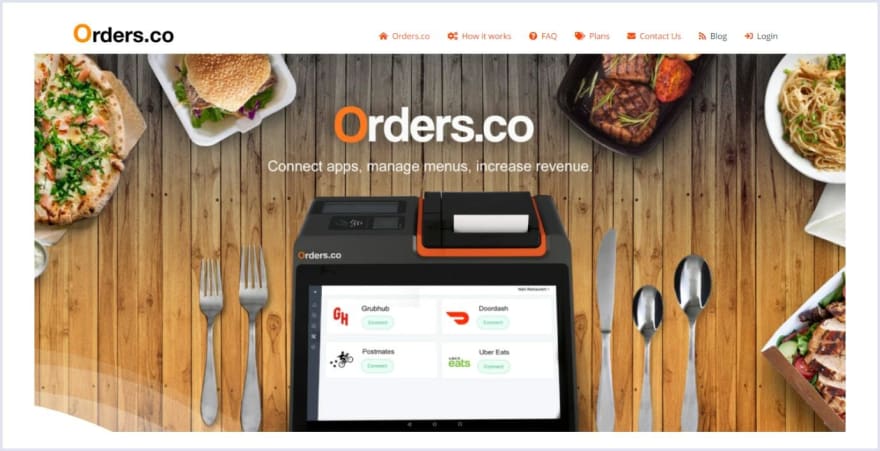 SaaS product: Food delivery
Founded: 2020
Headquarters: Los Angeles, California, United States
CEO: Arsen Stepanyan
Food delivery has become a common thing for Americans, at least for 60% of them. Orders.co is a SaaS company that knows how to help restaurants benefit from this trend.
The startup integrates the well-known delivery services into an extensive system. Restaurant owners get the opportunity to manage all menus and orders from a single device. It also enables them to create a smart ordering site in no time.
Orders.co seems a great startup that caught on to a timely idea and brought it into reality. Its mission is to help restaurants stay relevant in the new environment.
Working Den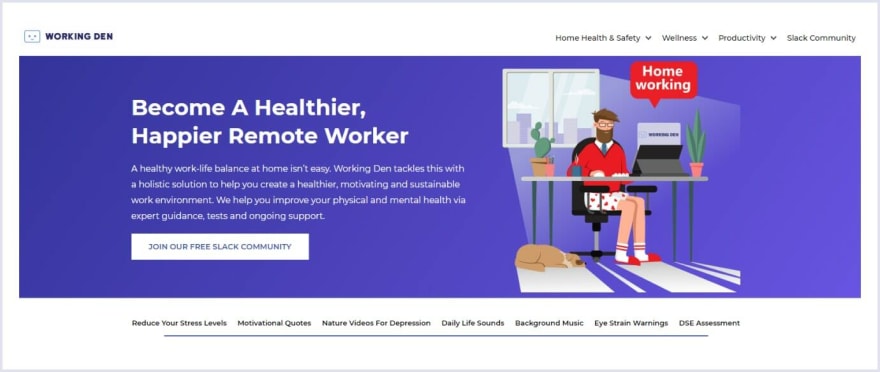 SaaS product: Home healthcare
Founded: 2020
Headquarters: London, Great Britain
Founder: Daniel Hall
Today many companies switch to remote work. It seems that many employees are more than happy with this. Thus, 98% of people would eagerly work remotely for the rest of their career. For this category of employees, keeping fit and maintaining mental wellness is crucial. Luckily, a promising SaaS startup Working Den helps them cope with this task.
The startup offers a complex solution that helps keep a healthy work-life balance. Specifically, it has tools for protecting your eyesight, preventing chronic diseases, and reducing stress levels.
The extensive functionality and the noble goal of helping people improve their physical and mental health make Working Den one of the best startups in its category.
Virtually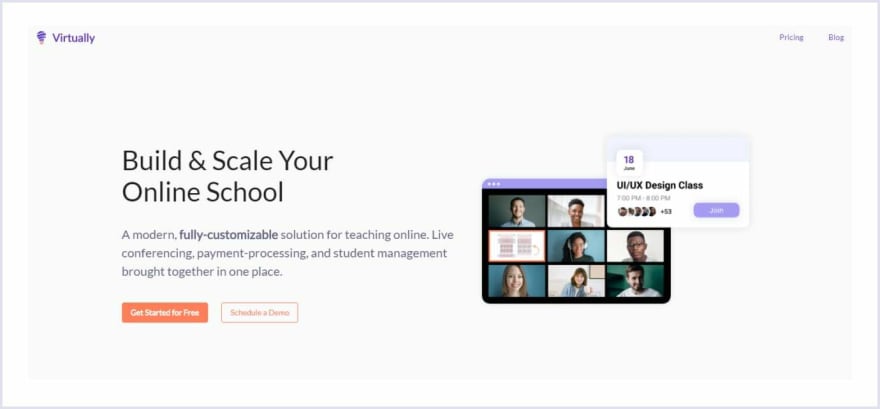 SaaS product: Online learning platform
Founded: 2019
Headquarters: Seattle, Washington, United States
CEO: Ish Baid
Today, e-learning is considered a decent alternative to traditional education. Virtually is a platform designed to make online learning comfortable to the max. The platform offers different student management tools, multiple chatting options, and simplified payment processing. In addition, you can find online programs to suit any taste there.
It is worth noting that Virtually allows users to customize their experience. Enterprise customers get the opportunity of white-labeling the user experience with a color scheme, custom domain, and branding.
A fully-customizable solution Virtually has got $125,000 through seed investments so far.
ClickUp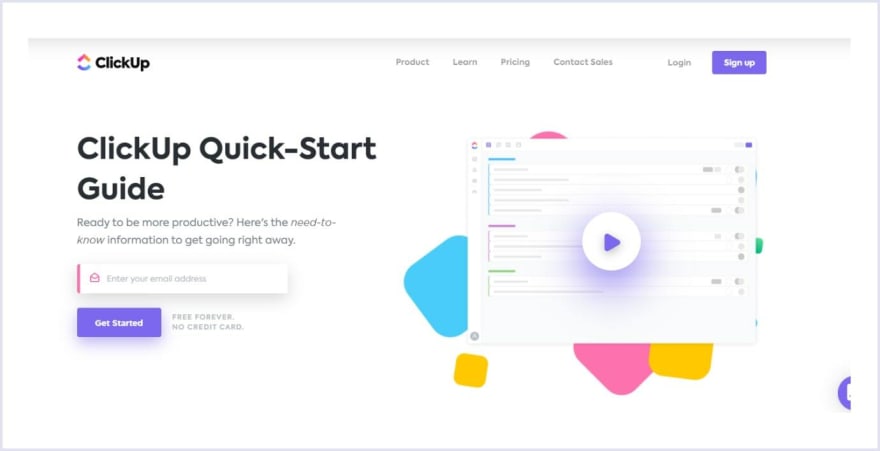 SaaS product: Workplace productivity platform
Founded: 2017
Headquarters: San Diego, California, United States
CEO: Zeb Evans
SaaS startups aimed at helping businesses to optimize their teamwork are on the rise now. ClickUp is one of them. This platform comprises multiple tools that simplify the collaboration process. Its functionality includes time tracking, custom statuses, docs, wikis, etc.
Besides, the platform can be easily integrated with such well-known productivity services as Slack, GitHub, Figma, and Google Drive.
The solution is noted for multi-tasking and superb user experience that make ClickUp one of the most prominent startups in its niche. It has managed to receive $37.5 million through seed investments.
Funnell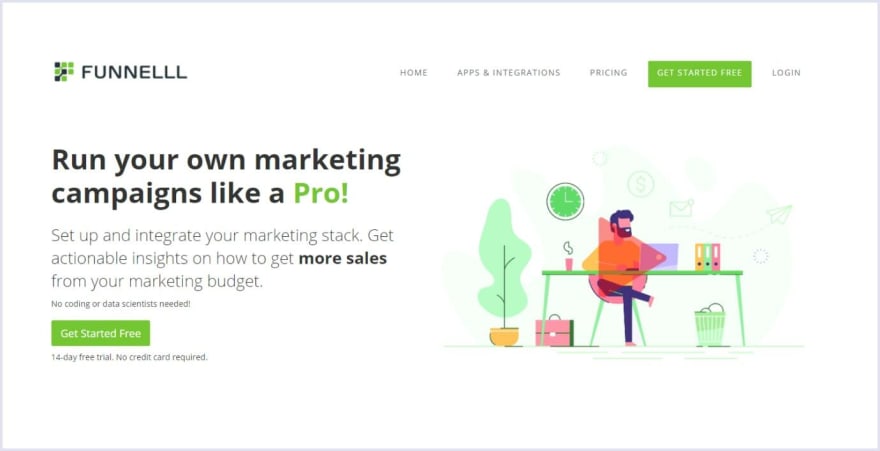 SaaS product: Conversion tracking automation
Founded: 2019
Headquarters: Wilmington, Delaware, United States
CEO: Sherif Ali
Need help in running your marketing campaigns? In this case, Funnel is definitely worth looking at. With this platform, you will be able to track your conversions and streamline your promotional campaigns much easier. The solution is famous for its seamless integration with Google Analytics, Slack, Quora Ads, Facebook Pixel, and LinkedIn Ads.
In addition, Funnel allows you to build funnel visualizations. Thus, you will be able to improve your customer journey and increase the conversion rate in no time.
This promising marketing solution has already raised $75,000 through seed investments.
Qobra
SaaS product: Automation for commission calculations
Founded: 2020
Headquarters: Paris, France
CEO: Antoine Fort
Commissions can become a real pain in the neck if you manage them in the spreadsheets. Luckily now we have a solution that can automate sales commission calculations. The SaaS startup called Qobra gives you such an opportunity. With its help, you can sync your commission data in real-time, manage disputes, and control approval workflows.
When it comes to the platform functionality, we should mention personal award dashboards, dispute management tools, and approval workflows as key features.
Qobra is a perfect solution for strategic planning. It allows you to predict future revenue based on a compensation plan.
To this day, the Qobra managed to get a pre-seed investment of €100,000.
RightBound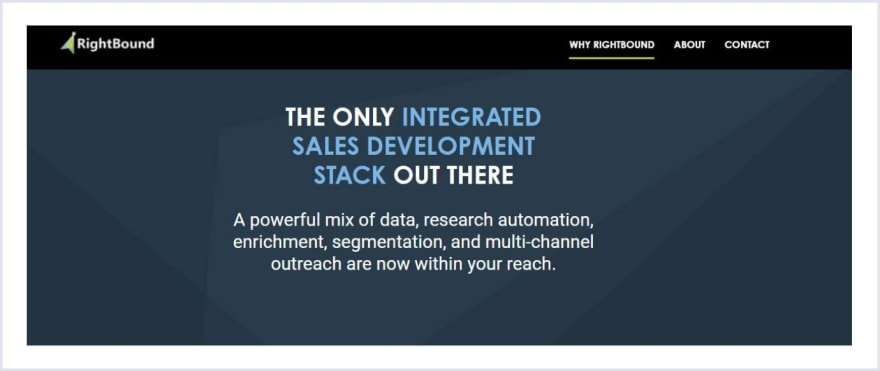 SaaS product: Sales automation
Founded: 2019
Headquarters: Kirkland, Washington, United States
CEO: Ran Oelgiesser
Usually, sales teams are torn between multiple apps for optimizing the sales development process. That fact drives up the demand for all-in-one solutions that help analyze and improve performance. The classic example of such platforms is RightBound. It is designed for handling repetitive prospecting routine including cadence tracking, list building, and account research.
RightBound gives sales teams the set of special tools that help optimize their work. For example, sales specialists receive real-time notifications related to the prospect's engagement stage or previous customer information.
RightBound turned out to be extremely valuable for sales development teams, and already got $3.1 million through seed investment.
Yac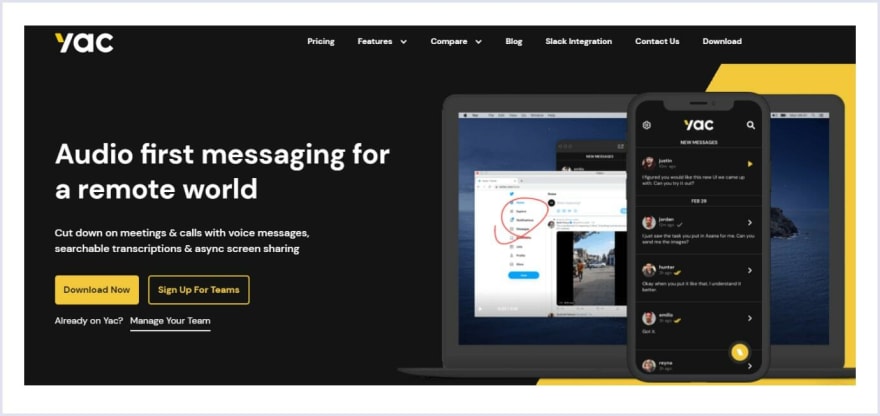 SaaS product: Voice messaging service
Founded: 2019
Headquarters: Kissimmee, Florida, United States
CEO: Justin Mitchell
In the face of remote work, holding daily meetings becomes quite a challenging task. So you have to find a new, more comfortable way to collaborate with your team. For example, you can replace meetings with async voice messages. In this regard, the platform Yac comes in especially handy. This service allows shortening calls by voice messaging. Besides, its diverse functionality includes screen sharing, group messaging, and public share links.
In addition, there is a searchable audio transcription that helps you find the required messages quickly and effortlessly.
This comprehensive system for team voice communication has managed to get $2 million through seed investment.
OpenSea
SaaS product: Marketplace for crypto goods
Founded: 2017
Headquarters: New York, United States
CEO: Devin Finzer
It's not a secret that the game market is currently booming, and latest research proves this. Therefore, users need a specific medium where they can buy and sell various crypto assets, such as gaming items or domain names. OpenSea became the first and largest marketplace for digital goods.
OpenSea is scaling rapidly and does not show any sign of stopping. At present, the platform contains more than 12 million items and 700,000 asset types.
Thanks to the unique product idea and its successful execution, the startup got $4.2 million.
Prodly
SaaS product: Low-code development automation
Founded: 2017
Headquarters: Palo Alto, California, United States
CEO: Max Rudman
The last but not least SaaS startup that we want to discuss is Prodly. It is aimed at helping developers build and launch applications faster and easier. The company created a platform called AppOpps that automates low-code development. As a result, non-developers get the opportunity of configuring the app and removing choke points. This way, applications are getting more agile and cost-effective.
Prodly is considered one of the outstanding SaaS startups in 2021. It has already got $17 million through seed investment.
Bottom line
These are the most promising startups we suggest you should follow in 2021-2022. As you can see, SaaS products can be used for totally different purposes: from helping remote workers keep fit to offering users a marketplace for buying and selling crypto goods.
We hope that examples from this article will inspire you to create a unique and valuable software-as-a-service solution.
For more details about successful SaaS businesses, check our full article 10 Best SaaS Startups in 2022 for Your Inspiration.