Spotify Wrapped '19 is out and I probably listened to more music than everyone
If I'm working, I'm coding and I'm probably listening to music and I wrote a lot of code this year.
208,562 minutes worth to be exact.
I probably listened to more than anyone that will read this article (if you beat me then shoot me a message and we can trade playlists).
The Breakdown
208,562 min = 3,476 hours = 145 days = 0.4 years
I listened to music for 40% of the entire year in 2019.
About half of those minutes translated to
The rest is out there in the wild for you to find on your own.
Linking my commit history with the Spotify listening data sounds like a cool project (just in case you're listening #jobs@github)
Hip hop is my top genre but I still got the funk
I listened to music from 88 Countries, discovered 2,317 new artists, and played 13,228 unique tracks.
I listened to music from 88 Countries
2019 Top 100 Tracks Playlist
Matt Harris 2019 Top 100 Playlist Link
Spotify Music Rollup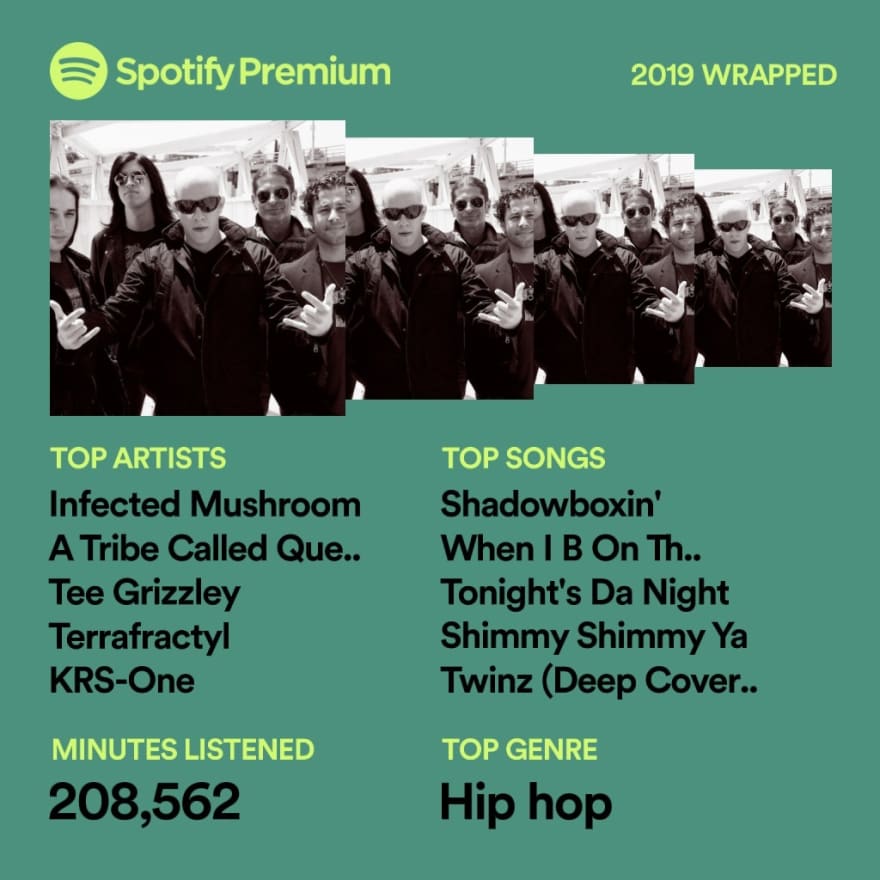 Top Artists
Top Tracks
2019 was a big Wu-Tang year, that probably has something to do with their new show coming out earlier this year.
#wutang4ever 👐👐👐
2010-2020 A Decade of Music
I signed up for Spotify in 2011 so there is almost a full decade's worth of data collected about my music listening habits 😲😲😲
I listen to a few podcasts too #garyvee
(Thanks to Gary if this goes viral for pushing me to make more content every single day)
see the video on youtube
To see all your Spotify data all year round in a simple text list format check out the
ManageMyMusic app at http://107.170.81.187:8080/public/top
Visit https://www.spotify.com/us/wrapped and post your top artist or share your Top 100 playlist in the comments
DISCUSS
Classic DEV Post from Jun 18 '19