Changing the way companies do media intelligence
Mediatoolkit is a 24/7 media monitoring and analytics tool that gathers information from 100+ million online sources. It notifies users in real time whenever their company, competitors, key people from their organisations or any other keyword they decide to track is mentioned online.
"Bornfight understands what does or doesn't make sense for mobile users, so it's no surprise that a lot of our users praised the new app's intuitiveness and ease of use."
Antun Tomašević
Mediatoolkit Product Manager
Real-time tracking for on-the-go professionals
Mediatoolkit's web tool was upgraded with new functionalities much faster and much more frequently than the mobile version of their tool, so they tasked us with creating a new iOS and Android application from the ground up. One that would enable their customers to use all of Mediatoolkit's core functionalities on-the-go.
Mediatoolkit Mobile Application - Onboarding Animation from Bornfight on Vimeo.
Perfect companion app for a powerful web tool
The goal of the project was not just to create a copy of the web version for mobile devices, but rather an application that complements the web tool. As Mediatoolkit's core user group of PR professionals and marketers want to be aware of the communication surrounding their brand at all times, this mobile app enables them to get real-time notifications and keep track of all the news – even when they're away from the computer.
"The main business benefit of the app mirrored the app's main user benefit - providing them with Mediatoolkit functionalities and experience on-the-go, all within the same ecosystem."
Filip Fajdetić
Bornfight iOS Development Team Lead
Defining app features based on users' core needs
By working closely with Mediatoolkit's Customer Success team, we gathered a large amount of data about the behavior of their users and their needs. Detailed analysis of that data enabled us to create a list of functionalities we needed to implement, as well as to define the ways users should move through the application and interact with it.
Enhancing the experience
Making sure that the mobile app compliments the experience of using Meditoolkit's web tool was one of our key objectives. We achieved that by placing a strong emphasis on the overall visual identity that matches the one on the website, as well as by focusing on core actions and elements users interact with the most.
"As the application itself displays a large number of information to users, we maxed out on functionality - utilizing native components and giving a clear role to every visual element within the app."
Elena Crnković
Digital Design Team Lead
Allowing users to create their perfect flow
The mobile application needed to compliment the Mediatoolkit web tool by adapting to different workflows of its users, so we enabled them to customize certain aspects of app itself – from core actions like setting up keywords and queries, all the way to defining how they'd like to receive notifications or times when the app shouldn't disturb them.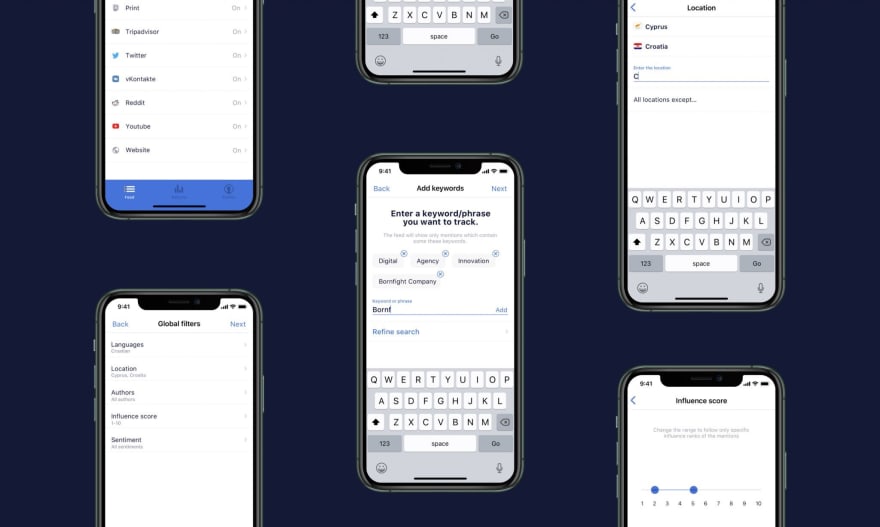 Complete focus on app fluidity and intuitiveness
Mediatoolkit is an extremely powerful tool that offers its users a wide variety of features and options for tracking keywords and mentions. To make it simple and intuitive to use, especially on small mobile screens, we focused on designing a streamlined app architecture that seamlessly guides users through all of its functionalities – from the initial onboarding to real-time tracking.
"Users need to get notified about new mentions as soon as possible - that is the most important aspect of the app and it needs to work flawlessly. Zero compromise."
Tomislav Smrečki
Bornfight Android Development Team Lead
Natively developed for both iOS and Android
As iOS and Android have different UI patterns, we created a separate mobile app for each operating system. Functionalities and the overall experience Mediatoolkit's users were accustomed to remained the same – they were just tailored to each of the platforms and their specific standards. This native development approach made the applications more fluid and increased their performance.
Mobile application results
After the launch of the new application for iOS and Android, Mediatoolkit experienced a surge in the number of mobile users.
25% of Mediatoolkit's monthly active users are using the new mobile application
30% of all Mediatoolkit's paid users have downloaded the new mobile application
---
Download Mediatoolkit from the Google Play Store or the Apple App Store, and explore the benefits real-time media monitoring can bring your business!
---
We're available for partnerships and open for new projects. If you have an idea you'd like to discuss, share it with our team !