Introduction
Hey there... In today's article, I would take you through the entire process of creating your first Flutter application and running it for the first time on physical & virtual emulators as well as running it in our web browser (Yes, you can use a single Flutter codebase and develop for Android, iOS, Web and Desktop, and I talked about it in the first article of this Flutter series). Also in this article, I would let you in on some super useful Flutter commands as well as helpful tips & tricks in Flutter.
Previous Article
Before we proceed further, do refer back to my previous article, where I gave a detailed guide on how to set up your local machine for Flutter development.
Create Your First Flutter App
So, without any further ado, let's jump right in!!!
We'd start off by creating a simple Flutter app in our command-line (terminal). Fire up a terminal window and type in flutter upgrade, like below.

What this command does is that it upgrades the version of Flutter, as well as download and upgrade a couples of packages that is needed to ensure the smooth running of Flutter on your local machine.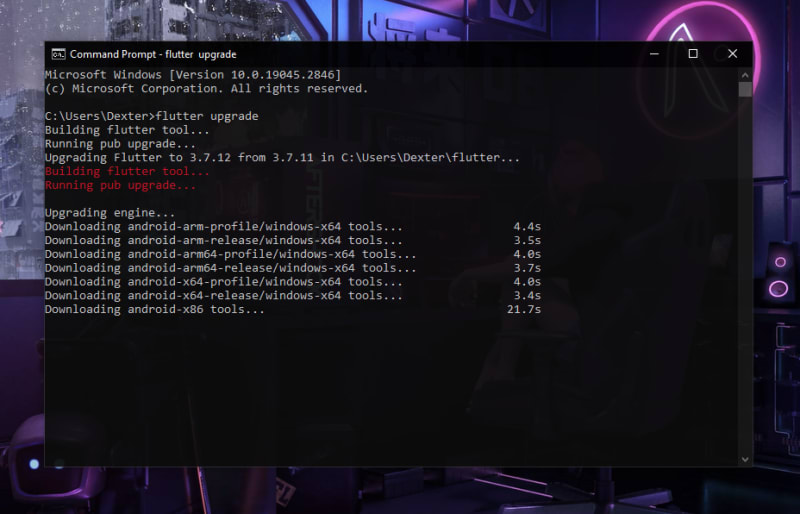 You should allow the command do its thing and it would automatically run the flutter version and flutter doctor commands in the same terminal window.
You should have a directory where Flutter apps are housed. Mine is "C:\Users\Dexter\flutter-apps". You'd change into the directory you've created for store your Flutter apps by running the cd flutter-apps command, just like in the shot below.

Next, type in this command flutter create sample_app and hit enter. This would create the project folder and download the basic dependencies which our wonderful app called "sample_app" would need to run.

When it's done, you should have the following results, with useful information on how to run the app and where its entry point is located.


Using Windows Explorer (or Finder if you're on Mac), you should be able to navigate to the directory where our app is located.

Going back to our terminal window, run the cd sample_app command and it would change into our app directory.

Now that we're in our app directory, run the code . command.


Running the code . command would open a new VS Code window of our app.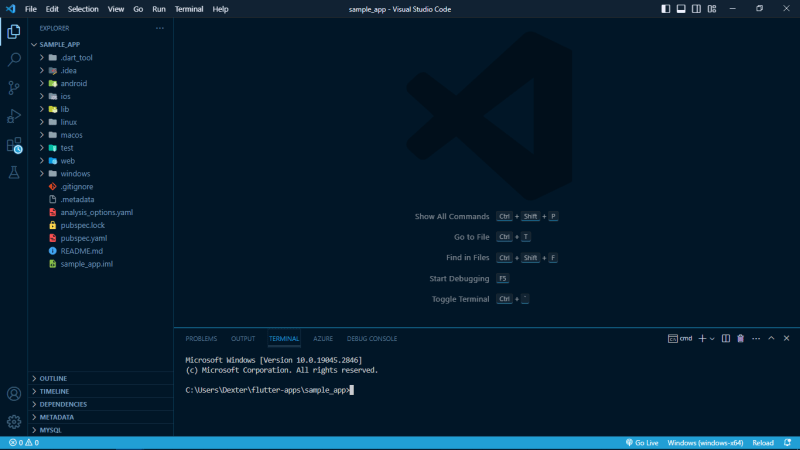 Allow me to explain what a couple of folders and files are doing in the shot above:
"android" and "ios" folders contain the necessary files and dependencies when you would be building APKs/IPAs files and then deploying Android and/or iOS apps to the Google Play Store or iOS App Store respectively,

"lib" folder is the entry point of our application as this is where our "main.dart" file is stored,

the "linux", "macos", "web", and "windows" folders contain dependencies that would be needed when using Flutter to build and develop apps for Linux, MacOS, Windows platforms as well as for Web Browsers,

the "pubspec.yaml" is extremely important as this is the file we would we edit when we want to use Flutter packages in our apps after we download them from Dart packages, and

the "README.md" is the Markdown file that contains every and all information and documentation about your app.
NOTE - Do not delete or change the location of the "pubspec.yaml" file as this would generate issues and bugs you're not ready for.
Setting up your Physical Device/Emulator
Now, it's time to get into the juicy aspects of this article - where we run our app on a physical device/emulator - and I'm going to take through the process of setting up a physical device as our emulator.
For this part, I'm using Redmi 9T by Xiaomi and it's currently running Android 11. Now, your experience might not be the same as mine as you may be using some other device like Samsung, Nokia or any other Android device but it is usually has a similar process, so let's get started. Also, your USB cable would come in very handy right here.
By now, you have your development machine and Android device side-by-side🙃
Running the app on a Physical Device/Emulator
With your phone still connected, head back to VS Code on your development machine, because it's time to run our app. On getting to VS Code, you should have a screen similar to this below.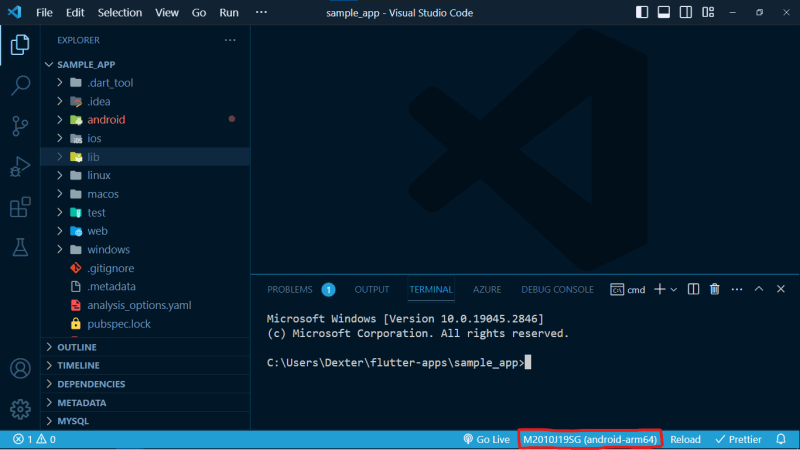 My VS Code picked my device automatically, but yours may not be the same case. If your VS Code does not pick your physical emulator automatically, just follow these steps below.
After a couple of minutes (mine was close to an hour), the "Running Gradle task: 'assembleDebug'" process should be done and then you get the green prompt that your app has been built.
The app installation process would commence after a few seconds and you should get a pop-up on your physical device asking you for confirmation to allow our app "sample_app" to be installed via USB. The pop-up should say something within the lines of "Allow this connection in the future", "Never ask again for this device" or similar, so just go ahead and check the box and then tap "OK" and your would be installed on your physical device and then it would run automatically.
Allow the entire process to be finished and wait until your terminal is similar to mine below, where your app is now installed on your physical device/emulator.

Bravo! You've successfully set up your personal mobile device to serve as your physical device/emulator when building with Flutter. You should have a screen similar to that below.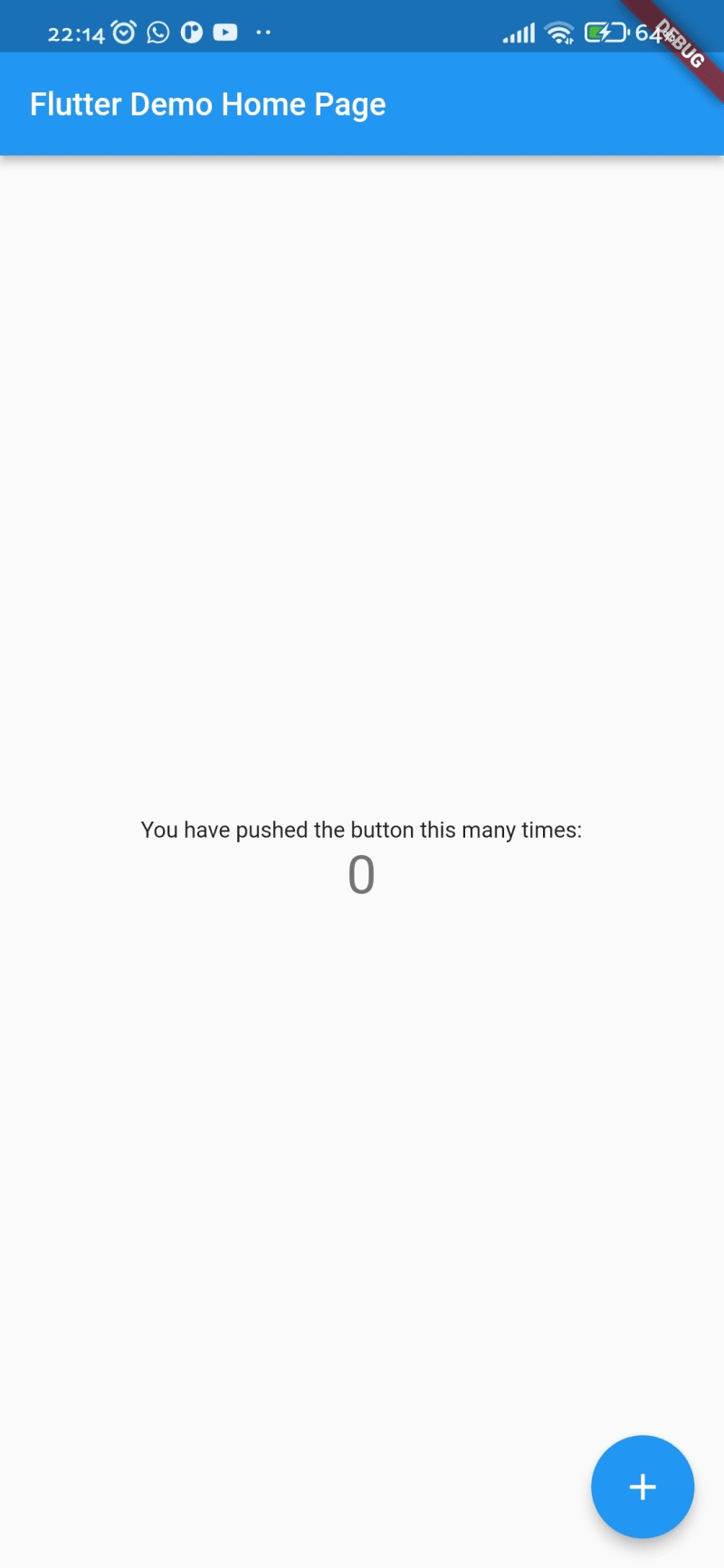 Let's change the theme color of our app from "blue" to "orange" (or some other color of your choice). We'd do that by editing the "main.dart" file in the "lib" directory. When you've changed the color from "blue" to some other color, get into your terminal and hit "r" to perform what is called a "hot reload" to effect the color change to our app.

This is what the app looks like now on our physical device after we changed the theme color.
To end the process, get into your terminal and hit "q" to quit, and you should have something similar to mine below. This operation would also close the app on your physical device.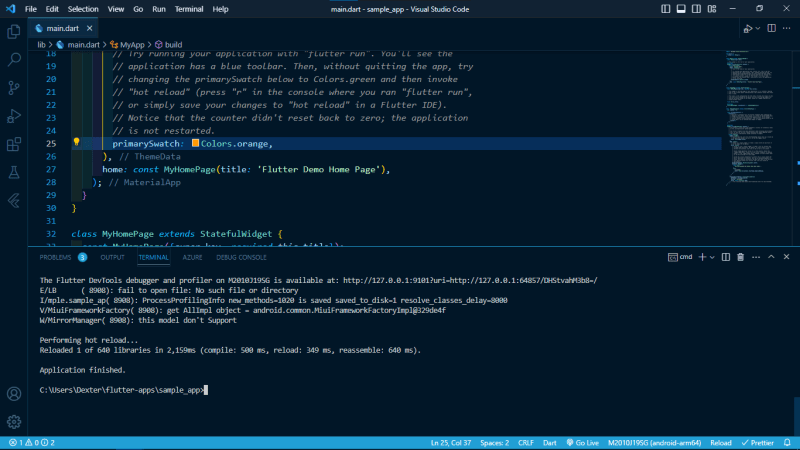 Emulators: Physical Device vs Virtual Device (Android Virtual Device - AVD)
This paragraph is highly opinionated as I prefer to use a physical device over a virtual device. This is due to the specs of my current development machine because if I were to run AVD directly, my PC would start hyperventilating (figuratively), but feel free to use AVD on a higher-end machine as it is faster and saves development time. In a later article, I would guide you through setting up a virtual device (AVD), but until then.
Yes, I have used both physical devices and AVDs, and I can confidently tell you that AVDs are ten times faster to work with
Something Extra
One easy command you can run in the terminal to see a list a of Flutter commands is flutter -h.
Conclusion
You've made it this far in this post and I must applaud your dedication. We've covered a lot in this article and I'm open to answering any questions you may have. In our next article, we would cover the Flutter architecture at length, so give me a follow so you don't miss my next post.
P.S.
I'm editing this article on a wonderful Sunday evening... So, thank God it's Monday again💪🏽🚀⚡🔥