As a society, we tend to focus on titles and roles, and we forget that behind each title there is a person who has a story to tell. And truly every person's story is unique.
In honor of International Women's day, we interview inspiring women from the community on the story of how they got into Tech, and where they are today.
In this post, I am interviewing Pia Gerhofer who is based in Linz, Austria.
Meet Pia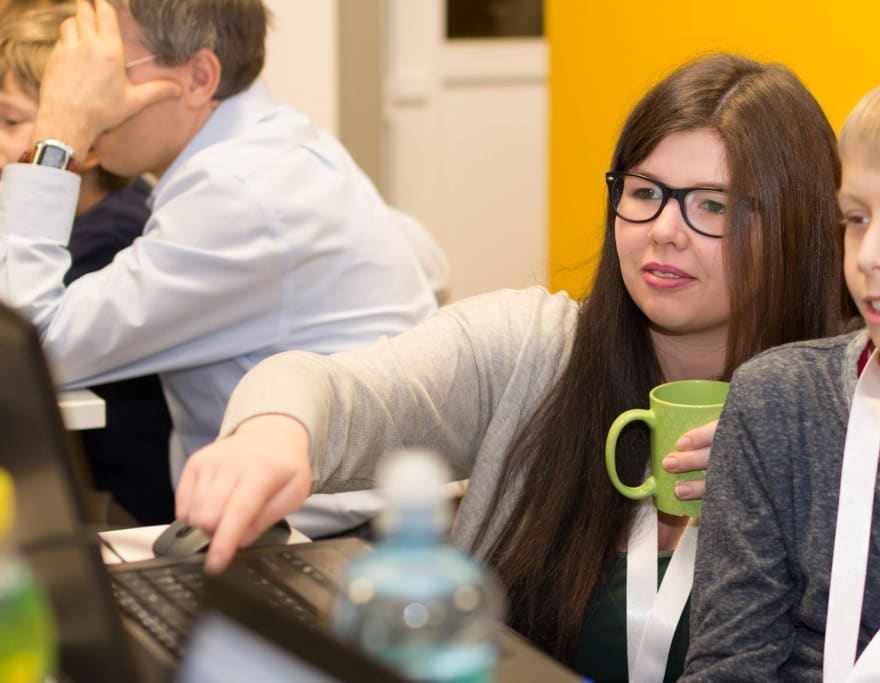 My name is Pia Gerhofer, I am 26 years old and have been working as a software developer in Linz for the past five years. In my work, I usually design and implement backend systems. Since I first joined the local programming club for children in Linz five years ago I found my passion for teaching others about things I am passionate about myself - software development and technology.
Since I started my first job as a software developer I always had a very low number of female colleagues in my field. In order to tackle that and make it easier for other women to try their first steps in the tech industry, some female colleagues of mine and I started bi-weekly community events where women and those who identify as such gather to learn and program together.
When did you first become interested in technology and what sparked this interest?
I actually only got interested in technology and software development during my studies at the University of Applied Sciences and the choice for my subject was mainly based on job opportunities and a qualification test. I never had many touchpoints with technology during my childhood and I would really have loved visiting a CoderDojo when I was young and wished I found my passion for technology earlier!
What education do you have?
After graduating from grammar school I went to the University of Applied Sciences Upper Austria in Hagenberg and did my bachelor's degree in bioinformatics. After my half-year internship in the bioinformatics industry, I switched to pure software development because the processes and way of working fit my expectations better.
Describe your way towards your first job in tech; how did you land this job?
My first job actually landed me! I participated in a programming contest, scored well and got offered a job at the company hosting it.
Do you have any role models that influenced you?
As cliché as it might sound, my mother has always been my biggest role model. She is an incredibly smart and motivated woman. She managed to be a single mother and invest time in her career, always trying to learn new things and taking up new opportunities.
When I think about people or especially women in tech that inspire me, the chairman and chairlady of the CoderDojo Linz come to mind. Ever since I got to know them, the work and effort they invest in their company and the CoderDojo foundation inspire me.
Who were/are the biggest supporters in your career?
I was very lucky to start my first software development job with an amazing team in a software development company. My team lead and colleagues were very supportive and I had the chance to learn a lot from them during that time.
Tell us more about your current job – e.g. what do you like most about your role?
I am currently working one day a week teaching in a coding Bootcamp and four days a week as a software developer, which is a really great mix in my opinion. I love that as software developers we can and have to consistently learn new things in order to stay up to date with technologies. My work as a software developer is challenging, varied and full of surprises. Sometimes you have to sit down for hours to hunt down a problem and other times you are discussing designs with your colleagues.
What does your typical day look like?
On a normal day, I try to fit in a quick sports session right after I wake up, have some breakfast (I fell in love with porridge when I visited Scotland last year) and listen to my current audiobook on my way to work. At work I thankfully spend most of my time coding - my current project is a service that receives position data from pet trackers. After work, I try to find some time to meet friends, read a good book or cook a nice meal.
What do you do in your free time?
Next to supporting the CoderDojo and the Female Coders programming club, I like to go climbing and do some sports to balance sitting in front of the computer so much. I also love books and audiobooks, mainly fantasy books and very rarely a technical book in between. I also love going to concerts, music festivals and traveling, preferably alone.
What advice will you give to women and girls who dream about a career in tech?
To just go for it and reach out for support when you need help. Don't give up too soon, it can be challenging sometimes and it's absolutely normal to feel overwhelmed by the options out there.
Working in the tech industry offers great opportunities and I honestly can't think of a better area to work these days.