TLDR;
In case you missed it, there are a lot of people from under-represented groups working in Tech. Through a series of inspiring Stories, we share their story of how they got started and overcome their challenges.
Join our channel to read all of them.
My name is Sherry List and I work as Azure developer Technical Lead at Microsoft. My role is to be the point of contact between Microsoft & developers. I need to find out what developers want to learn about Azure and reflect it to our skilling plan. I also often travel to different countries to speak at mostly Front-end focused conferences. I started my first job as a web designer when I was 16 years old.
According to my parents, as a child I had the following as my future career goals:
TV host (For children's show)
Pilot
Ballerina
Actress
As you see, nothing technical! So, what made me able to change my dreams and switch to an industry which is (still) not so female-friendly?
My First Computer
I was born and grew up in Iran. Back in the late 80s & early 90s, right after the revolution and 8 years of war, it was not so common for middle-class families to have computers at home and my parents were not so much into tech. But, we had friends and relatives who had computers. My parents noticed I was into playing games, so they together with my aunties bought me a PC as a birthday gift when I was 12. From the moment I got that computer, all I wanted to do was to be able to write my own game!
So that birthday gift changed my whole life. I started to learn basic programming together with my brother, Farzad Aziminia, who is 3 years younger than me. I am forever thankful to my family, specially Farzad Aziminia & Troels List, who've always supported me and never discouraged me from pursuing my dreams!
My First job
Later I switched to a Technical high school where I could have Computer Science as my major. That education led to my first job as a Web Designer at a small consulting company in Tehran called Persia Design.
They hired me in the beginning as an intern. I was lucky enough to have super supportive colleagues and mentors there. I give shout outs to Nami Shafaghi, Kasra Yousefi, Sam Ofavezi & Amir Hamrang. I learned all the skills needed to call myself a web designer. The most essential skill I learned there was the ability to keep myself updated with all the trends in the field and also use the available online resources to learn and develop myself.
Since then, I stayed in the IT industry, and in 2006 I moved to Cyprus and in 2012 to Denmark.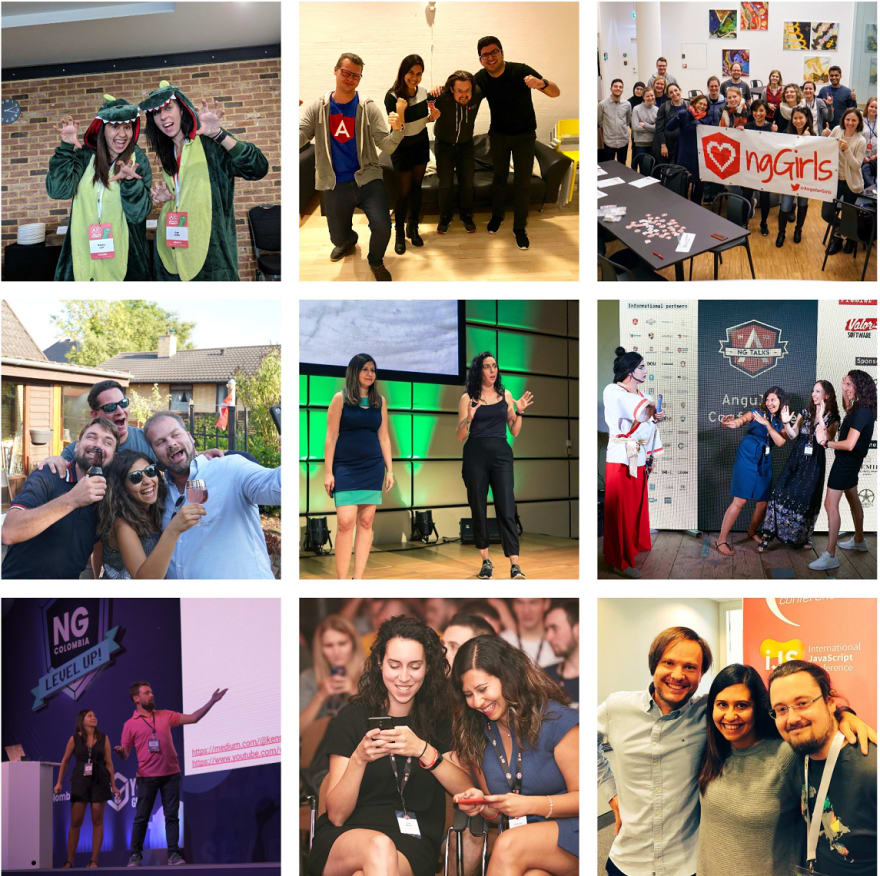 The community
Moving to new countries made me search for like-minded people. It was only natural for me to discover meetup.com. My involvement in local meetups led me to create new communities that didn't exist before and even later on bringing different community leaders together to run bigger initiatives or conferences. One of them is the ngVikings conference which I co-founded with my good friends and colleagues today Maxim Salnikov and Chris Noring.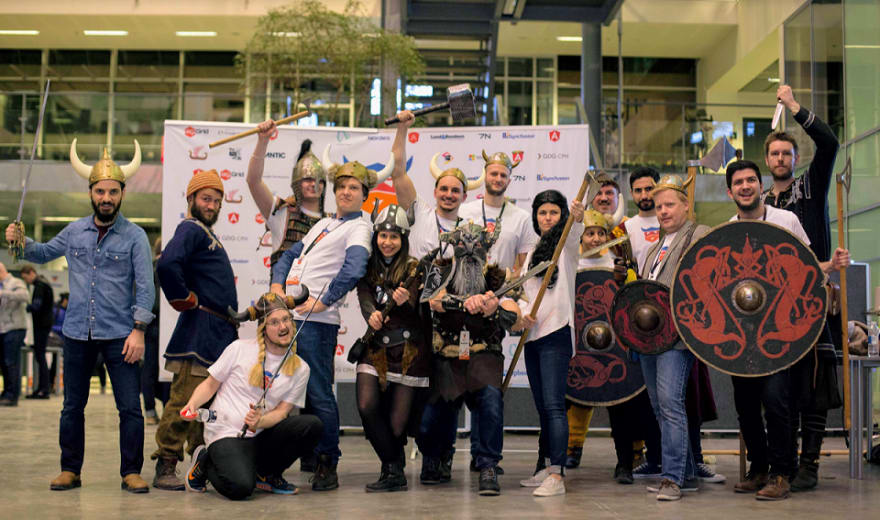 ngVikings 2017
Through my involvement in communities, I met really really supportive people who encouraged me to go even one step further. One step further, and not only organize events but also deliver talks at events. This new adventure enabled me to travel to places around the world as far as Colombia. To not only speak at developer-focused conferences but meet amazing people and learn from them. I feel lucky that I have awesome friends like Ana Cidre, Chris Noring, Wassim Chegham, Kenneth Christiansen & Lars Knudsen who always encourage me and give me constructive feedback to develop myself.
Empowerment Matters
Funnily enough, it wasn't until I moved out of Iran that I heard of the phrase "Women in Tech". Back in Iran, we had many female software engineers. I even worked at a company where we had more female software engineers than males. After I moved out of Iran, I often found myself to be the only female or one of a few female developers in teams. I had started to realize all the biases towards women in our industry. Luckily I only experienced it on a small scale. As I got to know more women in tech and hear their stories I realized how lucky and privileged I was through my journey.
As an immigrant, a woman in tech, who is even vegan, I totally know what it means to be an under-represented person. I know the importance of having someone to encourage you to move forward while others around you either put you down or take credit for your hard work or your ideas. As you read in my story, I was lucky enough to have these people along with me in my journey. Unfortunately, not everyone is lucky enough to be surrounded by these supportive people.
The goal of "Inspiring stories" series is to interview inspiring people in Tech. To celebrate their achievements and give them the opportunity to share their stories about how they got into tech and how they overcome their challenges. I really hope these stories inspire more people from under-represented groups to join the tech industry. I also hope it gives courage to the ones who are here to continue their journey.
The focus for March is "Women in tech". I have support from my amazing colleagues, Floor Drees, Nick Trogh, Maxim Salnikov & Rainer Stropek to reach out to our communities to find inspiring women for our interviews. We could gather enough stories to publish for the entire month! One story per day, even weekends.
You can read them all on https://dev.to/azure_heroes/.
We won't stop there and will continue our series with more inspiring stories from other groups. So, bookmark our channel!