KEY RESOURCES
---
.NET November is close!
We're less than a month away from the official launch of .NET 6 at the .NET Conf! Yesterday, I had the pleasure of joining Frank Boucheros and Jeff Fritz as they hosted an hour-long conversation on what we can expect from the release and the conference! The show aired live on Microsoft Learn TV but you can watch the replay here!
A Visual Guide to the Episode!
Want a sneak peek at what they covered? I've got good news - I was a guest on the show to host my popular #ABSee segment (more on that later) so I took the time to sketchnote what I heard.
Watch the time-lapse of the process here:
18:11 PM - 13 Oct 2021

@fboucheros @csharpfritz

@julietlovesjava - and moi! Join us - looking forward to getting a lot of @dotnet related updates .. and play a round of #AbSee! https://t.co/BMkBiyDjw9 https://t.co/oRnSsqNmos
And take a look at the final visual guide below. You can download a high-resolution version here that may easier to read. Here are the topics covered with links to the relevant segment of the video replay: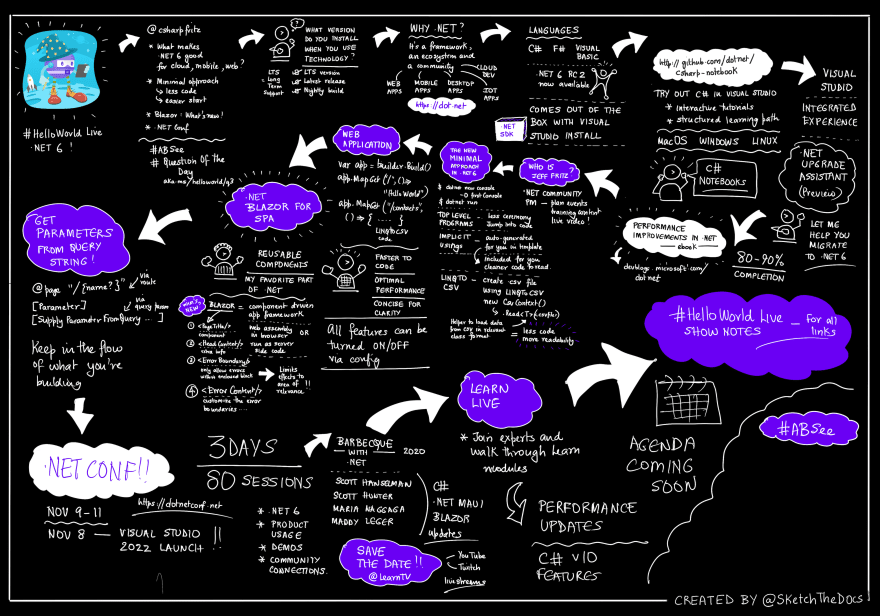 ---
What I learned:
As a relative newbie to .NET, here are my 5 takeaways:
---
A-B-See: Play to Learn!
As I mentioned before, I was there to host the popular #ABSee segment - an interactive game where I show you a visual puzzle and you have to guess the concept, service, or person, I am talking about using the clues I provide.
How does that work? Here's an example of a clue that was shown on the show yesterday - the tweet gives the answer away, but in the live show, you would have a minute or so to share your guesses with us.
Kinda related - this was my

#HelloWorldLive

clue (one of 5 we showed today) - you can guess the answer right? 😍 - It felt right given it's Halloween season and I live close to Sleepy Hollow, NY.

Also the "Headless" & Playwright puns were asking for it

Ans:

@playwrightweb twitter.com/nitya/status/1…

18:25 PM - 13 Oct 2021
Why #ABSee? Because 65% of us are visual learners so visualizing a concept makes it easier for us to understand and recall it. Plus, puzzles are a known way to help humans make connections and solve problems intuitively. Explore past puzzles on the #ABSee Site and view more visual guides at @sketchthedocs
Here are the five puzzles from yesterday's show - with answers and links to resources that can help you learn more! Hope you found that fun! Open the image in its own tab to see the high-resolution version!
---
KEY RESOURCES
Relevant dev.to profiles: