I've signed up with AWS in 2015 and all of my free-tire credits are exhausted few years ago. But that didn't stop me for using AWS with my own money.
I am running three different websites (all hobby projects) in four t3.small EC2 instances with one RDS instance in similar t3.small instance, one Application Load Balancer, ECS and using few other services. On average I was paying around $100_(+-$10)_ in every month.
Few months ago I learned about AWS Active program, which actually help developers and startups to by allowing them to use AWS services and resources freely by providing free AWS Credit. I wasn't quite sure if my startup/side project LaptopList.com can be eligible for applying the credits as its just a website I coded myself and deployed to AWS. But I decided to apply for the fund anyway.
Here I'll explain how you can apply for the fund and possibly save $1000 for your hobby project bills in AWS.
Applying for Active Fund
To apply for the fund, you'll definitely need an active AWS account.


Use the Apply Now button to initiate your application. It will redirect you to sign in to AWS. After sign in, you'll see two different category and you need to pick which category you are in. I've selected Founders package. Bonus is, if you are the developer of the product, you'll get $300 as Developers Credit, which I have also received.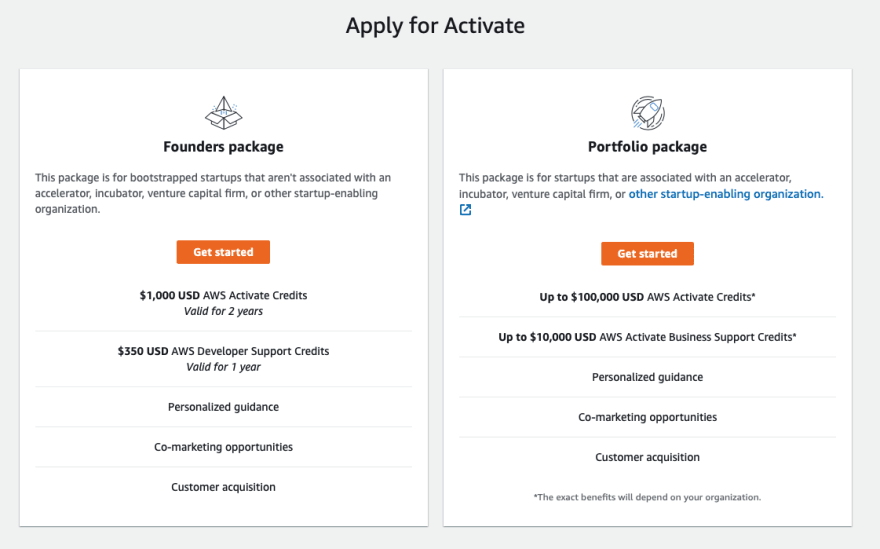 Step 1
After choosing your category, you'll see a page which looks similar and it will ask you to verify your account and opt for applying the credit to currently logged-in account.

Step 2
In the step two, you'll need to provide some more information about your startup like Company name, Location, Profile, When founded, how many peoples working, if you already have any funding (I didn't had any).
Then you'll need to mention about your product, and which AWS services you are using.
Step 3
In step 3, it's just information about you, your contact info, role in the startup/product, your LinkedIn profile, etc and thats it.
Once you successfully complete the application, they'll say it will take around 7-10 business days to review your application and then they'll send update about your application status. But it took only 3 days for my application.
Receiving the fund
Once I received the email about my application getting approved, I Logged into my AWS console and visited AWS Billing Dashboard > Credit and saw this beautiful data there.

Conclusion
I hope the information provided here will help you to submit your application and I wish you best of luck. Please don't forget to share in the comment if you received your AWS Credits and also comment if you have any question. I'll try my best to help you as much I can.
If you feel this article can be helpful, please like and share the article in your community.