Today, with the digital revolution, we can see sudden changes in customer expectations. Thus, traditional flight booking systems are switching to digital platforms. This, the same need for digitization, has increased the demand for comprehensive smartphone applications. As a result, you see everything accessible more easily than before.
Furthermore, travel ticket booking has become so convenient for customers today that traveling all over the world has become a convenient and enjoyable way to handle everything so easily. Every travel booking company is working hard to improve their customers' experiences, and as a result, the demand for a flight booking app has skyrocketed. In fact, it is becoming a required facility for business owners in order to retain customers.
What Is A Flight Booking Mobile App?
With Flight Booking apps, you can now travel the world your way. From booking to boarding and easy travel management, the best apps ever provide a hassle-free experience. Everything is now at your fingertips, whether it's general or advanced features like one-tap check-in, booking details, special deals, and more. So, get ready to discover the world's coolest airline ticket booking systems today!
Advantages Of Flight Booking Mobile Application
The online flight booking app allows you to plan seamless trips and book flights online remotely. With such a scalable app, users can easily organize their trips in a time and cost-effective way. Let's take a look at some of the benefits of the flight booking application.
Easy to Book Tickets
Because these apps are designed specifically for tablets and mobile phones, they have a user-friendly interface that makes it simple and quick to browse and book flights.
Early Check-Ins
The ticket booking app has an early check-in feature that saves you the time it takes to complete procedures and review documents. All of these jobs run virtually within the app, saving you a lot of time.
24/7 Booking Available & Customer Support
Furthermore, such apps always provide an all-day ticket booking service as well as round-the-clock customer support to make their flight booking job easier and smoother, as well as to resolve any issues that arise during the booking process.
Saves Time
Because a traditional flight booking system takes a long time, flight booking apps have appeared as a boon to customers, as they can now book their flights from anywhere, at any time, and with great ease.
Changes and Cancellations
Online ticket booking apps make it much easier to change or cancel flights with a single tap.
Easy Refunds after the Cancellation
In addition, the Flight Booking app makes it easy to get a refund even after you cancel your flight for some reason.
Why You Should Invest In A Flight Booking Application – Market Statistics
Today, we live in a time when we can expect all kinds of services to be available on the go. With new apps being developed every second, our lives have become much easier. In fact, the transition from desktop to app-based flight booking was so seamless that the flight booking application has now become a must-have for business travelers. As a result, the growing demand for such apps motivates us to invest in flight booking apps.
According to one study, 28% of people get their travel inspiration from Instagram and Facebook. This resulted in an increase in the number of people downloading online ticket booking apps.
Furthermore, according to research, 27% of users prefer to book their travel through a mobile app.
39% of travelers found booking through their app to be a little faster.
Furthermore, 79% of users valued price alerts as adding value to their flight booking experience.
Moreover, travel brands with apps receive 60% of their bookings via mobile devices.
Undoubtedly, travelers are enjoying speed with the additional features provided by the app. Such statistics may prove that a flight booking app or travel app can easily provide a positive user experience. Let's go further.
Top Flight Booking Applications & Websites

SkyScanner, Kiwi.com, Momondo, Kayak, SkipLagged, Hopper, Ixigo, and IndiGo are some of the most popular mobile apps for booking flights.
Business Models Of Flight Booking Mobile Apps
There are two types of business models that can be commonly associated with flight booking apps. Let's take a look at them below:
Aggregator Model
This kind of reservation application model is well known and manages the various major reservation applications available in the market. According to this model, the application contains a complete list of airlines with different specialties, categories and prices. A separate payment gateway and reservation platform are also added to the app. After selecting a specific flight, the user is redirected to the appropriate platform where payment is done.
Dedicated Model
This model is popular with top airlines. Airlines can connect directly with travelers through the app and book flights directly from their phone. Almost every airline can now boast of their own flight booking application.
What Are Customers Looking For In A Flight Booking Application?
Now, all customers are looking for ease, time savings, and the best offers with less effort. Let's see what customers are looking for in a flight booking app.
Users want the app to make job searching easier for them. They want to see every detail of their flight just by entering the origin and destination.
Online payment is simple and easy.
Get the best deal while spending the least amount of money.
Catch up with direct flights that arrive on time.
Simple cancellation with a prompt refund.
General Features Required In Flight Booking Apps
To set your flight booking app apart from the crowd, make sure to include all the necessary features in your app. Let's take a look at some of the more general ones.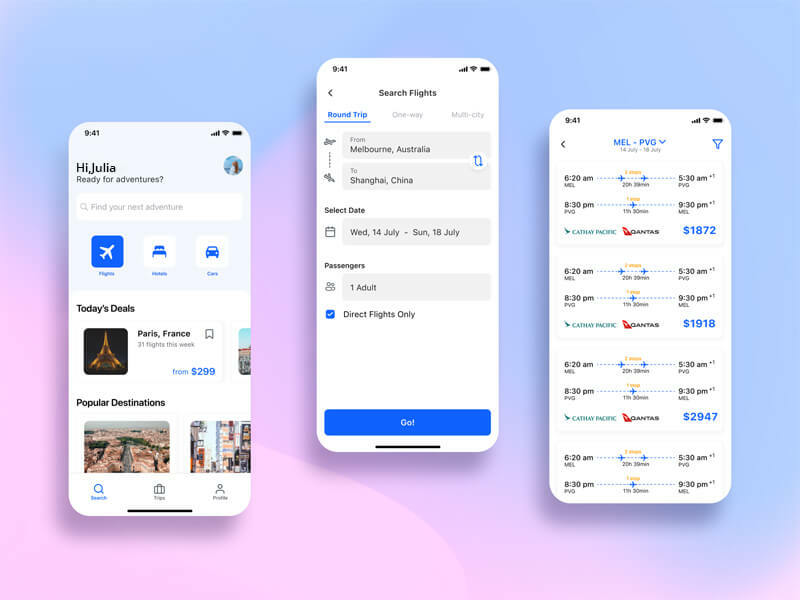 Customer Panel Features
A customer app should have an appealing UI design and high-quality features that provide a smooth user experience.
Social Login/SignUp
Users will be able to access services more quickly thanks to the simple social login. You may also request an email address and a phone number for login purposes.
Flight Schedules
This feature will show your passengers the flight schedules that are available to their destination location on their preferred travel date.
Flight Booking
You must make the flight booking process as simple as possible for your users so that they can book their flights with just a few clicks.
Frequent Flyer
The frequent flyer tag will be assigned to regular passengers who fly in and out the most frequently using this feature of the flight booking app.
Booking Status
This general feature will reveal the flight booking status of the users, including information on cancellations or confirmations of their bookings.
Flight Status
The cancellations, delays, arrivals, and departures will be displayed in this section to provide your users with the status of their flights.
Check-In
The airport check-ins will be updated here, and users will be notified of their check-ins.
Ratings and Reviews
Users can share their feedback by updating reviews and rating their experience with the services provided by a specific flight or airline using this feature.
Read more from source URL: https://www.anques.com/how-to-develop-a-flight-booking-mobile-application/