Hey there everyone 👋!
All developers have used git, right? Well, the recent update dated on 13-10-22 [DD-MM-YYYY] has somewhat changed git forever.
🪸 Backstory of Git
🐲 Git is free and open source software for distributed version control: tracking changes in any set of files, usually used for coordinating work among programmers collaboratively developing source code during software development. It was initially released on 7 April, 2005. Git was developed the same person who built the the great linux kernal.
🦄 Introduction of Scalar
Scalar has been a side project of microsoft for years now. It is open-source since the very beginning.
😎 Scalar is a tool that helps Git scale to some of the largest Git repositories. It achieves this by enabling some advanced Git features like the following -
Partial clone: reduces time to get a working repository by not downloading all Git objects right away.

Background prefetch: downloads Git object data from all remotes every hour, reducing the amount of time for foreground git fetch calls.

Sparse-checkout: limits the size of your working directory.

File system monitor: tracks the recently modified files and eliminates the need for Git to scan the entire worktree.

Commit-graph: accelerates commit walks and reachability calculations, speeding up commands like git log.

Multi-pack-index: enables fast object lookups across many pack-files.

Incremental repack: Repacks the packed Git data into fewer pack-file without disrupting concurrent commands by using the multi-pack-index.
😮 Git adapts scalar
In the recent update of git (2.38.1), a new executable has been included with the git package - scalar.
It's is going to be intense as we uncover all the commands and their uses in the scalar executable.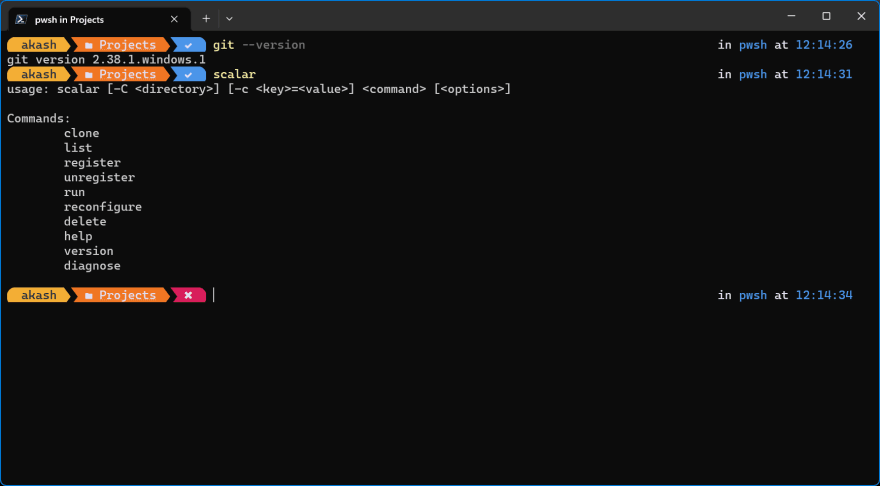 As you can see in the picture given above, scalar becomes a command in the shell just like git did.
🧡 Using Scalar
🐉 Just for a stater, let's clone a repository using scalar.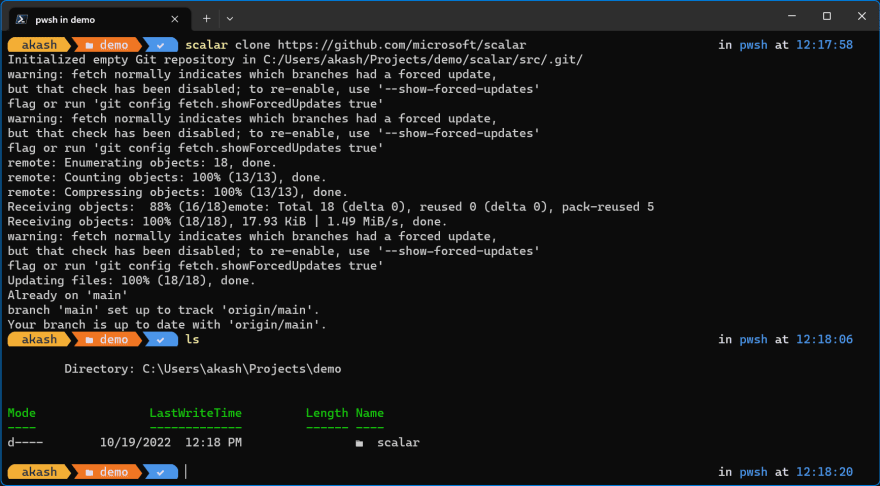 You can get to know more about the entire scalar executable and it's history here.
🙍 Connect with me
Mail - akashpattnaik.github@gamil.com
Github - BLUE-DEVIL1134
Twitter - akash_am1