My friends and I always enjoy watching YT videos, when we hang out, but the fun is over when you can not find that special video you want to show, because your data volume has reached its limit or you have poor service 😩
So, why not sharing your WiFi with your friends? Well, people act very weirdly when you ask them for the password. How often did you get the answer: "I'm sorry, I can't remember! There is a sticker below the router!" and then you try to find the black box in the most unreachable spot in your friends flat, surrounded by millions of cables and some time a mountain of dust. When you finally found it  — yay! 👏 — there is this giant number (20 characters 😱) where you always make a typo! 🆘
I know I was a bit dramatic here, but to avoid these kinds of situations, here is a simple way to share your WiFi with your friends using QR codes.
1. Setup a Guest WiFi 📱🤝🗼 (highly recommended)
You don't have to set up a special Guest WiFi to share your password, but I highly recommend it to protect your own home devices from unexpected accesses. This might not be the case with your friends, but if you want to share your WiFi with your customers, because you run a restaurant, this is worth it.
If you have a FritzBox like me, open your browser and go to http://fritz.box. In case you don't see anything, try out http://192.168.178.1 (The IP-address of your router may vary from the one above, so please checkout the manual of your manufacturer or just ask Google).
When you are logged in, go to Wireless > Guest Access and turn it on. Select WPA/WPA2 as encryption strategy and give your WiFi a name (SSID) and a password. That's it!
You can also restrict the connected clients to internet and mail access and close all connections after 30 minutes, 1 hour or 1 day, which prevents people from constantly using your WiFi network. This setting is more for customers, so it is also possible to show also a Terms of Use before using the WiFi and restrict the communication between devices for more security.
2. Generate a QR code 🖨
This is the most important step! It's 2017 and although QR codes are already out there for a while, this year Apple finally integrated a QR reader inside the camera app, which makes it accessible immediately without any other app. I'm very sure this handy feature will come to Android next year, but QR code scanning works on every today's platform — just install an app from an app store (scroll down to section 3 to see it in action).
For now, go to a free online generator, for example: https://www.the-qrcode-generator.com and use the following text:

WIFI:T:WPA;S:Valar Morghulis;P:Valar Dohaeris;H:false;

T = Authentication type, this can be WPA, WEP or nopass (required)
S = Your SSID (required)
P = Your password (required, but optional, if the authentication type is nopass)
H = false (optional and true, if your SSID is hidden)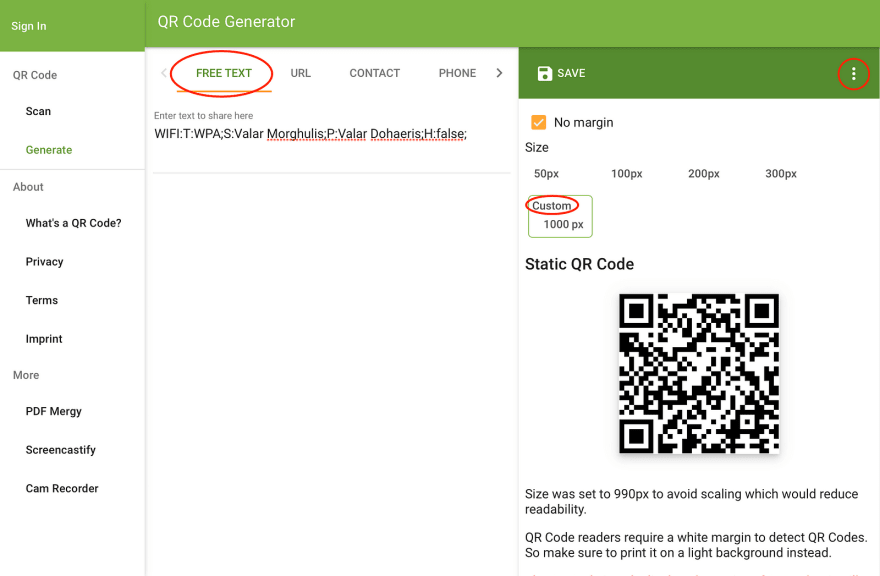 Save it as a .png or .svg file and print it out! For a better printing result, I set a custom size 1000px x 1000px (you can find this in the options section in the upper right corner). Create a new Word/Pages document and insert your QR code. I also added the plain text version of the SSID and password in case of people having devices without the ability of QR code scanning, like notebooks. I bought a nice frame (15cm x 15cm) on Amazon (http://goo.gl/X4j8gq) for a few bugs, so that my friends can easily recognise it as soon as they enter my home. Let's see it in action! 🎬
3. Login 🖼 📸 📶
In iOS11 it's so simple: Open the camera app, scan the QR code, done! (the following GIF might take a while to load)
In Android, it's easy too, but (currently) you need an app for that. There are tons of free QR code readers in Google Play Store, just download one (for example: QR Code Reader) and scan the QR code, done!
---
UPDATE 2018–01–06
One of my friends discovered on New Year's Eve that his phone (Motorola - Moto G4 Plus with Android 7) is able to read QR-codes with the pre-installed Motorola Camera app. As this app was built from Motorola and not Google, there might be a chance that QR-code reading is also working on your phone with an independent app. Please let me know in the comments, if you found out, that your phone has own support in the camera app, then I add it to this list:
|  Support |  Manufacturer |  Device |
| --- | --- | --- |
|  YES |  Motorola | Moto G4 Plus |
|  NO |  Samsung | Galaxy S3 mini |
---
UPDATE 2017–12–16
On Twitter "One Two" has pointed out that there is another way for iOS11 to share your WiFi passwords with friends very easily, so I would like to mention it here as well. I haven't been aware of this, here is how it works:

To quickly summarise the video, you go to Settings > WiFi and tap on the network you want to connect with. Hold your iPhone and the iPhone of your friend close together and confirm when you are asked to share the password. After that, it will be transferred wirelessly and secretly, so it's very simple to use!
However, in comparison to QR codes, I see some disadvantages:
One thing is, that your friends don't know you are willing to share your WiFi - so some of them might be too shy to ask for - and they also have to know your SSID, which brings me to the second disadvantage, you will be involved in this process. My idea was, that as soon as my friends enter my home they recognize the little frame and can connect by themselves, while I can be in the kitchen and grab them a beer 🙃 The third disadvantage I see with it, you are sharing the default WiFi of your phone, so you won't make use of a Guest WiFi. This might not be so important, because you are sharing it with friends, but should but considered.
And finally, what about Android? 😢
On the other side, if all your friends have iPhones, iOS11 WiFi sharing is really useful, please check out the video above.
---
I hope you find this guide useful, I wrote it mainly for my friends and family, who are not so familiar with tech, but if you already know this, I hope it motivated you to set it up 😉 Have fun! ✌️
---