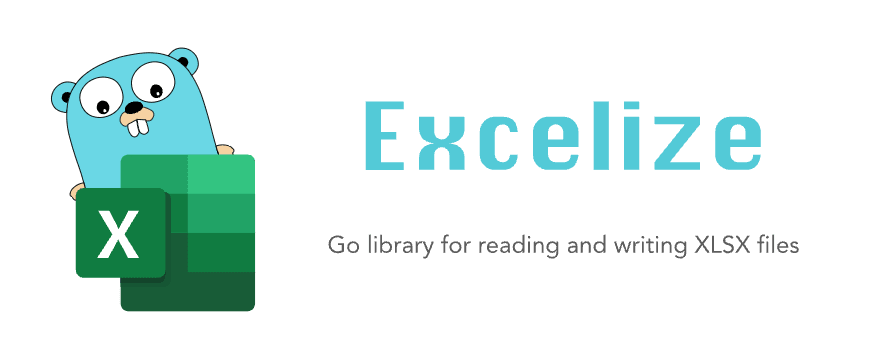 Excelize is a library written in pure Go providing a set of functions that allow you to write to and read from XLSX / XLSM / XLTM files. Supports reading and writing spreadsheet documents generated by Microsoft Excel™ 2007 and later. Supports complex components by high compatibility, and provided streaming API for generating or reading data from a worksheet with huge amounts of data.
GitHub: github.com/xuri/excelize
We are pleased to announce the release of version 2.4.0. Featured are a handful of new areas of functionality and numerous bug fixes.
A summary of changes is available in the Release Notes. A full list of changes is available in the changelog.
Release Notes
The most notable changes in this release are:
Compatibility
Upgrade requirements Go language version is 1.15 or later.
Notable Features
New API GetCellRichText support to get the rich text of cell by given worksheet
Now support to set and get: print scaling, print black and white, and specified the first printed page number of the worksheet by SetPageLayout and GetPageLayout
Now support to change and get tab color of the worksheet by SetSheetPrOptions and GetSheetPrOptions
SetCellHyperlink now support to set hyperlink display & tooltips text, related issue #790
Support ShowError option when adding the pivot table
Support setting formula for cell in streaming API, related issue #625
The formula calculation engine now supports not equal operator
The nested formula function now supports cell references as arguments
Support to specifies that each data marker in the series has a different color
New support 152 formula functions: ATAN, AVERAGE, AVERAGEA, BESSELI, BESSELJ, BIN2DEC, BIN2HEX, BIN2OCT, BITAND, BITLSHIFT, BITOR, BITRSHIFT, BITXOR, CHAR, CHOOSE, CLEAN, CODE, COLUMN, COLUMNS, COMPLEX, CONCAT, CONCATENATE, COUNT, COUNTBLANK, CUMIPMT, CUMPRINC, DATE, DATEDIF, DB, DDB, DEC2BIN, DEC2HEX, DEC2OCT, DOLLARDE, DOLLARFR, EFFECT, ENCODEURL, EXACT, FALSE, FIND, FINDB, FISHER, FISHERINV, FIXED, FV, FVSCHEDULE, GAMMA, GAMMALN, HARMEAN, HEX2BIN, HEX2DEC, HEX2OCT, HLOOKUP, IF, IFERROR, IMABS, IMAGINARY, IMARGUMENT, IMCONJUGATE, IMCOS, IMCOSH, IMCOT, IMCSC, IMCSCH, IMDIV, IMEXP, IMLN, IMLOG10, IMLOG2, IMPOWER, IMPRODUCT, IMREAL, IMSEC, IMSECH, IMSIN, IMSINH, IMSQRT, IMSUB, IMSUM, IMTAN, IPMT, IRR, ISTEXT, ISPMT, KURT, LARGE, LEFT, LEFTB, LEN, LENB, LOOKUP, LOWER, MAX, MID, MIDB, MIN, MINA, MIRR, N, NOMINAL, NORM.DIST, NORMDIST, NORM.INV, NORMINV, NORM.S.DIST, NORMSDIST, NORM.S.INV, NORMSINV, NOT, NOW, NPER, NPV, OCT2BIN, OCT2DEC, OCT2HEX, PDURATION, PERCENTILE.INC, PERCENTILE, PERMUT, PERMUTATIONA, PMT, POISSON.DIST, POISSON, PPMT, PROPER, QUARTILE, QUARTILE.INC, REPLACE, REPLACEB, REPT, RIGHT, RIGHTB, ROMAN, ROW, ROWS, SHEET, SKEW, SMALL, STDEV, STDEV.S, STDEVA, SUBSTITUTE, T, TODAY, TRIM, TRUE, UNICHAR, UNICODE, UPPER, VAR.P, VARP, VLOOKUP
Improve the Compatibility
Now set the empty string for the cell when SetCellValue with nil, resolve issue #756
Remove useless internal XML omitempty tag on style pattern fill color
Fix compatibility issue of Google Sheets offline browser extension #769
Use absolute reference in the auto filters defined name to make it compatible with OpenOffice, resolve issue #776
Handle end element event in the worksheet row/column iterator XML SAX parser, faster row/column iterate and fix inconsistent read rows count of the file in some case
Improves compatibility for worksheet relative XML path
Avoid duplicate rich text string items #787
Improves compatibility for absolute XML path, Windows-style directory separator, and inline namespace
Bug Fixes
Fix round precision issue #764
Add missing fields and change the order of the fields of workbook fields, prevent generate the corrupted file in some case, resolve issue #766
Fix hyperbolic cotangent calculation incorrect
Correct adjust calculation chain in duplicate rows, resolve issue #774
Correct adjust defined name in the workbook when deleting a worksheet, resolve issue #775
Fix cyclomatic complexity issue of internal function newFills and parseToken
Fix custom row height check issue
Fix unmerge all cells cause corrupted file, resolve issue #782
Fix part of auto filter rules missing after saved
Fix UpdateLinkedValue which returns an error when has chart sheet or dialog sheet
Fix incorrect default column from GetColWidth in some case
Fix can't add timelines and slicers for a pivot table in generated spreadsheet, resolve issue #804
Fix incorrect SetDefinedName's localSheetId attribute to use sheetIndex
Fix missing cell locked or hidden protection in some case, resolve issue #809
Fix streaming data writer result missing after call normal API, resolve issue #813
Fix the negative values series missing chart color issue
Performance
Faster numeric precision process
Miscellaneous
The dependencies module has been updated
Unit tests and godoc updated
Documentation website with multilingual: Arabic, German, Spanish, English, French, Russian, Chinese, Japanese, and Korean, which has been updated
Welcome join the Slack channel or Telegram Group to meet other members of our community