Hey folks 👋🏼
We just launched another Product on Product Hunt. It's a pack of 3 Notion templates for each occasion: that adds awesomeness to all your events by aiding planning and providing inspiration!
Yes. This is a pack of 3 Party planner templates, comprising of:
A neat Party Planner, Gaming Planner for casual game parties and a detailed Wedding Planner for a formal gathering
Game Party Planner
An awesome game party organizer with all the important features that include budget, ideas for theme selection, recipe book, party games, and more!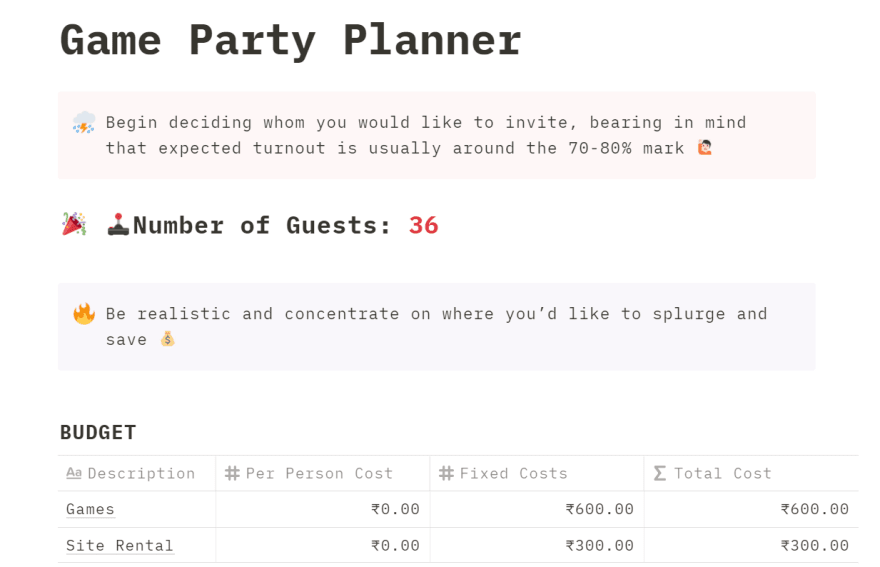 Wedding Party Planner
Your dream for an elegant wedding comes true with detailed planning, and we are here to help you realize exactly that. Table layout for all your budget management, curated vendor details list, theme ideas, and everybody's favorite drinks - makes the party memorable!
Party Planner
If your requirements are different from those above, we have a neat template that you can customize according to your liking, and even making a new one out of the base template!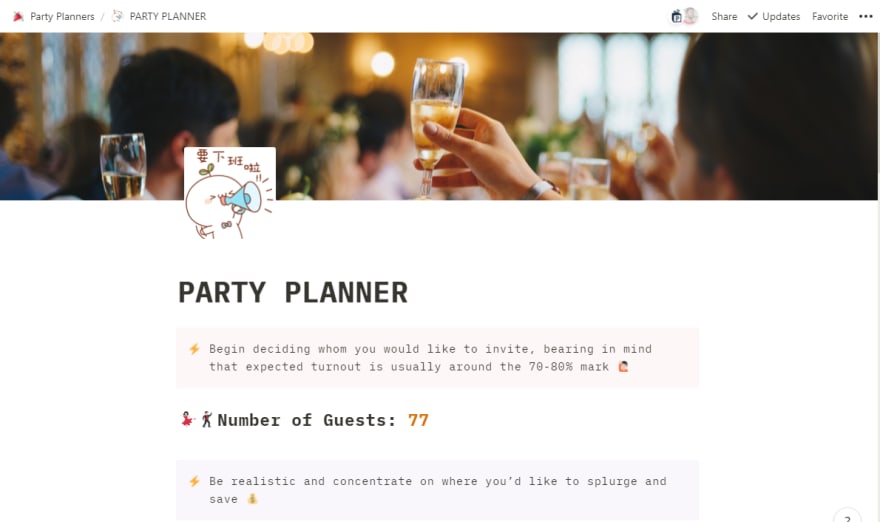 Within these planners:
1) To-do list with collaborative feature to tag multiple people who are using Notion alongside you so as to distribute workload among members. This ensures smooth functioning on the day of the event - like visiting the site, checking the arrangements, sending out invites, etc.

2) You get a budget section to manage your spending by tracking your needs in a neatly combined table: Supplemented with general party requirements like Site rental, decoration, food and drink cost, catering, etc.

3) You get an organized table available in gallery and table views to write down your guest list - with their names, phone number, email address and house address.
4) Vendor details section is a crucial addition to this planner, and you can note down details of the different vendors and separate them with tags - catering, music, decoration, etc.
5) We provide you with inspiration for party themes because a party is much more appreciated by the guests when they are invited to the event in specific dress codes and the event is organized, keeping a particular theme in mind.
Want one? (PS. It's Free!)
Here is your link 👉 Notion Party Planner
We are on Producthunt today. Go show some love there🔥