The new Webpixels website is finally live, after 4 months of continuous development and improvements. This update is focused on how the component library works and the overall experience. The goal is to make it much easier to navigate through examples and preview and copy the stuff you need.
Here are some of the new stuff you can try starting today:
Visit the new Webpixels website
---
New component explorer
Instead of having categories and clicking each one of them, now you'll be able to see them all in one place and filter out the ones you need. Also, there is a search bar to get the result you want quickly.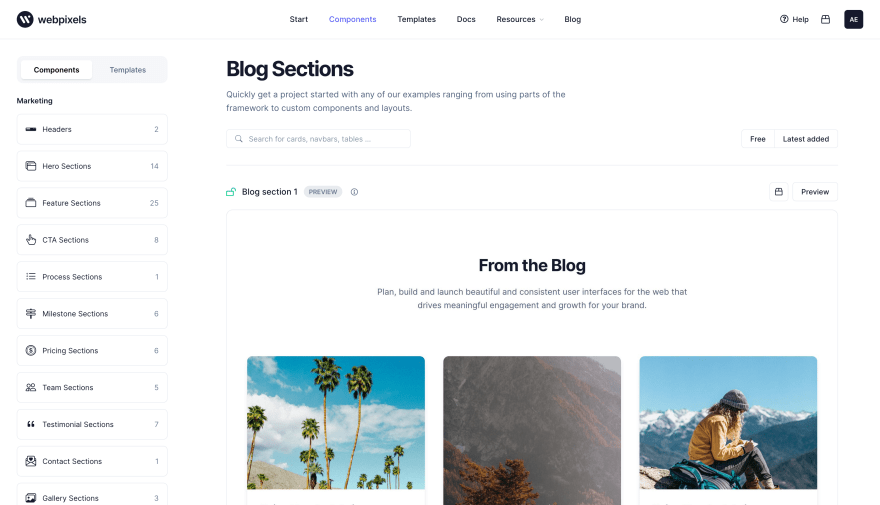 ---
Preview components in a new sexy modal
Once you find the component you need, click on it to preview the UI, but also the code. Everything happens now in one place, so we hope it will make the whole experience a much better one, with fewer clicks and time spent to get the things you need out of the library.
---
Live code editing
Find the component you need, and click on it to preview the UI, but also the code. In the latest version, you will be able to tweak it and see the changes before copying it into your project.
---
Organize components into collections
Since our components are part of an ever-growing library, collections will allow you to create smaller batches of elements based on the category or the project's type.
---
New tab for listing templates
Instead of mixing components and templates in one place, we thought it would be much better to separate them in two separate sections. This way you can work closer to Atomic Principles.
---
Improved documentation
We still have many things to add to our docs, but we are pretty happy with the result, so far. We'll keep adding more examples and features, now that Bootstrap started its big move with the v5.2 update.
Here are some things you should expect in the near future:
Component CSS variables
New helpers and utilities
Groups of variables for root, components, and utilities
Improved theming capabilities
Dark mode support out of the box
We expect to release the next major update for @webpixels/css one month from now.
---
Thank you 🙏
It's been one year since we officially launched the new Webpixels website. It is such a great feeling to build something that people find useful and brings value to their projects.
And now we are ready for the next milestone.
Hope you enjoyed it.