Hello everyone,
I am excited to announce that we at AWS User group Pune recently hosted a series of technical meetups for AWS re:invent recap. This meetup series was organized to bring together professionals and enthusiasts from the IT and cloud computing to network, share their knowledge and experiences, and engage in lively discussions and debates.
These meetups were held at EPAM Systems Pune and were attended by around cumulative 500+ individuals from diverse backgrounds and expertise levels. The atmosphere was electric with energy and excitement as attendees arrived, greeted each other, and settled in for the days of engaging discussions and presentations.
The first part of this series was hosted on 21st January and second part on 5th of February 2023, which kicked off with a welcome speech from yours truly, where I introduced the theme of the meetup, described about AWS Reinvent and thanked everyone for attending. This was followed by a series of presentations by some of the industry's leading experts Mayur Bhagia,Toshal Khawale, Dheeraj Choudhary, Somesh Shrivastava who shared the stage with me and we shared our insights and expertise on new launches and announcements in various AWS technologies like AI/ML, serverless, security, compute, devops, builder tools etc. The presentations were informative, thought-provoking, and sparked some great conversations among the attendees.

I spoke about serverless computing in first part, and security and compliance in second part, for which I could observe the curiosity for these technologies in participant's minds by the questions they were asking during those talks!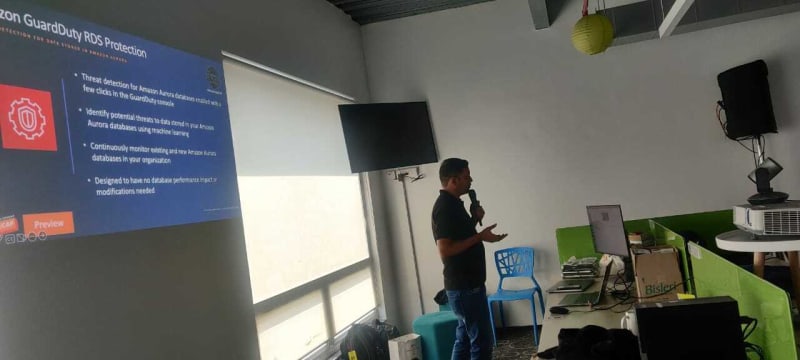 After each session, we had an interactive Q&A session where attendees had the opportunity to ask questions and engage in discussions with the speakers. The discussions were lively and enlightening, with attendees sharing their own experiences and perspectives on the topic.
These meetups ended with networking and refreshments, where attendees had the chance to mingle, exchange contacts, and continue the discussions in a more relaxed setting. It was a fantastic opportunity for attendees to connect with each other and build meaningful professional relationships.
Most exciting part of both meetups was quizzes which I hosted related to the content covered in sessions, and attendees truely enjoyed the quiz, We declared around 10 winners for each meetup, and awarded them with the goodies from EPAM and AWS🎁. Thanks to AWS User group Pune team for giving me the opportunity to be a Quizmaster to these meetups, and this could not be possible without a excellent and flawless quiz platform quizhub by konfhub technologies. Thanks to Ganesh and team for their assistance in setting up those quizzes!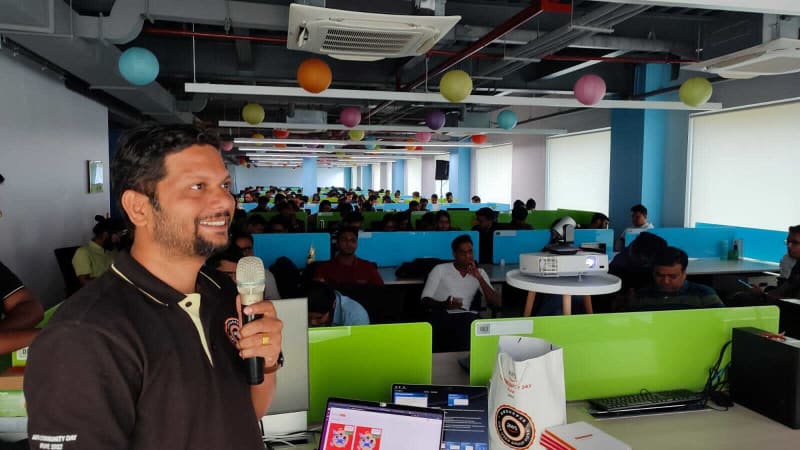 I am incredibly proud of the success of this technical meetup with such a overwhelmed response and would like to extend my sincere thanks to all the attendees for making it such a memorable and productive event. I am already looking forward to the next meetup, and I hope to see many of you there!
Thanks to my friend and our community's social media hero Dheeraj choudhary for all his help for organising this venue, food and social media posts!
Thanks to EPAM System Pune team for their venue sponsorship.
I would like to express my gratitude to our UG community peer lead Toshal Khawale for mentoring and supporting us with all required things like speakers management, topics and slides selection as he had in-person attended the Re:invent at Las vegas in December 2022, and the experience he shared with us helped us a lot in organising this meetup series.
This post won't be complete without thanking all volunteers of AWS UG Pune team and AWS community team Rohini Gaonkar, Ridhima Kapoor, Shafraz Rahim for all their love, support and motivation which inspires us to host and speak at such great meetups!
In conclusion, hosting this technical meetup series was a great way to bring together professionals and AWS enthusiasts from the IT field all over the pune, and to facilitate discussions and exchanges on a relevant and timely topic. I was extremely delighted listening to the attendees feedback and observing that our AWS UG Pune community growing so fast! If you missed this one, be sure to keep an eye out for the next one!
Best regards,
Vishal Alhat
co-organizer
AWS User group, Pune