Capturing the bigger picture of the global program celebrating its glorious 15 years.
As we come toward the end of the decade in just about 15 days, I feel it's important to put life into perspective. To think back on things that actually worked out, and those which didn't. From the things that we did, Google Summer of Code has been one of the few experiences that I can chalk out to being the most impactful early on in my career and the same for countless more before me.
To introduce myself, my name is Vipul Gupta; I am an open-source enthusiast, a Python developer, and a documentation writer. I was a GSoC student in 2018 with Sugar Labs and recently in 2019 with The Scrapy Project. I absolutely love talking about communities, product, and Calvin & Hobbes.
Google Summer of Code (GSoC) is a 12-week program that connects students with open source organizations to work on projects over the summer. But, for me, it has been much more than that. It's amazing how much it has helped shape my perspective on open source.
How you ask? Let's big picture this.
Unparalleled opportunity to work with industry's best
Great internships can be challenging to get — I think everyone can relate to the grind for getting their first break into the industry. Although, Google Summer of Code isn't an internship. The program is the perfect blend of a tech-oriented, project-driven initiative. You receive hands-on experience on a project with an organization. It's paid (Thanks Google for the support!) and it's also remote so no visa troubles. This means the initial limitations of students are already a thing of the past.
Most importantly, it's a great learning experience that students can undertake independently over the summer while working with the world's foremost organizations in open source. You get to think, plan, execute and document your own projects. Every mistake teaches you more and every interaction with the community helps you learn something. I feel proud to be more productive and active during my GSoC work periods than anytime else.
Mentors, becoming lifelong connections
Coming from the part of the world which has the highest number of accepted GSoC students annually, I was introduced to open source pretty early in college via my mentors and the community I run (ALiAS). Everything I have done since then is because of their constant guidance and support. Point being, good mentorship early on is really important.
This is one of the limitations that students can overcome fairly easy with Google Summer of Code. The cumulative wealth of knowledge that mentors in GSoC have is unprecedented. Meetings, where you get detailed feedback on your work, is the most valuable time with my mentors. You learn how to do better as they constantly watch over you. And most importantly, they put time aside to focus on your success and your goals.
The best part? After GSoC, mentors become connections, friends, and partners you cherish and still continuously learn from—I know I do. My mentors and I make plans for meeting over conferences to add faces to usernames. I think that's the beauty of it all.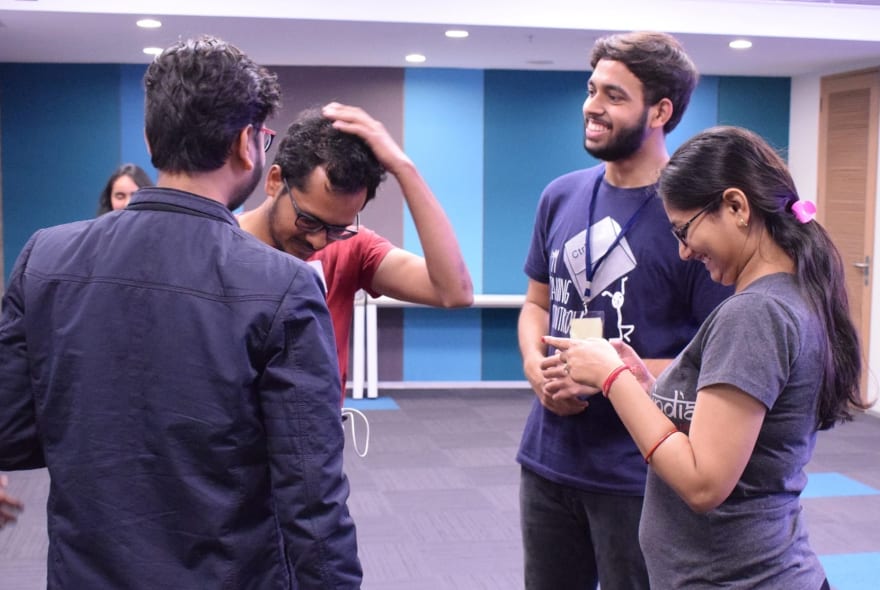 Exercising the experience, to help others grow
Google Summer of Code sure teaches you a lot, but what if you can leverage that experience to help others overcome their limitations. After my Google Summer of Code '18, I have been quite active in meetups organized by local communities like PyDelhi & ILuGD. Always trying to volunteer and give back to the community. Speaking, writing and sharing insights to raise awareness about my organization and Google Summer of Code. Helping folks actively take part in programs such as these is something that helps make the community stronger. This also helps me as a student learn more with each talk, and improve my skills.
Contribute to Open Source, be part of a community
I have been contributing to open-source communities both offline and online for about four years now. I am proud to say there is no better feeling than knowing that you are part of a bigger whole and knowing that your work is helping people indirectly. I feel with Google Summer of Code everyone of us is a part of something bigger than ourselves, too. Where we get an opportunity to contribute to open-source, build communities around amazing organizations and come together as one for a good cause.
Well, this was my first post on Dev.to! Happy to join this amazing community of developers and writers. Post originally written for the Google Open Source blog, but as you can see it's here rather than here meaning it didn't get selected. Still, always be happy to get a chance to write about Google Summer of Code.