After over a year since last release and long months full of work, I'm happy to release LightBulb v2 to the world!
For those who don't know, LightBulb is a Windows background application that controls the gamma of your display(s), gradually reducing blue light as it gets late. It's similar to the Windows built-in NightLight feature and apps like f.lux, but offers much wider customization options, more features, better performance, an elegant UI, and it's completely open-source!
⭐ You can download it here but please note that you also need to have .NET Core 3 runtime for desktop apps installed.
The main new feature of v2 is the completely reworked UI and the addition of the dashboard screen which shows up-to-date relevant information. Here you can see the sundial which indicates where you are in the 24-hour cycle separated by phases of day-time, night-time, and transitions.
Also, I've added the brightness configuration to go with color temperature. This will let you personalize LightBulb even further and your eyes will be thankful. 👀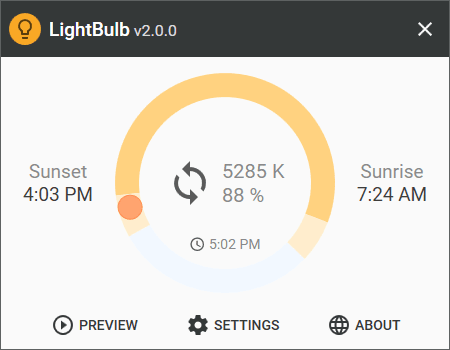 Settings have also seen a few enhancements, namely the ability to manually fine-tune every configuration value, including your location. Previous versions of LightBulb required you to have active internet connection in order to accurately calculate sunrise & sunset times, but not anymore -- you can set it manually or use the text box to search for any valid address.
For the full list of changes (there are over 30 of them), check out the changelog! ❤️