Rewatch the show by clicking here
Why The Focus On Black-Owned Business
The phrase "black-owned" has become and remains synonymous with the ongoing struggle of representation and ownership in entrepreneurial spaces. We often hear this adjective phrase attached to various nouns to indicate to others that the business that they're about to patron was started by those not expected to be in this space. While the concept of a black-owned business is straightforward on paper, many still do not understand why a black-owned business has its' own struggles and victories unique to their operations. I began to notice this discrepancy in understanding after beginning Rebuild Black Business. I was often asked why the focus is only on black-owned and not all businesses facing the COVID crisis. While I do sympathize with all the businesses affected by the ongoing pandemic, I knew that the businesses in our communities would be in need the most, especially after hearing that over 40% of them are expected to NOT survive after the virus's indiscriminate destruction. To help bring the stories of black-owned businesses to life, I decided to hit the road over the next few months with the responsibility of broadcasting their stories to a wider audience to help them thrive, not just survive.
The Physical Touch
Starting our journey in the heart of the south - Atlanta, I wanted to start the series with one of the industries that were hit the hardest during the pandemic, businesses revolving around physical touch. Many were frustrated during the initial quarantine with measures enacted that prevented their routine scheduled grooming and pampering lifestyles. Still, no one understood this even better than the business owners themselves. The two places of business that I decided to begin with were co-located in Atlanta's up-and-coming Grant Park area - The Yizclusive Experience and Atlanta Ink. Both experienced the struggle of not being able to open during COVID due to their inability to provide their core-offerings of either haircuts or tattoos. Being in such a situation, many thought access to financial solutions such as the Payroll Protection Program and similar COVID relief offerings would be a no-brainer, but as Amber from Atlanta Ink explained, those offerings aren't as readily available to those business owners within the black community. The reality of this situation becomes even more dire when paired with the reality that many black-owned business owners aren't usually building from a past legacy of business owners and operators. Without access to a vast network of resources, the solution is usually to rely upon yourself because, as Yisrael Wright explains, you're usually the most successful within your family. Since the reopening, both The Yizclusive Experience and Atlanta Ink have been flushed with new and returning customers, but the future is still uncertain if this trend will continue for them as COVID cases continue to rise, especially within the Southern United States.
Generational Wealth
Having been an individual that understood the opportunity the market would provide due to COVID's ability to disrupt all things considered normal, I wanted to start thinking about how we can use this moment as an opportunity to trampoline the black economic status. I decided to sit down with two of Atlanta's most known financial experts - TK Peterson, Co-Founder and CFO of The Gathering Spot, and Andre Williams, President of Pivotal Wealth Management. During our conversation, a central theme emerged of knowing and understanding the financial lane that you're currently in, along with the opportunities available within that lane. Furthermore, the financial opportunities available are often built on relationships between the entrepreneur and the financial stakeholder, as TK explained - which is where The Gathering Spot exceeds in helping to nurture and mature these relationships. Many often think that you need a few thousand or more to begin investing, but this only creates a defeated mindset that financial wealth and opportunity is available to those who already are financially plunked. Instead, Andre Williams and his firm challenges individuals to create a mindset around using what's available to the individual now within their lane to begin creating passive and active revenue streams over time. Andre explains that this includes becoming more financially aware of the situations that usually forces you to spend such as dining out, taking lavish, and substituting them for ownership opportunities within the companies instead - as an example. Together with the opportunities created from cultivating financial relationships, and small changes in the mindset, I believe that together we can begin creating financial impact for the foreseeable future. You can watch our full financial segment video on my Youtube channel.
The Soul of black-ownership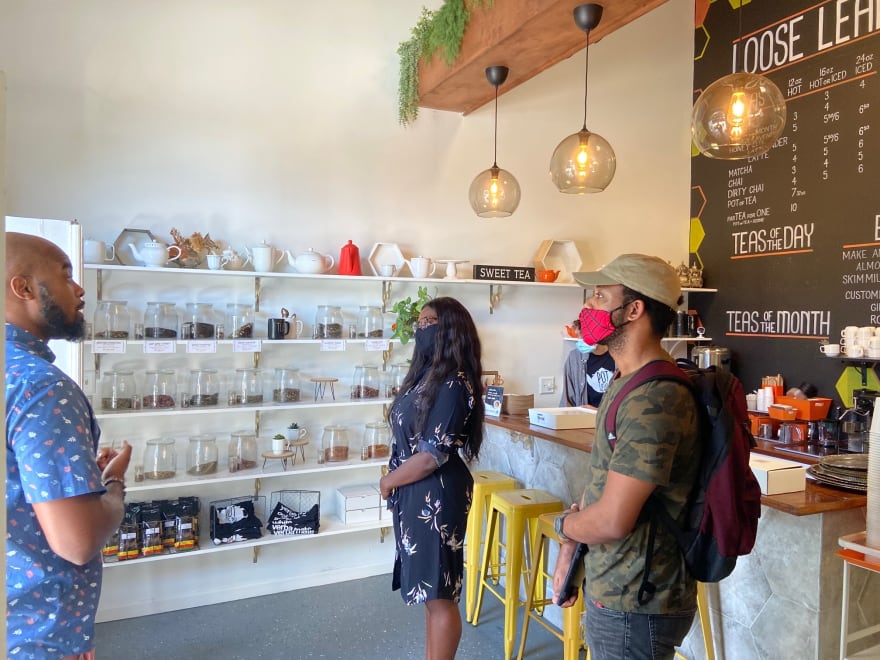 Having visited both the struggles and financial obstacles of black-ownership, I wanted to end the journey on a higher note with a business that has found new growth during the pandemic. I sat down with co-owner Jermail Shelton of Just Add Honey Tea Company in Atlanta - a local black-owned tea house specializing in specialty loose leaf teas. If we're ever allowed again to go outside, visiting their location should be on the top of your things-to-do list when visiting Atlanta, because the free smells inside are amazing. Jermail and I discussed how as a tea company, they were able to expand and scale their business to new heights with new digital offerings such as their parTEA in a box offering, which allows for individuals to experience the art and social nature of tea via Zoom with other likeminded individuals. Having asked Jermail what their biggest ownership challenge faced during COVID was, he expressed that the challenges have only created new opportunities for unexpected growth for him and his wife to provide generational wealth for their children and those to come. Their biggest obstacle now is keeping up with the demand and challenges faced with pivoting a physical company into a digital space, both of which are now being assisted through the Rebuild Black Business professional network of allies.
Where From Here
I understand that there are many other black-owned businesses throughout the United States, and beyond that also could benefit from the exposure of the Rebuild Black Business platform. Throughout the coming months, I'll be visiting other cities and states to do new stories for our documentary series on various black-owned businesses and profiling their journeys and ways you can help them thrive, not just survive. Creating the tools to assist black-owned businesses is also something that the Rebuild Black Business team is passionate about, and understand that through leveraging our vast dataset of more than 14,000 black-owned businesses - more beneficial solutions from others could be made possible. That is why we've decided to open our API to allow others such an opportunity to access, and create unique solutions by visiting api.RebuildBlackBusiness.com. To quote my good friend and Co-Founder of The Gathering Spot Ryan Wilson, "we're all we got," and this is just the beginning of creating and distributing opportunities for our communities.
Swagg Shop, Bonus Footage, Contact