Ola Developers..!!
Looking forward to master your skills in web development field in Year 2023? Well, for that you will surely need resources. Here in this list, we have gathered some of the extremely useful learning recourse & GitHub repos that you will find noteworthy.
If you are thinking that this is some random list for the clickbait, then hold on...!! Our purpose here is to share the actually useful learning resources for the developers.
Worth Checking Learning Resources For Developers:
Learning is a never ending process. No one can claim that they have mastered things completely. Same applies to the web development world as it is one of the continuously evolving field. One must be aware of the changes, trends, & updates throughout the time. Therefore, we have gathered the regularly maintained learning resources which not only help you learn the basics but also keeps you updated on latest trends.
Following are some of the Best and most probably unheard Learning resources for developers. While there is possibility that you may be familiar with some of them, but yet this list is not like random lists that you will often find...!!
The mentioned sources & platforms are selected based on their activeness, regularity & user's reviews. By no means we claim this is the complete list as there can be many others. So, do suggest us if you know any other resources that can be included in the list. None of the mentioned resources are affiliated with us. We have genuinely tried to collect the best resources to help those who are willing to learn & master their skills.
You can also use Admin Dashboard while practicing.
Now, Let's start the resource list..!!
The Best GitHub Repositories For Developers
Following are some of the best GitHub Repositories for developers & students.
FreeCodecamp includes all the things that you are seeking for. Whether you are a newbie or a pro developer, you will get everything here. It has a separate forum as well, where you can share your questions, opinions or even create your own thread.
It is a great platform to learn, share & understand the basics of programming as well as get answers to your questions easily.
If you are a JavaScript enthusiast then this is the place where you will get to know JavaScript in-depth. As name suggests, this contain many unfamiliar & unknown facts, codes, and resources for JavaScript Developers.
If you think you know JavaScript then do visit this repo as it will prove you wrong with the things about Js that You Don't Know..!!
Another JavaScript oriented GitHub repo for web developers. Well, if you are keen to know the algorithms of JavaScript, then this is is the best place to know the Algorithms and data structures implemented in JavaScript with explanations and links to further readings.
30 seconds of code is an accessible high-quality knowledge base for developers of all skill levels, established in 2017. Since then, we have created hundreds of short code snippets and programming articles with the help of a large community of contributors. Our goal is to make software development more accessible and help the open source community thrive by helping people learn to code.
Not everyone has the time to do a few hundred LeetCode questions. Here are free and curated technical interview preparation materials for busy engineers. Anybody who wants to land a job at a tech company but is new to technical interviews, seasoned engineers who have not been on the other side of the interviewing table in a while and want to get back into the game, or anyone who wants to be better at technical interviewing.
This repository has practical content that covers all phases of a technical interview, from applying for a job to passing the interviews to offer negotiation. Technically competent candidates might still find the non-technical content helpful.
As the name suggests, it is a list of Clean Code concepts adapted for JavaScript. Here you will find the best code concepts for Variables, Functions, Objects and Data Structures, Classes, etc.
Papers We Love (PWL) is a community built around reading, discussing and learning more about academic computer science papers. This repository serves as a directory of some of the best papers the community can find, bringing together documents scattered across the web. You can also visit the Papers We Love site for more info. Get all the noteworthy papers & research journals.
A collection of (mostly) technical things every software developer should know about. Regardless of your skill level, this repo will definitely help you find the best solutions, techs, & tools.
Based on Front-End developers' years of experience, it is by far one of the best & perfect Front-End checklist for modern websites and meticulous developers. This list consist of all elements you need to have / to test before launching your website / HTML page to production.
If you want to master JavaScript, then this is the right repo for you as it consist of all the necessary list of articles, videos, courses & resources you will need for learning JavaScript in depth.
Want to check how your code will work? Well then, Algorithm Visualizer is an interactive online platform that visualizes algorithms from code. You can check the code output while working. No need to check it separately. Write your code and see along the result..!!
Dev Docs 30.2k ⭐ & Growing..!!
DevDocs combines multiple developer documentations in a clean and organized web UI with instant search, offline support, mobile version, dark theme, keyboard shortcuts, and more. It aims to make reading and searching reference documentation fast, easy and enjoyable.
It is a very well handled CheatSheet for JavaScript you will frequently encounter in modern projects and most contemporary sample code. This guide is intended to help developers with basic knowledge who may struggle to get familiar with modern codebases (or let's say to learn React for instance) because of the JavaScript concepts used.
A complete list of essential recourses & technics. It is distributed in 3 parts: The JavaScript language, Browser: Document, Events, Interfaces & Additional article list. From the basics to advanced topics with simple & yet detailed explanations.
---
Check the best React Admin Template.
---
Forums, Blogging Platform & Social Platforms:
Following are some of the developer centric social platforms, forums & blogging platforms where you will find the best guides, articles & questionnaire. You will also find the projects that will surely inspire you.
Well, when it comes to beginners, even the pro developers, DevTo is by far the best content sharing platform. Here you will not only find the resource listing like the one we are presenting here, but you will get the best tutorials, tips & guides. Apart from them if you are an enthusiast who like to showoff your project then DevTo encourages you through the hackathons. Here you can showcase your work and win rewards.
Of course, developer's favorite place to hangout..!! It is the largest, most trusted online community for developers to learn, share​ ​their programming ​knowledge, and build their careers. You have any questions and not able to find the solution, no worries, StackOverflow is the place where you will be answered by the experienced developers. No only this, you can even share your project with the community to get reviews for your code. It is by far one of the best community forum for developers.
HackerNoon is built for technologists to read, write, and publish. It is an open and international community of 15k+ contributing writers publishing stories and expertise for 3M+ curious and insightful monthly readers. Here you can share, write, or read tech related articles, tutorials & tips.
ThemeSelection provides you the best Free admin templates & UI Kits that you can use for your project while learning. Using these products you can develop any kind of web apps as per your project requirements. Apart from that, you will find some of the best informative & helpful blogs for learning purpose.
Hacker News is a social news website focusing on computer science and entrepreneurship. It is run by the investment fund and startup incubator Y Combinator. You can submit your project links as well as anything related to web development i.e. articles, guide, news, etc.
One of the well known & most used social media platform-cum-forum. There are plenty of subreddits dedicated to web development field where developers share their projects, ask or answer the questions, write their experience, or read web development related stuff. Unlike the StackOverflow, here you don't need to fear about your questions getting rejected.🧐 You can simply ask any question regarding the web development, programming/coding and you will be answered properly. Not only this, but you will witness plenty of project ideas as well as many developers shares their work on Reddit.
Following are some of the noteworthy Subreddits on Reddit for developers.
Mostly used by the gamers, but in recent years, programmers & developers are using this app very frequently. In fact, many companies are using it as their customer handling platform & for project management. There are plenty of channels on it which are specifically dedicated for web development field. It is a great medium to share your interesting projects, code review, news, memes, questions/answers, etc.
Following are some of the noteworthy channels on Discord for developers
---
Check the best Figma UI Kit:

---
Tutorial & Courses:
Tutorials & courses are extremely helpful resources to master your skills. Following are some of the best e-learning platform that provide the free as well as paid certified courses. These courses will also help you build a strong portfolio.
YouTube is one of the best visual content sharing platform. As it is easy to learn through the videos, developers can find here noteworthy tutorials & courses on the YouTube. You can browse around the various web development related channels and get the best tutorial to learn the specific topics.
Following are some of the noteworthy channels on YouTube for developers.
Refer to the Top 20 Web Development YouTube Channels For Beginners for more suggestions..!!
Codecademy is on of the best platforms to learn through online tutorials & courses. Here you will find the best courses to master the specific subject. Major tech businesses value and acknowledge Codecademy certifications, in contrast to those from other online learning environments. The popularity of Codecademy is also a result of the educational opportunities it offers. Due to the numerous skill levels offered by the courses, changing career choices is very simple.
Another well acclaimed platform to learn programming is Coursera. The Coursera certificates are widely recognized and are just as valuable as a college certificate or degree. You can add them to your resume just like you would any college qualifications. All certificates are globally recognized and worth pursuing.
Udacity is also one of the widely known e-learning platform. The courses offered by Udacity are far more specialized and are geared toward enhancing the digital technology abilities of people, organizations, and governments. As a result, the course categories are more limited but also include more detailed subcategories to aid in your success in your field of choice. It is best suitable for those who are seeking a career/promotion in the tech industry.
Founded by the world's Top 2 Universities Harvard and MIT, eDX is the American online course provider. It offers a global student population online university-level courses in a variety of fields, some of which are free. Students can develop their careers by taking edX courses and earning credentials. The courses that are offered on edX are provided by the lecturers at the leading universities. Besides, students enroll in a self-paced class selected by reputable universities.
W3Schools is a freemium educational website for learning coding online. It offers courses covering all aspects of web development. Furthermore, it also publishes free HTML admin templates. It is great for learning absolute basics - what does this thing/function/tag/whatever do, and how can it be used. It will help you get confident at making awful web sites. The certificates are recognized and valued by companies looking to employ skilled developers.
With more than 50+ million students and over 204,000 courses in 75+ languages, Udemy is one of the most popular and well-regarded learning sites out there. Udemy will suit those less concerned about certification who want access to a massive range of professional, as well as fun, courses. Well, here you can register as learner as well as tutor. There are some free courses as well. If practicing is your main purpose, then Udemy is the right place.
---
Newsletters:
In web developers world, newsletters plays an important role. As it is hard to keep eye on every single update, newsletters helps you to save your time and make it easy for you to stay updated.
Following are some noteworthy newsletters that will help keep yourself updated regarding the latest trends, resources and many more.
This is another most popular newsletter, which posts weekly all new stuff about the JavaScript environment. Today, there are more than 116k of subscribers and it has great resources and news about JavaScript.
If you enjoy hacker news, the hackernewsletter is your best newsletter. Basically, it's a weekly round-up of the best articles on tech, programming, and startups. All links are curated posts from hacker news. It has more than 60k+ subscribers.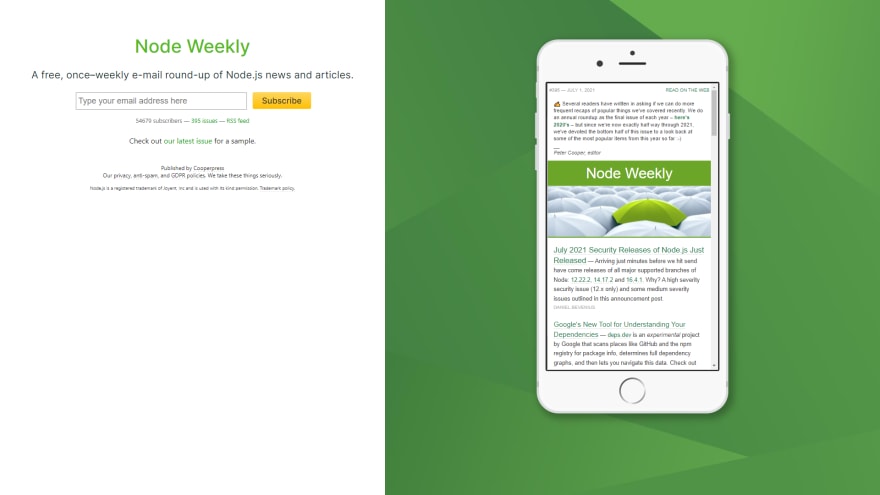 With more than 54k+ subscribers, this newsletter is curated by the same editor of JavaScript Weekly, but it is more focused on the Node.js platform. Well, your JavaScript stack can't be full without Node.js. So if you want to keep up to date with all the latest Node.js news this will be an awesome newsletter to subscribe too with more than 36k of subscribers today.
There are many ways to stay up to date with CSS-Tricks, they also run an awesome newsletter that keeps you updated about front-end development and web design overall. It covers a bunch of topics like tutorials, plugins, and of course, CSS tricks. Generally, this site is a must for any frontend developer.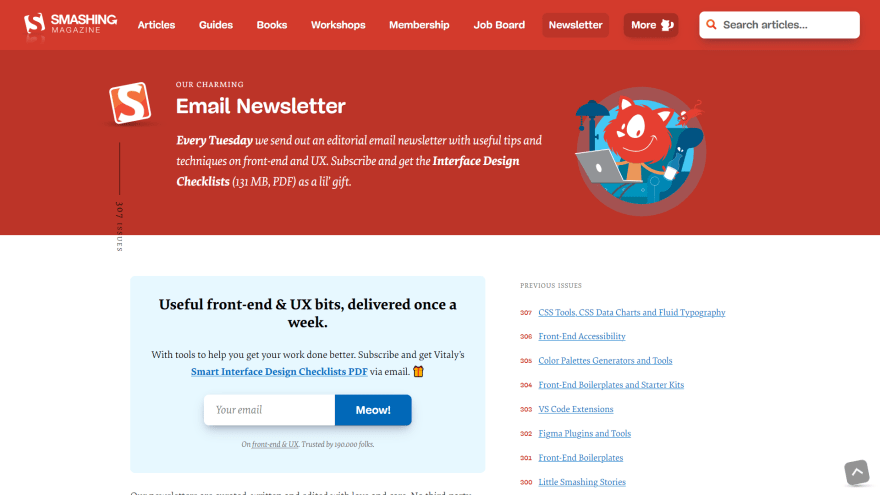 Smashing magazine is not unknow to web developers and designers. It is one of the leading site. It has the separate newsletter section which once a week delivers a newsletter right into your inbox with helpful tips and techniques on front-end UX design.
It contains a cluster of incredible contents related to designing and creative content development. It seems to cover a lot more under their shed apart from design-related ideas. It provides insight on topics such as WordPress articles, HTML, plugins, Illustrator, CSS, Android, and everything related to designing.
Fore more such Newsletters, check the Top 15+ Newsletters📄For Web Developers👨‍💻in 2023.
---
Miscellaneous
Conclusion:
As said before, Learning is a never ending process. More you learn, more you understand and more you will earn..!! Thus, it is necessary to know the best resources that can help you not only in learning but mastering the field as well.
Well, through this collection, we have tried our best to gathered some of the best Learning Recourses for developers & programmers. Purpose here is to provide you the best options.
We have included GitHub Repos that provides the detailed listing of the essential programming concepts, tips, techniques & current trends. Furthermore, we have also mentioned the developer centric Forums, Blogs & Social Platforms. In addition, e-Learning platforms which provides the professional programming courses with certificates are also listed.
You can take help of any of the mentioned learning resources to master your skills. We hope you find the list worth saving and sharing.
Happy Learning..!!