Are you a user, developer or architect? Are you trying to build your solution on the cloud? Are you tired of trying to map various available features in the platform with your use cases?
Introducing Software AG's DevByte series with short descriptive videos focused on use cases and how-to's. The videos will help you fast-track designing and implementing cloud solutions and in less than five minutes.
The video series is categorized as API DevBytes, B2B DevBytes and webMethods.io Integration Essentials and Advanced tutorials.
webMethods.io DevBytes
webMethods.io API DevBytes can be used as reference videos during webMethods.io API implementation. These training videos are categorized as overview, tutorials, tips and tricks for topics in Product webMethods.io API. Short lectures and demonstrations cover how to create APIs, create policies, SOAP to REST transformation, API Developer Portal configuration, AppMesh etc.
webMethods.io B2B Essential DevBytes
webMethods.io Integration Developer Essentials and Advanced tutorials can be used as reference videos during webMethods.io Integration implementation. These videos contain short lectures and demonstrations that cover how to create workflows, FlowServices, configure connectors, configure APIs, set up hybrid connections, perform OAuth, how to build custom connectors, use reference data, use cache, execute schedulers, parallel processing and many more.
webMethods.io Integration Developer Essentials and Advanced Tutorials
These courses will equip the participants to integrate various enterprise products, create and manage APIs, and create and manage different B2B partners using out of the box features of webMethods.io iPaaS offerings.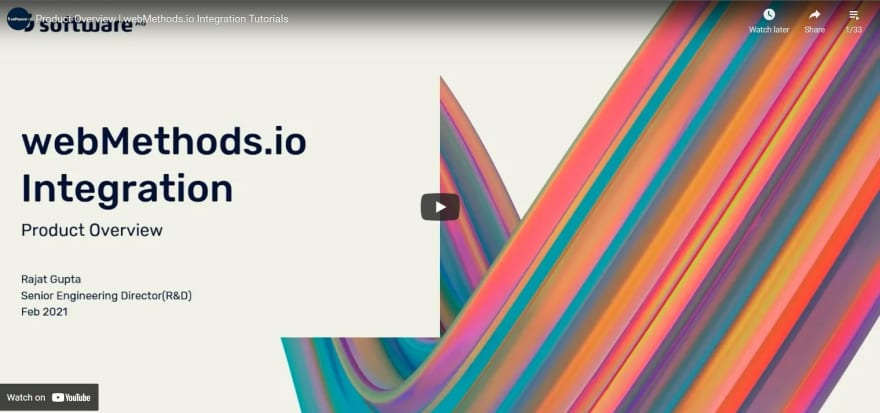 Feel free to send us your feedback - your opinion matters to us! Let us know what features and functionality you'd like to see explained in the series – just add your topics in the comments section below. Who knows – your DevByte may come along very soon!