You need a vision, a strategy and the right solution partner to drive the low-code journey. Don't get stuck in the middle. Do it right or don't do it at all!
Low-code platforms are potentially a saving grace for organizations caught in between critical software legacy and the urge for innovation. This can be a serious accelerator, driving digital transformation. However, a shortage of rightly skilled developers and large solution partners stands in the way of success on a bigger scale. Therefore, the development of an ecosystem is key for low-code on the Dutch market.
Low-code and no-code software development platforms are hot technology, but definitely not a new phenomenon. The pioneers of the modern low-code platforms like OutSystems and Mendix are innovating the capabilities since the early 2000s. The rise in low-code functionalities, capabilities, ability to scale and increasing need for digital transformation using Shadow IT and Citizen Developers led to its adoption as replacement of the enterprise platforms. With gaining popularity of the low-code technologies, big players like Microsoft launched PowerApps in 2016. In June 2020, Amazon also joined the race with its own no-code code development tool Honeycode that aims to build mobile and web applications without writing any code.
Shadow IT refers to the information technology (IT) services (developed or managed by the business units), outside the knowledge or ownership of IT.
Citizen developers are the business users who make use of IT sanctioned platforms to create new business applications.
Typical for low-code development platforms is the use of visual, declarative techniques that make it possible to develop model-based software. This development mainly happens with visual graphical user interfaces, which means that programming involves more configuration with models rather than the traditional writing of software code ([Kuma19]). This helps a wider range of people contribute to software development and enables a tighter collaboration between IT and business to rapidly co-develop the software, or transform the business processes. Such a collaboration capacitates to stay focused on the goal of frequently achieving customer value, and quickly responding to changes, which improves agility.
Leading analyst firm Gartner writes in its enterprise low-code application platforms report ([Gart19]) of August 2019 that by 2024 "low-code application development will be responsible for more than 65% of application development activity". It acknowledges Mendix, OutSystems, Microsoft, Salesforce and Appian as leaders in the low-code application platforms segment in its latest Magic quadrant.
Forrester Research, another independent market research company, evaluated the 13 leading low-code vendors in the market for its Q1 2019 report and named five as leaders, see Figure 3. The report made it clear that the AD&D (Application Development & Delivery) category vendors offer new value to organizations by removing critical limitations on the speed of app development and delivery. The leaders named in this category were Microsoft, Salesforce, OutSystems, Mendix, Kony ([OutS20]).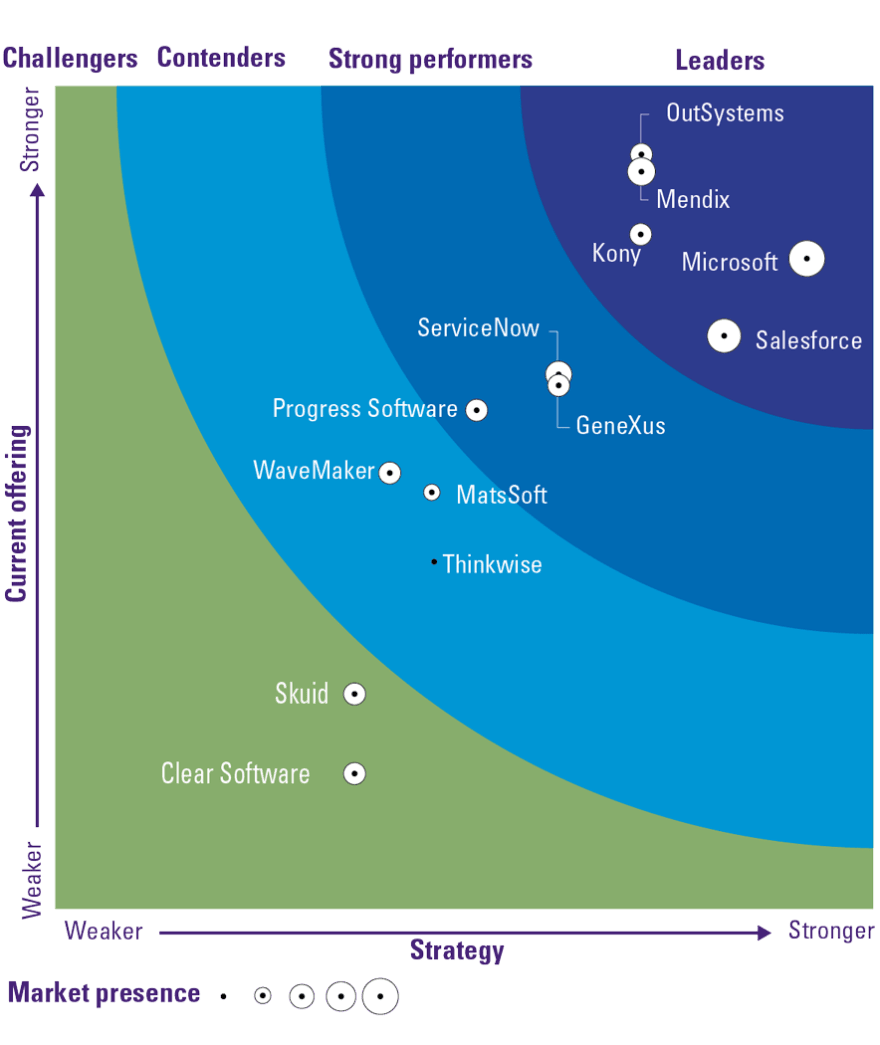 Clearly, in both the Gartner and Forrester reports, Microsoft, Salesforce, OutSystems and Mendix are positioned as leaders. The maturity of the low-code platforms, with all the additional benefits of integration and extensibility, scalability and performance, security and governance, results in broad adoption.
Next: Breaking the deadlock for low-code - Part-2 Leverage on low-code platforms and key advantages
[Kuma19] Kumar, S., Brouwer, A. & Tiemens, S. (2019, October 3). Low-Code: Empower the capability to accelerate. Compact 2019/3. Retrieved from: https://www.compact.nl/en/articles/low-code-empower-the-capability-to-accelerate/
[Gart19] Gartner (2019, August 8). Magic Quadrant for Enterprise Low-Code Application Platforms.
[OutS20] OutSystems (2020, January 31). The Forrester Wave™: Low-Code Development Platforms For AD&D Pros, Q1 2019. Retrieved from: https://www.outsystems.com/1/low-code-development-platforms-wave/